photos from angoulême
Earlier today, I posted my drawings and comics from the festival, and here are some photos I took while we were in western France. I'd never been to the festival of bande-dessinée before, so I went with Ellen Lindner and Stephen Betts to see what it was all about.


Angoulême is amazing, the whole town takes part in the festival and for a few days, everything is about comics.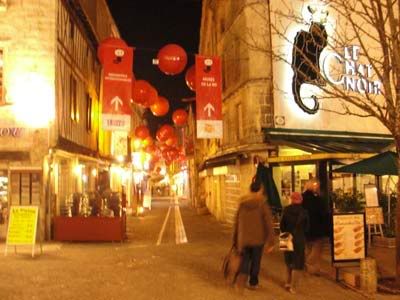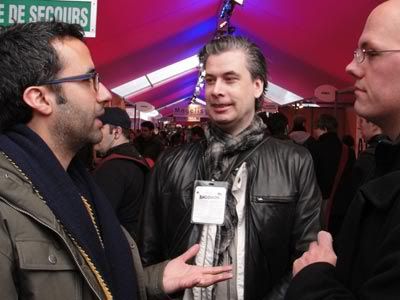 Comics commentator Bart Beaty from The Comics Reporter took us into the local Quick burger joint to see the remarkable wall designs by… oh dang, I had it written down, a well-known French BD artist (Can anyone tell me who it is?) Ted Benoît. (Thanks, Alfred and Bridget!)


Lots of wall murals peeking around corners:


Here are some of the British brigade – Dan Lester, Oliver Lambden, Francesca Casavetti, Sean Azzopardi and Ellen Lindner holding down the fort.


There were three amazing buildings across the river from each other, all housing comics exhibitions and libraries. I loved the reflections on this one, le Bâtiment Castro.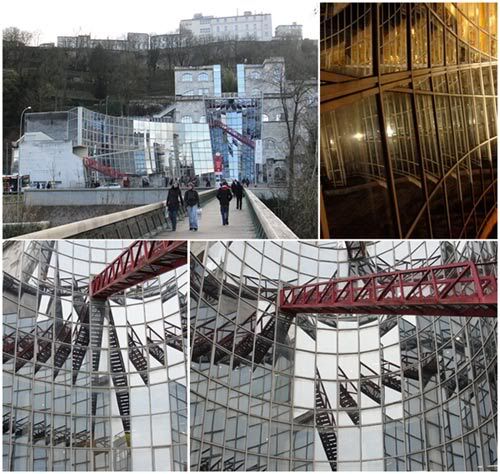 Different comic artists have made tiles in the past, showing their characters. (Most were Franco-Belgian or American, but Ellen and I spotted one by Posy Simmonds.)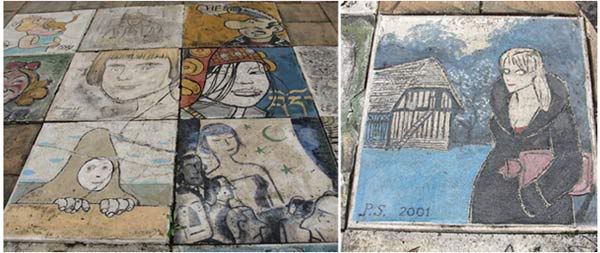 I was hugely impressed by the Museum of BD's permanent collection. I did my best to read some of the panels in French, but fortunately mon ami d'Internet _w_o_o_d knew loads about BD and gave me a great tour of both the permanent collection. Then we went through to the neighbouring exhibition, Cent Pour Cent, in which a hundred comic artists reinterpreted a page of another comic artist's work. It was pretty amazing, even to someone like me who's only really starting to learn about comics' history. I ran into Patrice Aggs, who was thrilled to see an old Popeye film she'd unsuccessfully been trying to find on DVD for years.


I went to loads of the exhibitions, including one by Blutch, where Moebius was also having a good look. Really amazing drawings, reminded me a lot of work by Paula Rego (but with a very different attitude toward women.) We were going down the hill to the Castro Building with Paul Gravett and he stopped a guy coming the other way, named Jochen Gerner. We went on to see his exhibition and for some reason I took more photos of that one than anywhere else. I liked his work, it was thoughtful and playful at the same time and a lot of the images were very simple and striking. This poster has a lot of comic artist names on it that I know and many I still need to look up: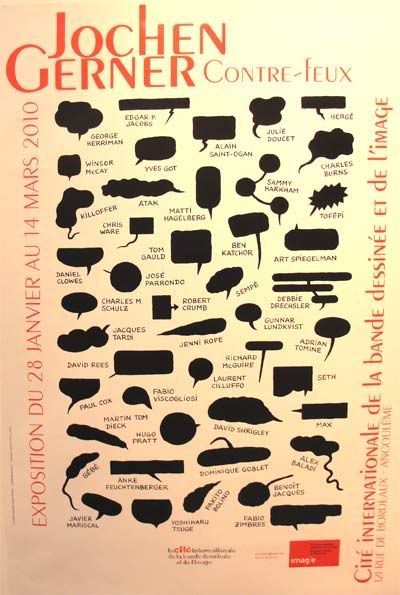 You can read some of this piece, Grand Vitesse online; it's a record of a train journey, with scenery sketches that get more and more streamlined as the train picks up speed.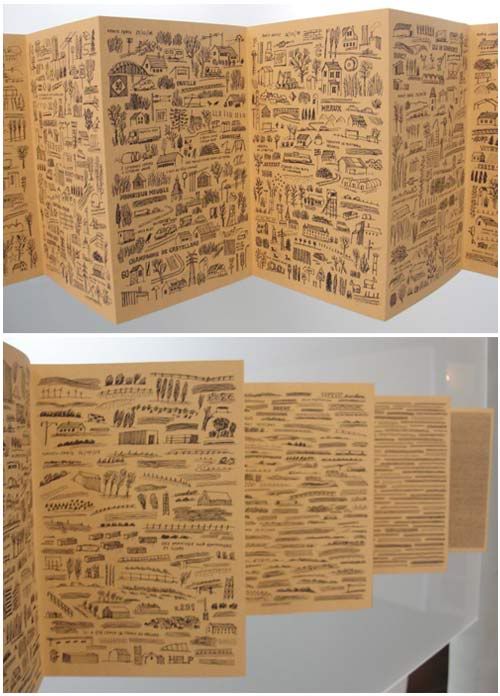 Details from another book:


I couldn't resist making a little linocut print at the Match de catch à Vielsam workshop. (Spot mine among others made by visitors on the day. They seem to have spent much more time on theirs.)


A lot of people come to Angoulême to meet their favourite authors and often stand in queues for hours to get dédicasses in their books.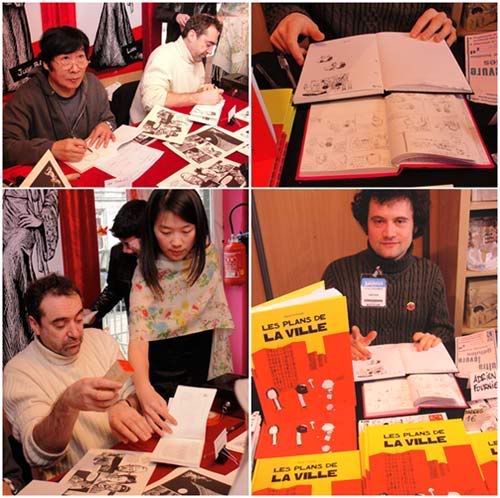 I was tempted to queue for Sémpe's album of New Yorker drawings, but I ended up buying three books from German author Mawil, having become a fan from his book We Can Still be Friends. (I didn't get a photo of him, but you can see two of his drawings in my books.) I went to an hour-long talk by Sempé, illustrator of the much-loved Petit Nicolas books, and I only understood maybe a third of the French, but it was still great to see his drawings of New York and see what he was like. After he got very politely told he couldn't smoke in the hall, he spent much of the time making everyone laugh by teasing his two interviewers. The older interviewer seemed to be a friend of his, but he hardly talked to him except to rib him about his beard. Obviously a guy who's had a long, successful career and doesn't have to prove anything, but still fun to watch.


In the exhibition of Russian comics, I was most impressed by Roma Sokolov's story, Kvas, drawn in felt-tipped markers. Many of the pieces were very nostalgic, for the Russian space age, old-time scenes like the elderly people queuing at the kvas truck, and Soviet-style packaging. And I recognised the work of olegti from LiveJournal, yay! Ooh, and Roma's on LJ, too: roma_sokolov


And we ate well, here's the gang on our second night:


The festival gave a lot of space to up-and-coming young comics artists, and their work was hugely impressive, better than most adult British comics artists. Which makes sense, since French-speaking children are allowed to stick with comics throughout their whole lives instead of the majority feeling they have to give them up when they're able to read books without pictures. I hope we get more kids in Britain making comics, these French kids are really pushing themselves.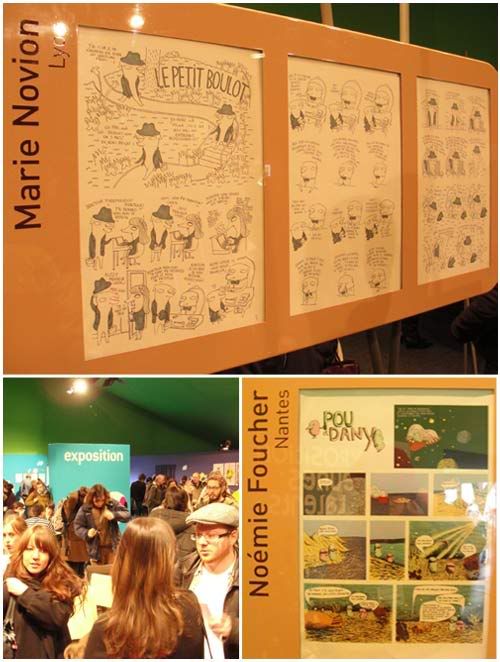 More yummy food… here you can spot John Aggs, his mum Patrice Aggs, and David O'Connell, and then Nick Abadzis peering intently at the fabulous cheese trolley.

And here's our wonderful host, Patricia, who let us stay in her house:


I was totally fascinated by the lampshade in our bedroom:


We ended up getting home very late every night, and Ellen drew me when I was passed out on the bed, waiting for my turn at the shower.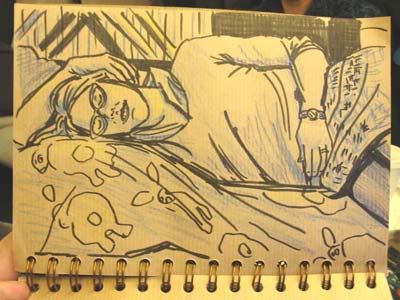 Here's some of the loot I picked up at the fair. I'll try to write things about them later when I've read them!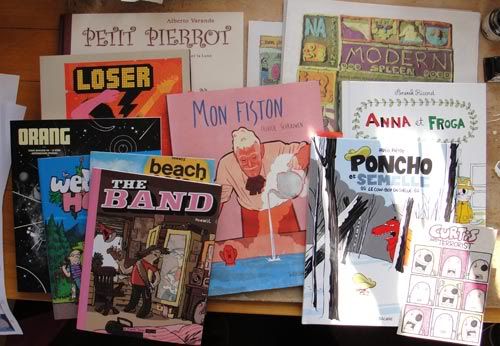 There was so much going on at the festival that I missed lots of things, such as the talks by Joe Sacco, Emmanuel Guibert and Robert Crumb, or see Baru (Hervé Barulea) win the Grand Prix, meaning he will be the president at next year's festival. But I think I saw as much as I could possibly manage, and learned a lot. Thanks, Ellen and Stephen, for taking me along with you and showing me the ropes! I'm really looking forward to this festival next year, when I'll be selling my Vern and Lettuce book, hurrah!
For a more detailed analysis of the festival, go read Stephen Betts' great write-up over on Comix Influx.