philip reeve records 'fever crumb'
Last night Stuart and I met up with writer Philip Reeve, who's in town to make a nine-hour audiobook, reading the marvellous Fever Crumb. I've been following Philip's recent drawing series, and he looked a bit worried when I pulled out my sketchpad, hoping he'd muck in and do some doodles with me. But I think he relaxed a bit when he realised just how terrible I was at quick pen portrait drawings (and that I wasn't too bothered by drawing badly), and we had good fun scribbling unbloggable (but funny) drawings with various pens. Here's my attempt to redeem myself today by not making him chinless or bug-eyed.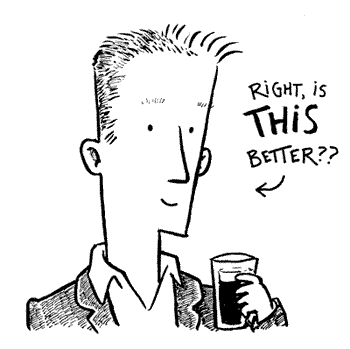 You can hear a preview of the audio book with a short clip of Philip reading from Fever Crumb here:

Despite having no free time at all lately, I've read five and a half of his Mortal Engines books since I met him at the Edinburgh Book Festival, so I guess that pegs me as a rather keen fan. (And you can read his review of Vern and Lettuce here!) Hopefully the Fever Crumb audio book will come out next year, in March, to tie in with the launch of the paperback in the United States.