philip reeve and i made you a new mortal engines story!
Philip was hemming and hawing about writing 'something Christmas-y' for his blog, and I begged him to write a Mortal Engines short story, 'something a bit horrible,' I said, 'with severed heads and violence, not your standard sentimental holiday stuff… but maybe with a little bit of winter warmth somewhere in there'. And I kept barraging him with mostly-rubbishy ideas that he kept batting down because they didn't quite fit in the Mortal Engines world, and when I said I'd do the pictures, he got fed up with my pestering, caved in and wrote it, properly, with characters and a setting that perfectly nestle into the marvelous world he's already created. So… SUCCESS! I was rather pleased with how the pictures came out, too. They were hugely fun to draw, and very different from the project I'm currently working on.
Go make yourself a cup of tea, pull up your chair, and have a read of the story, The Bleak Midwinter over on Philip's blog. Let us know what you think!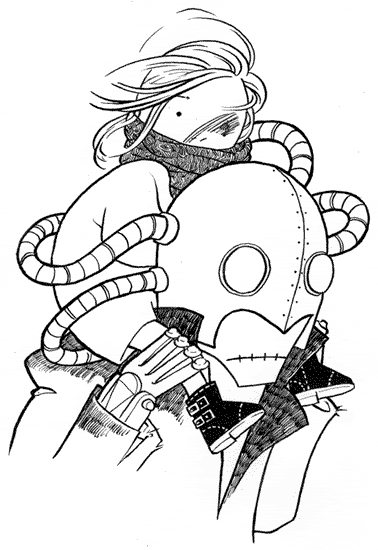 If you haven't read the Mortal Engines books, you are in for a massive treat. You can either start with Fever Crumb, the first of three prequels (that's where I started), or with Mortal Engines, the first book Philip wrote in the Mortal Engines quartet.
And there's another treat coming up in April, the launch of Philip's new book, Goblins (available for pre-order!), which I've read and which threw me back and forth between belly laughing and being completely spell-bound. It's a cracker of a story, so I'm sure you'll see more goblins popping up on this blog as spring advances.