peckham walking tour
Just for a break in moustache drawings, here's one I did of Viviane Schwarz just after chamonkee and naniiebim and I kidnapped her on our tour of Peckham, doing research for his latest comic.
I was testing out Will's fat marking pen, once again. This is actually the reverse side of the paper, but I loved the way it bled through, so I scanned that side instead.

We stopped by the Persepolis imports shop, where I'd previously mentioned to the owner that my friend Will was doing a comic about her shop. She sounded mildly interested, but it was only when she met him this time and saw this drawing and this drawing that she went totally electric and offered to host Will's book launch and heaped on him lots of Turkish delight and gave all of us 'I love Peckham' badges.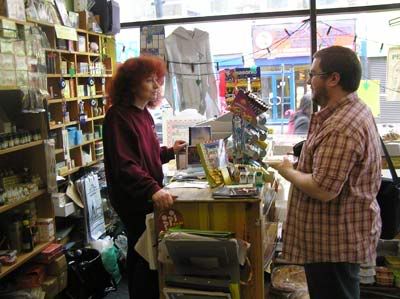 Here's the shop, and a closeup of the window, which has a lovely pattern of tins and hookah pipes: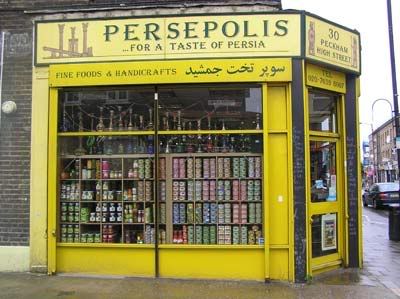 Here's us ordering lunch at Cafe Spice on Rye Lane, a Nigerian restaurant … way, way, too much lunch, but nice. Well, some of it was nice. I was a little experimental and after some thoughtful nibbling and scraping, decided maybe I wasn't so keen on tripe or calf's foot (too rubbery), but the curried goat and fish soup was tasty and kind of fun to scoop up with the yam paste.