our book's on shelves today, it's official! hurrah!
Fab writer Gillian Rogerson, Scholastic and I proudly present our new picture book about that feisty Princess Spaghetti and her dad, King Cupcake… this time it's not aliens, it's PIRATES! And boy, are they SILLY pirates!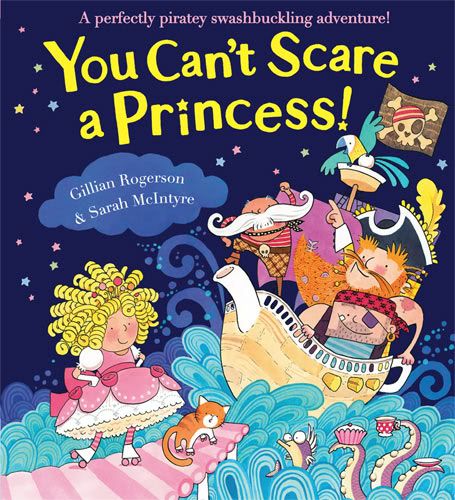 I painted this picture for my mum for her birthday but it happily doubles up as a happy party picture for today. PIRATE PARTYTIME!!!
Thanks to Mélanie McGilloway from Library Mice book blog, who sent me this review that made me go all warm and blushy. Here's my favourite bit:
There is something so utterly happy about the two stories, in the most exuberant and silly sense of the word. Gillian Rogerson has managed to keep the fun, quirky tone of the first story for this second adventure and it is a delight to read. Sarah McIntyre's illustrations mirror the jovial tone of the story perfectly. Her artwork oozes zealous fun: the colours used are bright and vibrant, and her style is, as ever, fun, child-friendly and so utterly conducive to a big grin on its readers' faces! I really love the variety of characters she created for the crew of pirates too; my favourite is the lady pirate, she is just so cool!
Hee hee! I liked the lady pirate best, too, even though Captain Waffle is supposed to be the star of the pirate's show. You can read the rest of the review over on Library Mice right here. (Thanks, Mélanie!)
And don't forget, there are lots of free downloadable fun activity sheets over on the book's web page! Get out the craft supplies and go all piratey!
ARRRRRR.
Here's a little blog post I did for today's David Fickling Books blog – read it here! And that gives links to other posts by DFC-comics-mateys Neill Cameron (complete with diagrammes!) and Dave Shelton (where he relates a very embarrassing moment at my last book launch, ha ha!) Apologies to John Aggs for outing his marvellous sketchbook slightly more than he might have been expecting.