other people's fab stuff
Whooie! Look at this picture painted for me by Douglas Frey! (That's darkwaterfrey.)
Doug's been taking commissions and everyone's been falling over themselves to nab a picture before he realises he can charge about five times more and still get away with it. He asked for some subject matter, and I gave him a whole list of different ideas. Here's the one he chose:
Something nautical, maybe a ship's botanist back on board in her cabin, drawing the specimens she's found in the newly explored land, like on the voyage of Cook's Endeavour. The light through the ship window/windows could be interesting.
The subject emerged from a long chat I once had with a guy named David Floyd while I was bartending at the gallery Stuart and I used to run with some friends. Dave had me spellbound with his account of sailing on a recreation of one of Cook's voyages, on a replica ship, for a BBC Two documentary. He'd done his uni degree in astronomy, so he got to travel as ship's astronomer, using all the old tools to calculate the ship's position. I found a BBC book about the trip in a shop in Greenwich, and was struck by this woman on board who had the job of 'ship's botanist'. Basically, every time they docked somewhere, she would run around finding cool plant specimens, then spend the next few days of the voyage drawing them in her cabin studio. So I'd found my dream job.
I notice Doug's slipped in Vern and Lettuce, and a red phone box, which featured in another idea I gave him, but here looks like it's been dug up from the sea bed. Thanks so much, Doug!
More news: Oxford's Kate Brown (who creates the DFC's beautiful Spider Moon) just set up a new sketch blog here!
The postman just delivered a great comic, What I Drew: Pictures in boxes that are true and made up, Volume One, by Joe Decie (joedecie). I've been following Joe's work for a long time on Live Journal and I love the way he draws and uses watercolour washes to show really intimate little moments from daily life. Go have a look at his stuff if you haven't seen it!

Yesterday, the neighbour kid dropped by after school and managed to make a whole book in the time it took me to draw less than one page of the book I'm working on. I was a little unhelpful. She kept coming up and asking me to help her draw stuff (can you show me how to draw a dragon?) and I kept sending her to my book collection to find the stuff herself. So you can probably spot some David McKee and Mo Willem influence going on there. Here is a little taster of her nifty book, which I promised I would sell alongside my stuff at the Alternative Press Fair on 1 Feb.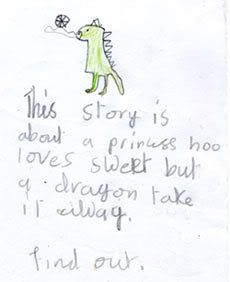 Heh heh… she thinks I am famous and her book will sell millions, so please help me not disappoint her. (Although I think I am going to have a word with her about the delights of limited editions.)
Kevin kar2nist from the Savannah College of Art & Design radio programme, Sequalab, just wrote to let me know he'd featured my list of top UK mini comics on their latest podcast. I must confess that when I wrote back, I dashed them off fairly quickly and I have a horrible feeling I left out some important names (including Joe's), but there you go.
Edit: I've been listening to the podcast while working, and the bit with my list is near the end, after the first hour at 01:01:25….Not to keep you from listening to the whole thing, of course.
And thanks to the Comics Reporter and Journalista for profiling my recent letter comic to David Lasky. I wasn't expecting that!