not quite 2011
Here's a preparatory sketch I made last night for something I'll talk about again soon. I'll just be mysterious and say it's somehow connected to the upcoming launch of Chelmsford's Just Imagine centre on 15 Jan and a nutty writer named Steve Cole. And may involve monsters.
Lsat night a bunch of us went to Erika Moen's signing at Orbital Comics (she makes comics for adults), then Ellen Lindner, Stephen Betts and I ate super-yummy dumplings in Chinatown and I had a lychee and green grass jelly crushed ice drink which was rather amazing. Here's a lady making dumplings in the front window.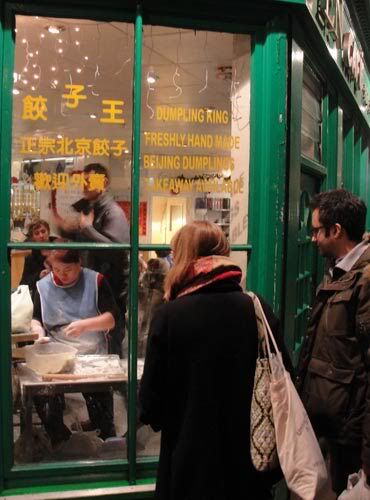 While I was at Orbital, I was browsing their rack of indie comics and bought this comic, Anais in Paris by Mardou (based in St Louis, Missouri, and one of the WoM founders, along with Ellen). It's a lovely and quirky comic peek at the life of Anais Nin, well worth reading.
We were just heading home, when we got a call from John Aggs, and headed back for another drink with him, Julia Scheele and her boyfriend, Neville.

Ellen Lindner and Julia Scheele

John Aggs and me
Back home, these tasty items have shown up in our kitchen, which could only mean one thing…
…Visitors from Belgium! Here are two of our best friends, Mags and Manoelle. (I lived with Mags in Moscow and we've spent several Christmases with them, including this one in Namur and this one in Rugby). It was marvellous to see them, and when we took them off to the train the next morning, we just kept walking until we got to Dan's house for a cup of tea.
Here's our friend Dan Fone, my web designer, and his trusty companion Casper.