not an informal chat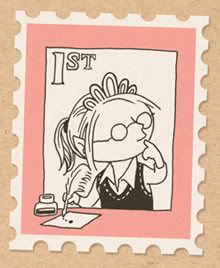 Today I gave a seminar on making children's picture books and comics to the MA Illustration students at Camberwell art college, where I studied. I'd been told earlier it would be an 'informal chat', but I double-checked with the course leader the day before, and she said she'd booked the lecture theatre for the two hours. Yikes! It really was the longest formal talk I've ever done (with a podium and everything!); my last few talks have either been panel discussions or workshops. When I did a talk for the SCBWI conference with Layn Marlow, we found the room early and switched all the chairs around from formal lecture style to a cosy little tea party around a table. But there were too many people today for tea party dynamics.
I think the talk went well, one guy afterwards at lunch showed me he'd taken five pages of notes, so hopefully he wasn't doing that just to stay awake. I presented some of my work and working process and basically told them all the things I remember wanting to know when I was at art college. They had lots of good questions. The one thing I wasn't very confident about was when I showed comics on the screen; how long to let them read them. I didn't want to rush them and I could hear them tittering while they read, but I didn't want to stand there for too long without saying anything, either. Tricky. I read through some of them, but perhaps I should have read through them all. I was trying to remember how Alison Bechdel does it in her presentations. (She's the master of using comics to give a talk.) I think she breaks down her slides to single panel comics, so they take everyone about the same amount of time to read. And when Posy Simmonds interviewed Art Spiegelman, they read in turns and alternated with the voices. I didn't feel particularly nervous, but I think a little shyness kicked in at that point.
Edit: Hey, have a look at the website of one of the guys on the course, Thomas Flintham. I need to spend more time exploring his stuff but I'm really into it already! His 'about me' self portrait reminds me of Wendy in reidsrow's comics, that made me laugh.