new york city's MoCCA comics festival!
At last, here's my MoCCA blog post! I've been so jet-lagged that I actually fell asleep right in front of some visitors to the studio on Thursday (SO embarrassing), but I spent all of yesterday hiking in the sunny English countryside and I think I've recovered. For me, MoCCA started off on Friday night with the Drink and Draw Like a Lady party, hosted by Lucy Knisley (lucylou) at a fine shop called 192 Books. (You can read Lucy's post about it here.)
Lucy set up this photo booth and you can see a bunch of guests from the night in her Flickr album. Thanks so much for organising the party, Lucy! If you haven't seen Lucy's comics, they're some of my favourites. I got to meet her in London for the first time a couple years ago, which was very exciting. (Here's Lucy's drawing of the evening.)
We were all very impressed by 14-year-old Emma T Capps who parked her parents by the checkout desk with the shop manager (Lucy's dad), got out her promo material and worked the floor. I wish I'd been plugged into a comics scene when I was her age; I wonder if I would have been so brave.

Here are Lucy's comics tattoos: six blank panels on one arm and the ISBN number of her first published comic, French Milk, on the other.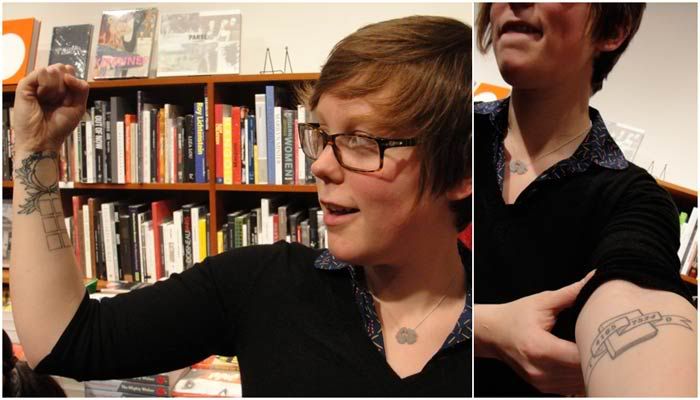 These are my two fabulous and very dear mateys from our college days at Bryn Mawr, Rose Jung and Brynn Perrine, who looked after me while I was in New York. (Thanks so much, you lovely ladies!)
Paige Pumphrey was looking particularly fine that evening!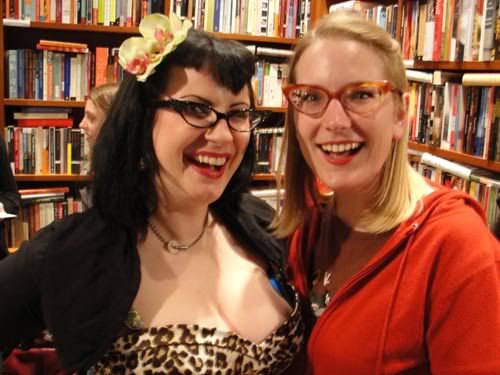 Clockwise: Paige Pumphrey, Natasha Sanders, Marsha Pugachevsky, Ivory McQueen
Here's Lucy giving a little talk at the end of the evening:
And her dad, who looks an awful lot like Lucy, looking appropriately managerial: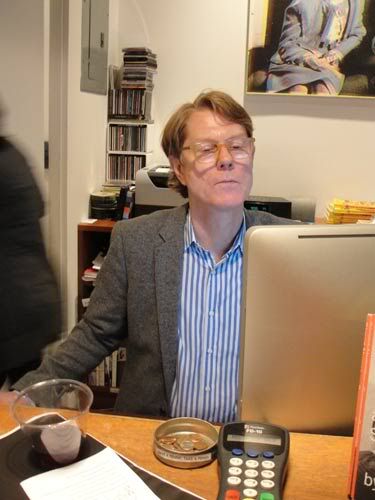 And on to MOCCA!!! The festival ran from Saturday to Sunday…
… and had to start with good ol' American pancakes. Not the thin English things, no, these are big, fat, breakfast-of-champion hotcakes. And coffee with free refills. (My once-British dad calls America 'The Land of the Free Refill'.)
Here are my fab table mates: Cliodhna Lyons, Ellen Lindner and Ellen's husband Stephen Betts, who coordinates comics translation website Comix Influx.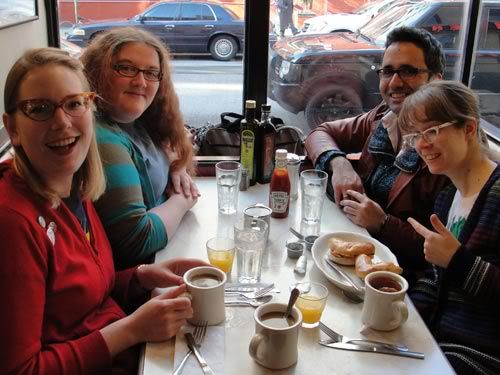 Thanks to my fab host Rose Jung for taking this photo, and she was an enormous help in getting all my stuff to the venue!
Here we are, setting up our UK-Irish table. The table was PACKED with stuff since we had our own comics, including Ellen's Undertow, Cliodhna's Underground, my Vern and Lettuce comic book, my picture books, art prints, a few anthologies (The Comix Reader, the GOAL anthology, Whores of Mensa (a take-off on a Woodie Allen story with the same title) and Birdsong/Songbird). We also displayed a few mini comics by some other creators, such as David O'Connell (tozocomic). (Dave's Kate Middleton: in her own words comic did particularly well.)
Ta-Dah! You can't see our fab Irish bunting or big Union Jack flag on the front, but you can catch a glimpse of the enormous Armory building (with real soldiers!) that housed the festival. None of us at the table were originally from the UK – Cliodhna's Irish and Ellen and I both grew up in the USA – but we all live in London now, so we thought we'd bang on with it as our unique selling point.
Comics News Insider reporter Jimmy Aquino stopped by our table…
… and interviewed me for one of his MoCCA podcasts, along with Tory Woollcott and Kean Soo, which you can listen to here. (My slot's a little more than a third of the way through.)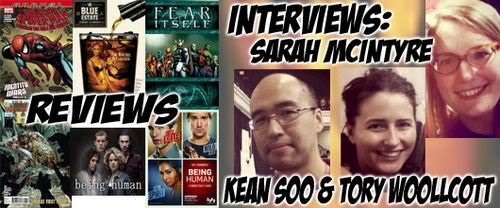 I swapped books with Canadian Kate Beaton (beatonna), who's already a bit of a comics legend for her hilarious takes on historical characters and situations. If I only followed one person's comics on the internet, hers would be the ones. If you haven't encountered them yet, you have a lovely treat ahead of you! I first met Kate at the UK Web & Mini Comix Thing in 2009.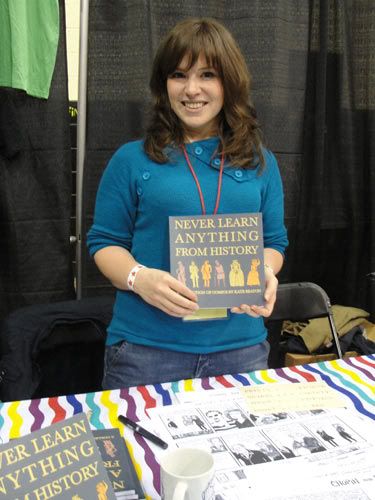 Not long ago, on LiveJournal I discovered Tiny Kitten Teeth drawn by Becky Dreistadt and written by Frank Gibson. They're (beckyandfrank) on LJ and they came all the way from New Zealand! I love the retro look of their stuff, and I wouldn't be surprised if the Golden Books pick up their work soon; they're a match made in kitten heaven. I spent more money on their stuff than at any other MoCCA or Stumptown table, but it was worth it. I wish these two lived nearby so we could hang out more.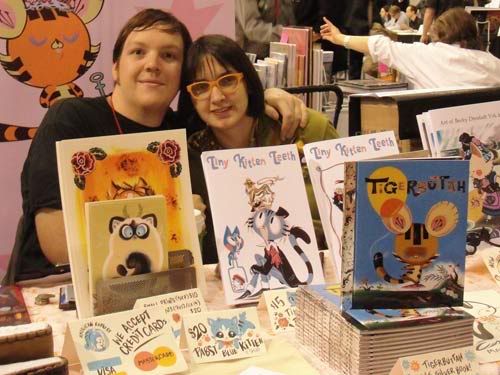 Which is a common feeling at these events, I'm always sad I don't get to hang out more with Raina Telgemeier (goraina) and her husband Dave Roman (yaytime). Raina was doing an event in Texas to promote her fab teen graphic novel Smile (published by Scholastic, Inc), but I was glad to see Dave. I felt hugely honoured to get a copy of his yet-to-be-released graphic novel Astronaut Academy: Zero Gravity, coming out with First Second Books on 7 June. I'll try to review it here soon, I had such fun reading it on the plane ride to Seattle.
(…'Graphic novel', sheesh. I mean 'comics'! But I'm hoping librarians will read this and think, ah, two fab books (Smile and Astronaut Academy) to add to our libraries, and sometimes they like to hear the words 'graphic novel'.)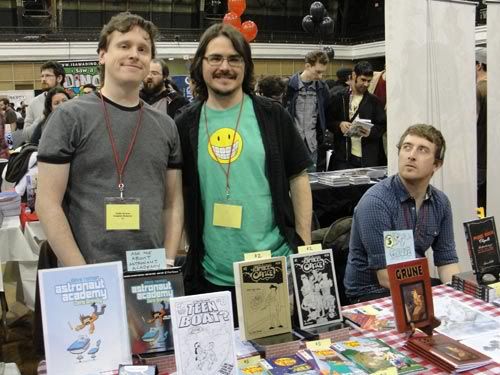 John Green and Dave Roman
Here's hardcore young comics creator Emma T. Capps pushing her wares.
Emma even has a couple videos uploaded to YouTube, have a peek. Dang, that girl keeps herself busy.
Whoa! I just spotted another one! This one's made at MoCCA. And I've had a follow-up e-mail drop into my Inbox from Emma herself. Okay, can I just say, O.R.G.A.N.I.S.E.D?
I look forward to reading my comic from Spike, an alternative history comic titled Templar, Arizona.
Both Yorkshireman Darryl Cunningham (tallguywrites) and I were thrilled to bits to meet the lively Jess Fink (finkenstein). While I would only recommend her comics for adults, they are expertly drawn and she has a great sense of humour. (Adult themes are always problematic on the blog of a children's book creator.) But whatever, Jess is super-fab!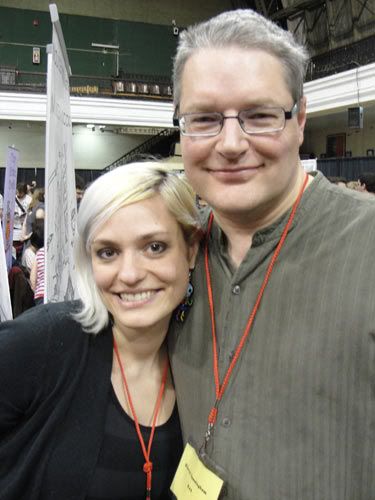 And so is Darryl! We both had way too much fun running around New York. Unfortunately Bloomsbury USA somehow didn't manage to deliver his books, Psychiatric Tales, so he wasn't able to sell it. That was the biggest let-down of the whole weekend. But if the buzz about this book is anything like it's been in Britain, this book's going to be a huge success. You can read my review of it here.
My big MoCCA discovery was Josh Shalek with his Falling Rock National Park comics. I love the cardboard covers and the strips inside really made me laugh.
I bought four of them and, even though my suitcase came back bursting at the seams with new comics, I wish I'd bought more. They'd make great gifts, too; they're the kind of comic that would appeal to loads of different kinds of people.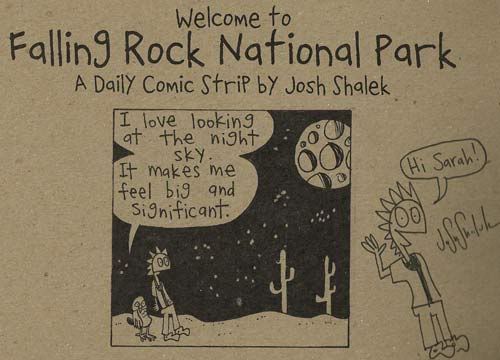 I first heard of Alec Longstreth (longstreth) when, in a blog post in 2008, I asked about people's work spaces and he sent a photo of him in his studio. A bunch of people sent photos, and we were all very envious of him! He's been growing the beard while working on his graphic novel and he's promising to cut it off when he finishes.

Claire Sanders and Alec Longstreth
Here's Darryl with his fine host and amazing comics creator Simon Fraser (simonfraser). I first met Simon and his brother when we were having Chinese food across the table from each other in Inverness, for Hi-Ex comics festival (which, I just discovered from its blog will be happening again on 31 March – 1 April, 2012). Simon's originally from Inverness but now lives in Brooklyn.
I was very pleased to meet Justin Madson from Wisconsin, and I bought a copy of Breathers, which I read in Vancouver Airport. For a self-published comic, it's amazingly elegant and the story well told. I wouldn't be surprised if he's doing something with a major publisher now. The style reminds me a bit of Dave McKean's, particularly the faces, but it's a lovely, spare look. In the book, everyone has to wear gas masks after a horrible virus killed loads of people. But it's been years and years since it happened, and while everyone's deathly afraid to take a single breath of unfiltered air, a few people are starting to wonder if perhaps it might be safe after all and there's a government cover-up about it. But no one wants to try breathing freely, and ripping off a mask is the most terrible violation anyone can commit. The story follows the lives of people who are just trying to get on with things the way we would, but in this altered environment. Justin makes gas masks look very cool.
Now I am GUTTED I didn't get a copy of the latest comic by Evan Dahm, creator of Rice Boy. I had a quick look through it, and it's beautiful, but I thought I'd be clever and buy it from him in Portland, and save myself carting it across the country. But then he ran out! He even promised to sell me the last copy (the book in front) but then I missed him when we were all packing up at Stumptown. I guess I'll have to get it at a comic shop here or order it online.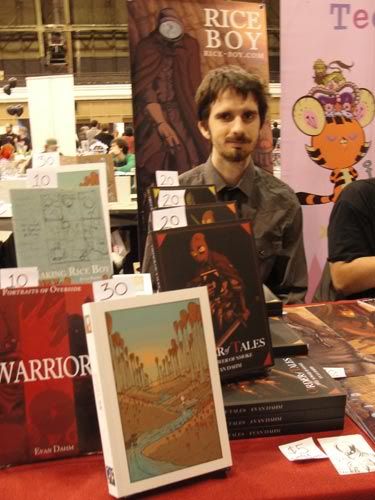 I stopped by John Martz's table and was very impressed with the look of his illustrations, and bought his comic Heaven All Day. It's a strange, quiet tale about the parallel lives of an factory technician (and inventor by night) and a homeless robot. I need to go on this guy's website and explore it some more.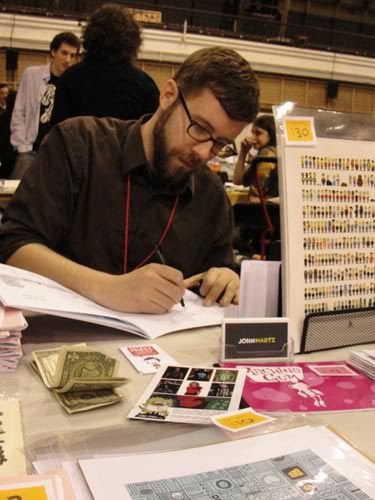 Here's one of our Brits who got away, Nick Abadzis, creator of Laika, a comic about the Russian canine cosmonaut (and lots of other things, too, including some DFC stuff). He now lives in Brooklyn, not far from Simon Fraser. Here he is with his wife, Angela Watson:
And here's a fab comics creator I discovered through Ellen, Sara Varon, and Christian Maiwald from German publisher Reprodukt. (I met Christian and Sebastian from Reprodukt in Angoulême last year, they were both good fun.)
I missed getting photos of loads of fab people, including Rina Piccolo (whom I met on Twitter). Sorry if I've left you out! I'm hoping to review a few more of the comics on my blog if I get time.
You can read my studio mate Ellen Lindner's recap of both MoCCA and Stumptown and see photos over on our Fleece Station blog. Go on, have a peek!