new moons & cellmates
A quick posts about the goings-on downstairs at the studio. I was wondering what all the hammering was about and popped down to investigate. Turned out to be an exhibition, New Moons & Cellmates going up for an organisation called Art Saves Lives, featuring work by prisoners and people who have spent time in prison.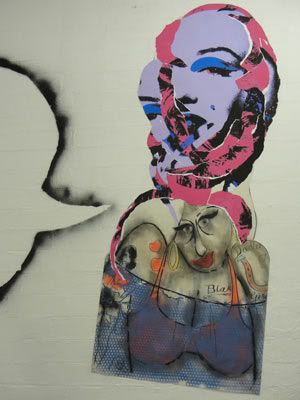 The party for it tomorrow night at 7pm should be good, Billy Bragg is saying he might come along with his guitar, along with two guys he's been teaching. I'm going to go, give me a shout if you're coming along so I can look out for you!
Here's a piece by a woman who, in something almost reminiscent of Les Misérables, got put in jail when she broke a window to steal some bread rolls (which disappointingly turned out to be plastic models of bread). When she was spending the night in the cell, a cop came in and beat her up, then she got arrested for assault and spent the next two years in prison. Unsurprisingly, she has some things to say about that.

A remarkable horse made out of rubbish…

And here's Dean Stalham, one of the directors of the programme (and the guy who made the Amy Winehouse pics).
News about Morris the Mankiest Monster! He's now back in stock on Amazon.co.uk. I got this e-mail from my editor:
I've checked the Morris stock situation out, and 1000 copies came in last Thursday, 27th Jan. All outstanding orders have now been fulfilled and we've got about 230 copies left. I'm guessing that it just took a few days for the stock to filter through to Amazon – I've checked on there today and Morris is now showing as available 🙂
The sales ops team is keeping a close eye on the stock level, and so are we!