my hero of a website builder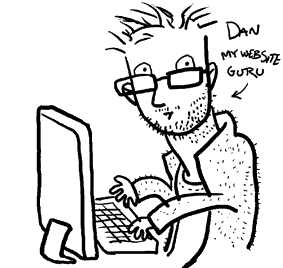 Here's a plug for my friend Dan Fone, who did a lovely job building my website, one for my sculptor friend Eddie Smith and just finished the website of another friend, Cristina Petrucci. Here's a Flash one he did for Purple Flame Media. If you're interested in some website building, he can work with you to build something very simple or very complex, depending on your budget. With my site, I wanted to be able to change things myself, so Dan built it in the most simple HTML code possible and patiently taught me how to use it.
Send him an e-mail for a quote if you're interested. And get in quick, before he's booked up solidly!