more space adventures!
Okay, anyone in or around London, ***I need your help***. I have some intensive space-themed comics workshops lined up to lead tomorrow (Friday) at the amazing Cartoon Museum (a stone's throw from The British Museum), but no one's heard anything about them. Hidden gems indeed!
If you know anyone 8-12 years old, get them signed up for the 11-1pm session, where we'll do hard-core comics creating, with lots of professional tips on publishing, plus portfolio review if you like. That costs £12. The 2-4pm session will be a much more casual drop-in thing for all ages, kids under 18 get in free and adults pay £5.50 admission. Please spread the word, it's tomorrow!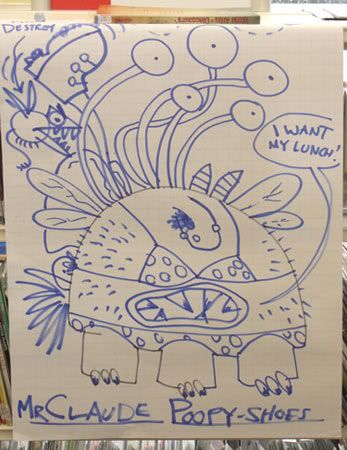 And now, presenting Mr Claude Poopy-Shoes, the alien-by-committee we assembled at Putnoe Library yesterday. (Isn't he sweet?) We even designed a book called Mr Poopy-Shoes Goes to Market, it promises to be a filthy read. Might even get banned.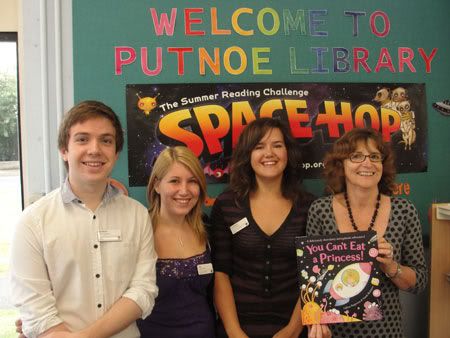 And the loverly Putnoe Space Hop staff with coordinator Stella Pilsworth (on right). I didn't get a photo of the Bedford Central Library crew, but that went great as well. Thanks, guys!