more monsters… and a hamster book launch!
First, here are a couple more pics I made for the Beauty & Beast boutique in Monsterville. These will pin up next to the mirror where people (and monsters) will go for their fancy wig fittings.
And here's a little tailor chappie to greet you when you come into Beauty & Beast. It's sort of like those funny gentlemen shops you find on Jermyn Street with big shaving brushes and shoe-horns. Except it also sells Marie Antoinette alien wigs.
It's funny, I'm not much of an expert on gentlemen's fashion, and I keep thinking, if I had more time, I'd love to get in three illustrators who know loads about this kind of thing. They would be my dean from art college Christopher Sharrock, Philip Reeve and David Roberts. These guys know everything about men's fashion, ha ha. Oh…Hurrah! I just saw that David Roberts finally got himself a website! I'm bookmarking it to go back and have a long look. David's attention to clothing detail – well, everything, really – is AMAZING.

Christopher Sharrock, David Roberts (I couldn't find a good full-outfit photo so one of his characters is standing in for him), Philip Reeve
So you can come see my monster boutique Lolliplops old-fashioned soda fountain and ice scream shop. And the other fab stuff Ed Vere and Neal Layton have been coming up with! Here are the details:
Welcome to Monsterville – FREE OPEN DAY – Sat, 28 May – All day
***To ensure a space on events please call 020 8536 5555 to pre-book.***
Set off a Monster Bank Holiday by coming along to the FREE launch of Welcome to Monsterville with the brilliant Sarah McIntyre (Morris the Mankiest Monster), Neal Layton (Emily Browne and the Thing) and Ed Vere (Mr Big).
11.30am 0+ Mini Monsters: Enjoy Story time for babies and toddlers in our Story Glade in the garden (inside if wet!)
1 & 2.30pm 5+ Monstrous Trail: Our Story Builders will take visitors on a tour around Monsterville – can you spot all the monsters lurking in the shadows? Are you up to the challenges and games?
12 – 12.45pm 4+ Ed Vere: Author of Mr Big and The Getaway will be coming along to delight us with live drawing we can join in with. Introducing us to his new book Bedtime for Monsters and telling us how he came up with his monster creations for Welcome to Monsterville.
1-145pm 4+ Sarah McIntyre: Fabulous illustrator Sarah McIntyre will be reading from her absolutely disgusting book Morris the Mankiest Monster and talking about how she created Monsterville's Lolliplops Cafe and Beauty and Beast Salon.
2.30pm 4+ Monster Draw-off: Monsterville makers Ed Vere, Sarah McIntyre will be drawing to become the most despicable champion monster creator of all time. Who will fashion the most terrible creature? Who will you vote for ?
3.30pm 4+ Neal Layton: Join Neal Layton illustrator extraordinaire as he shows of his sketchbooks and talks us through how he produced his amazing range of monsters for Welcome to Monsterville. Discover's Story Builders will then present Emily Brown and the Thing.
Monster Top Trumps: Drop into this event and draw your own monster, decide what their special powers are and play away.
Okay, moving on to what I did last night. I went to the launch of a brand-new picture book by Viviane Schwarz and Alexis Deacon, A Place to Call Home. Congratulations, Alexis & Viv!
This lovely book starts with a tiny hole full of baby hamsters who find it's time to stretch and explore their world. They have quite a few adventures before they start to think they may have found their place. The book is a lovely cross between picture book and comic book, with some full-page spreads and others broken up into panels, with speech bubbles.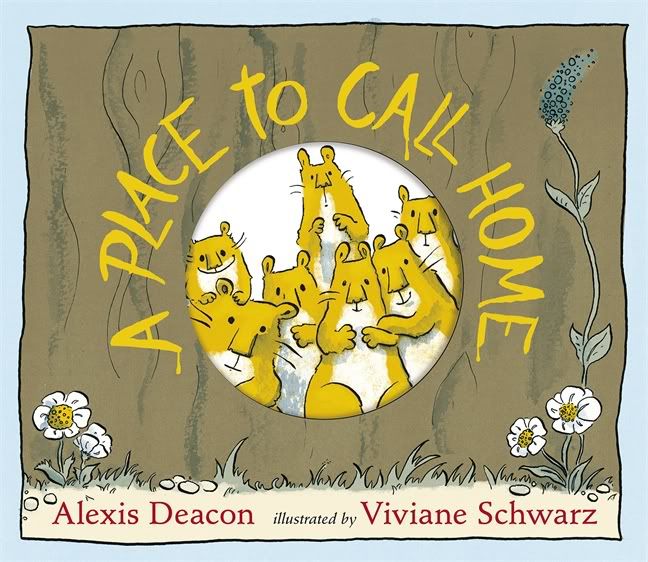 Here's writer and illustrator Alex Milway holding a copy of the book, along with booksellers from Tales on Moon Lane in Herne Hill. (That's the bookshop owner, Tamara MacFarlane, on the right.) Alex is busy right now working on his fourth yeti book for the Mythical 9th Division.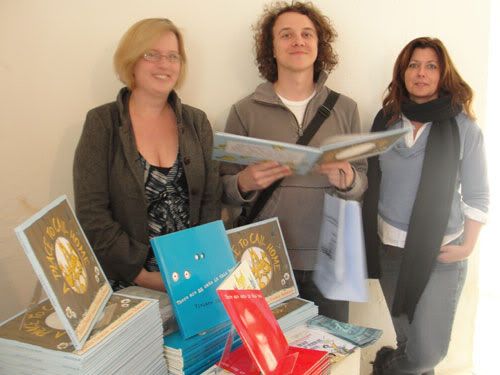 Viv and Alexis held the launch at Viv's studio, which is also a beautiful paint shop, bookshop and workshop space in East Dulwich called Colour Makes People Happy.
And obviously, it does! Here are the happy launch-goers: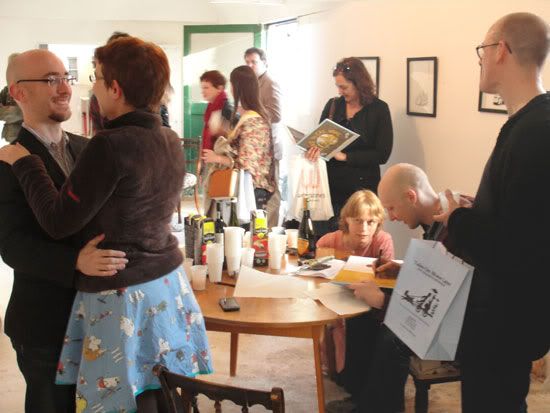 Here's Viv in her studio with her designer at Walker Books, Ben Norland.
A closeup of the hairdryer-sucking bear on the wall. He's so full of hot air.
They even have a colour spinner in the back! How cool is that.
Here's Noëlle, who's launching her very first picture book TOMORROW! It's written by the wildly famous Andy Stanton (if you don't know his Mr Gum books, do go find them!) and it's also Andi's first picture book. It has the lovely name of Here Comes the Poo Bus and Morris the Mankiest Monster can't WAIT to read it.
Noëlle's and Andy's book features poo and death, what more could anyone want in a book??

It was great to see everyone, here's Good Dog, Bad Dog comic creator and DFC Library colleague Dave Shelton, David O'Connell, my co-writer/co-illustrator on a book right now with David Fickling, and me. (Davids are a big theme with me right now.) Dave Shelton just finished the final artwork for an illustrated chapter book he has coming out with David Fickling in January, A Boy and a Bear in a Boat. Really looking forward to this one, it's going to brilliant.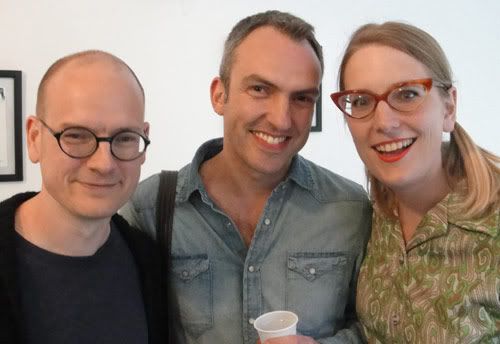 Here's Viviane about to knight her editor, Lucy Ingram. I think this sword actually appears in her upcoming graphic novel, The Sleepwalkers, launching in August.
Head of Walker Book, David Lloyd: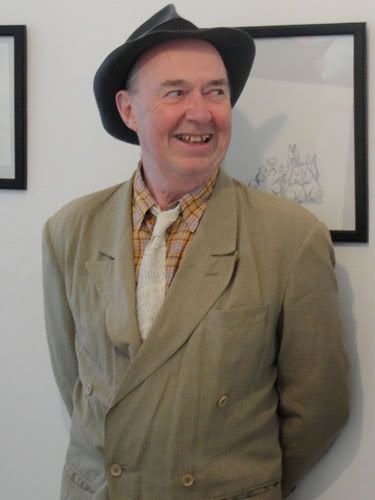 Walker designer and illustrator Jack Noel and illustrator Noëlle Davies-Brock: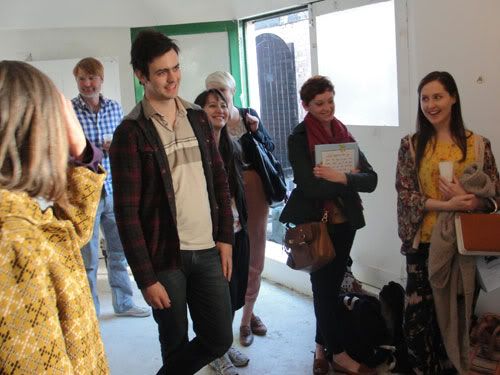 Viv had a bunch of her illustrations for A Place to Call Home on the wall. Here's Noëlle and photographer and cultural magpie Anna Mondo.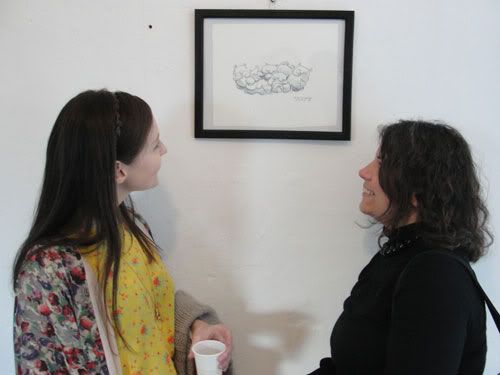 I love how the shop has traces of Viv everywhere. Here's her goat, and I woudn't be surprised if she painted the cabinet as well.
And one more of Dave Shelton and me: