more comica
Another busy day of Comica talks! I paid such total attention during the hour-and-a-half presentation by the amazing Dave McKean that I kind of fried my brain and had a hard time concentrating for the other four hours of comics school. Here's a doodle I did in the very last talk, when I was about to fall off my chair from overstimulation: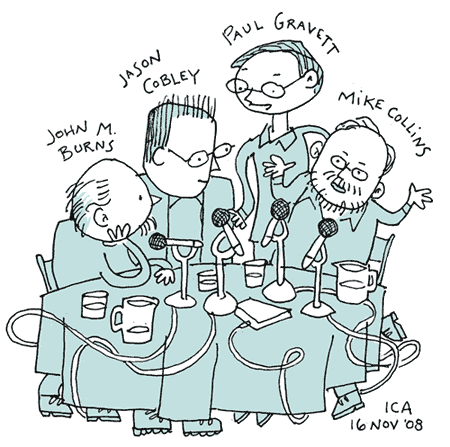 Dave McKean gave an excellent talk, showing us lots of his work and talking about his working processes. What most struck me, and I asked him to expand on it in the question time, was his comment about the recent sketchbook albums he's made of cities: Paris, Barcelona, Vienna. He said, 'They're very important to me, they've taught me how to draw. I've only really felt confident in drawing for the last three years because of these books.' This seemed kind of shocking, coming from someone who's had a long career of making drawings so good that half of the kids on every BA illustration course in the country are copying him. But he explained that, while he could draw, he'd often have to fight with drawings, and they hadn't felt like they'd flowed freely out of him. By doing the city sketchbooks, and drawing whatever he liked, the penny somehow dropped; he compared it to drumming, when people get so good at drumming that they can start listening to themselves, and surprise themselves with new things they like because the drumming has so become a part of them.
The other thing he emphasised through the talk was 'the importance of script'. 'If a book's going to be any good, it has to come from the script.' McKean said he writes stories on little notecards, which he spreads around him so he can see how the ideas bunch together, and where they leave gaps. Even though he works on building a solid structure for his script, he still leaves room for play and writes the dialogue as the scenes occur, so there's always something fresh and new happening. Once there's a good script, he takes control over every part of the design process… 'damage control', as he put it. He said there's nothing worse than doing all that work and having some designer come and slap hot pink lettering over the top of it. His art teacher, George Glenny, was very learned in semiotics, and told him 'everything is loaded with meaning', which includes fonts and every aspect of book design.
McKean also talked about working closely with other writers, including Neil Gaiman, but he focused on Iain Sinclair, as someone for whom he has great respect, for his ability to let go of text; while most writers 'are in love with their words', Sinclair told him on a joint project that 'he didn't mind if the books didn't have any words'. McKean mentioned several films he's worked on, and I'm eager to see them: two shorts called Dawn and Whack!, one set in Venice called Neon and another coming out soon, called Luna.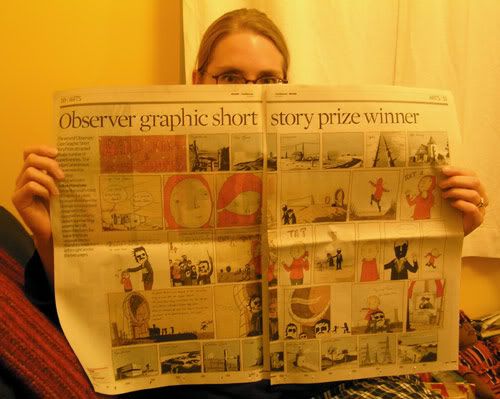 During the second talk, Between the Panels, we got to hear from the two runners-up and the winner of the Observer graphic short story competition: Isabel Greenberg, Emily Haworth-Booth and the winner, Julian Hanshaw with Sand Dunes & Sonic Booms. Super-cool fact: Hanshaw's already on the schedule to appear in the DFC early next year, so look out for this guy!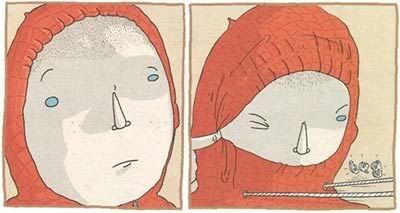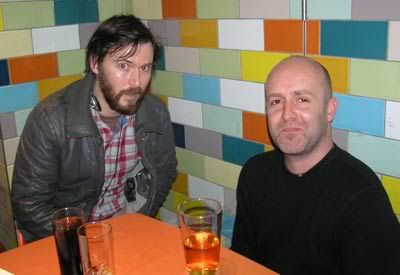 Julian Hanshaw's the guy on the right, and he's sitting next to Oliver East, who's recently come out with Trains are… Mint.
Other speakers whose work I will have to look up very soon from the second and third talks are:
Hannah Barry with her very promising looking novel, starring a detective and his tea bag partner, Britten & Brülightly
Paul Duffield, Marcia Wiliams (who recently wrote Archie's War), John Burns, Jason Cobley, Mike Collins, Mustashrik, Chie Kutsuwada and Ian Culbard.

Here's a little reunion from Friday's day at the V&A with Mahala Urra and Maartje Schalkx.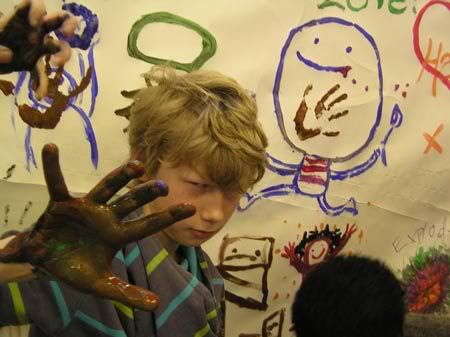 And I did some painting in the morning, but with the help of some vertically-challenged friends, the whole poster turned to chocolate-coloured mush in about fifteen minutes (which was rather satisfying).
Edit: You can catch up on news from Thought Bubble in Leeds from shug_comics, ratherlemony, ryclaude and undoubtedly soon from smurf_uk, chamonkee, emmav and nabbit.
jinty has done a second write-up on Friday's V&A Comica symposium here, with a good description of Posy Simmonds and comments on Pat Mills' talk that I didn't manage to write about.