monster competition winner!
Before I head off to Dublin tomorrow morning, I need to announce the winner of Birmingham's 'Make your own Monster' contest, held at the launch of Morris the Mankiest Monster. The prize goes to…
Ezekiel Arthur Norris Bloomfield!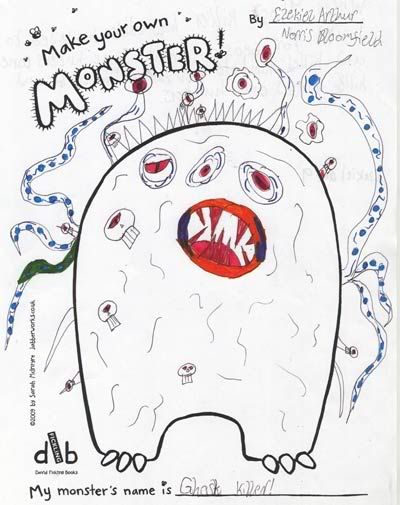 The submissions were brilliant, but the clincher was the story Ezekiel enterprisingly wrote onto the back of his Ghost Killer monster:

When Ghost Killer was alive, he used to hunt for beasts until some hunters came and killed him! He now haunts the world and kills ghosts and hunters. …Excellent. Congratulations, Ezekiel!
If you're in Dublin this weekend for the Children's Book Festival or Irish 24 Hour Comic Day, do come make monsters with me! I'll be leading a workshop at the comic day main venue, the Central Hotel, tomorrow (Saturday) at 5:30pm, then I'll be doing a book signing (and might make some more monsters) at Waterstone's, Jervis Street on Sunday from 2pm, then hopefully go for drinks with ztoical (who will most likely be crashing after the tremendous amount of work she's put into organising the weekend). Then I'm doing a Monday 11am-12:30 workshop at Easons bookshop, then a 1:00 workshop at the Central Library. Looking forward to going to Dublin, haven't been there since I went on a Ireland road trip when I was 18!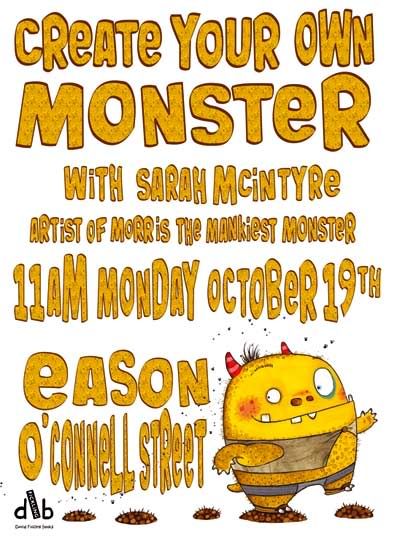 Ha ha… did you see the Morris drawing by Garen Ewing in yesterday's comments? Too funny! Garen, you rock.