MEGAMONSTER 15 jan – mark your diaries!
Saturday, the 15th of January is a BIG DAY! And you know why? Because the amazing Nikki Gamble is launching a new centre – called Just Imagine – that's going to host all sorts of comics workshops, storytelling, costume drama, drawing extravaganzas and mad creative scribbling sessions. Fabulous news for kids, parents, people who love stories and people who make stories! It's based in Chelmsford, Essex, a short train ride from central London.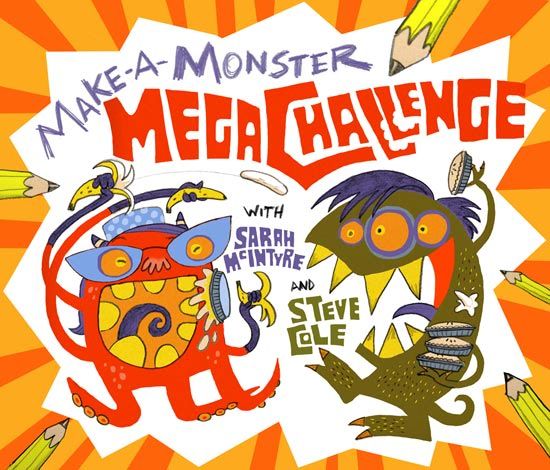 On the 15th, there's going to be a big party for all ages, and YOU'RE INVITED! Come prepared to make monsters with me and the zany writer Steve Cole. Steve always has me laughing so hard that it takes several hours for my cheeks to stop hurting. We're going to have you help us come up with a huge MEGAMONSTER baddie, then you're going to design your own monster and scored trump card to form a sort of Monster Justice League to wage battle against the Megamonster.
IT'S GOING TO BE EPIC. (I'll list the schedule details at the bottom of this post.) Here's my fab friend Steve; the first time I met him he was wearing a Vern badge. I was so excited!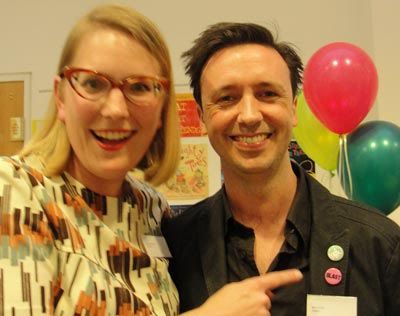 You may know him as the hugely popular author of Dr Who novels and the bestselling Slime Squad, Astrosaurs and Cows in Action series. With all his monster and slime experience, it's a no-brainer to pair him up with my Morris the Mankiest Monster, and we might even slide some comics in there, since Steve is a big comics fan.
Edit: And I just heard that the writer Marcus Sedgwick will be coming along! Hurrah!
Nikki had me design the logo image for the Just Imagine centre and write a bit about it.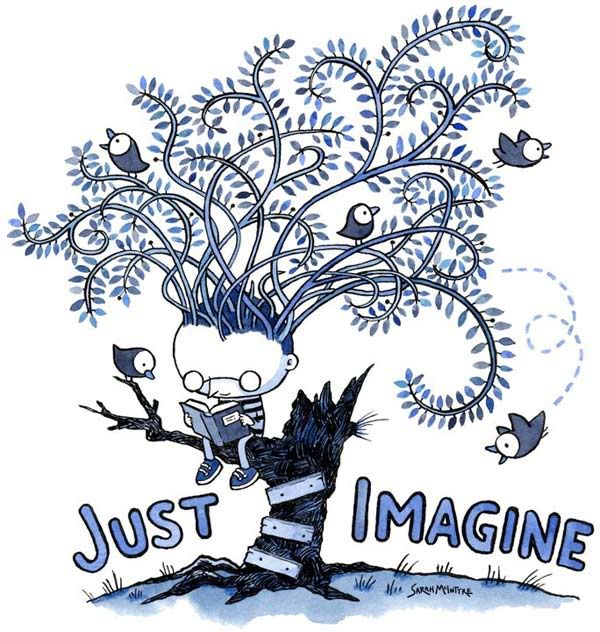 When I designed the 'Just Imagine' logo, I envisioned a child taking a book to a rather unpromising place – a burnt-out tree stump – and the tree comes alive and flourishes as the story weaves its magic in the child's imagination. Childhood isn't always a welcoming kind of place, but kids can explore a huge range of possibilities for different ways of living through the characters they meet in stories. I was a miserable child, and books saved me by giving me hope for the future, that there was a huge world out there to explore, and new people to meet. I learned from other people's mistakes, and encountered the kinds of people I wanted to make friends with when I eventually met them. Sometimes now I feel my whole life is a story, with limitless possibilities, if I can imagine them, and that's a wonderful thing.

A note about the childhood thing: I wasn't miserable because I wasn't given lots of opportunities and looked after well, I was unhappy because I was utterly inept socially. And at that age, we kids don't have much perspective about things, so every slight takes on huge proportions. (And children get away with things like assault, libel, blackmail and other things that would put adults into jail if they did something similar.) Several things helped me come out of my shell, but books played a huge part in that, as did the film Laurence of Arabia, which made me see, in a staggering way, that there was a huge amazing world out there. I was able to switch from worrying over, 'why doesn't anyone like me?', to dreaming, 'what do I want to see as soon as I finish this whole painful school malarky?' Even school got better, because I could see it as a road to better things ahead.
Books helped me connect with people, in the long run. I remember the first time I ever talked with someone at school about a book. It was with a kid named Jeremy (who, oddly, is now the English teacher at that same school). Jeremy and I were never really friends, just co-sufferers, but I remember I'd been very absorbed in a book called The Runaway Robot by Lester del Rey, and Jeremy said that he'd liked the book so much it had made him cry a bit. It was the first time anyone had ever voluntarily shown me the slightest sign of weakness, and about a book, and I still remember the huge rush of gratitude I felt toward him at that moment.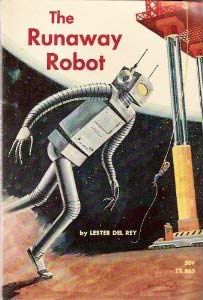 Here's the Just Imagine shopfront in progress, with a layer of undercoat paint on the front. You can follow the building progress over on the Just Imagine Facebook page.

Just Imagine, 64 – 68 New London Road, Chelmsford, England (map here)
A great thing about Nikki Gamble is not only her love for and encyclopaedic knowledge of children's books, but that she knows absolutely EVERYONE in the industry. There's a guy in comics named Paul Gravett, whom the creator Eddie Campbell dubbed 'The Man at the Crossroads", and Nikki is the children's book equivalent. Besides that, she has a huge team of reviewers working for her Write Away website, an enormous database of independent reviews, creator interviews and lesson plans. She's just entirely revamped it, so it's having a few hitches, but should be running smoothly soon.
A fun project she's doing for Just Imagine is having different well-known illustrators create a painted wooden alphabet, which she's been posting over on Facebook. You can see a few here, an 'M' by master craftsman Chris Wormell (which fits well with our Monster theme!):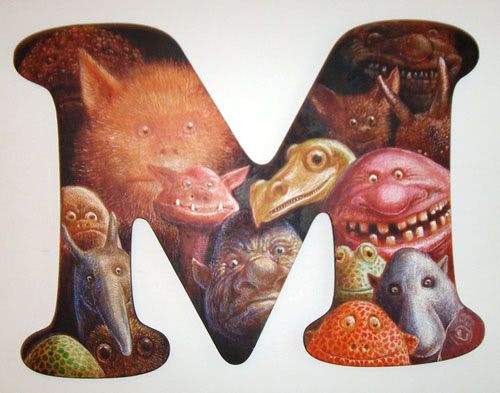 An 'N' by Garry Parsons:
And a 'Q' by Mini Grey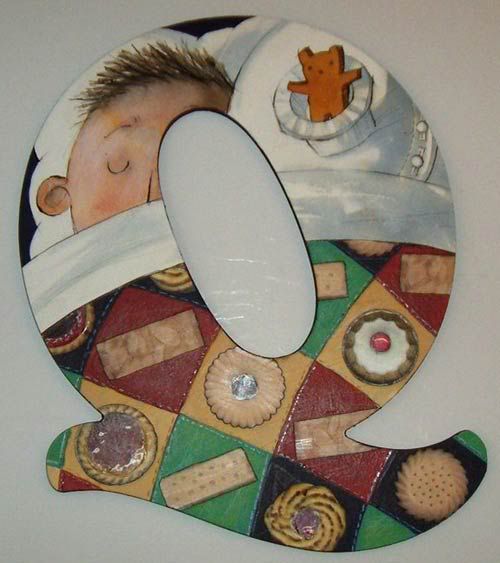 See you soon in Essex!
*****MAKE-A-MONSTER MEGA-CHALLENGE!*****
11.00 Just Imagine Grand Opening
The hugely popular author of Dr Who novels and the bestselling Slime Squad, Astrosaurs and Cows in Action series, Steve Cole, teams up with Sarah McIntyre equally talented and superenergetic illustrator and designer of our logo to cut the ribbon and officially open our centre.
Balloons and goodie bags for the first 100 children through the door. If you want one make sure you bring a child with you!
Come and meet Horrid Henry and the Gruffalo. Bring your camera and have your photo taken with them.
Facepainting throughout the day, and tales of monsters and heroes by local storyteller Mike Dodsworth.
11.30 Slimey Morris – time for a story with Sarah and Steve
12.00 – 1.00 Create Your Own Monster with Steve and Sarah
Please note there must be an adult accompanying children at this drop in session.
1.30 Slimey Morris – time for a story with Sarah and Steve with Steve and Sarah Please note there must be an adult accompanying children at this drop in session.
2.00 – 3.00 Create your Own Monster with Steve and Sarah
Please note there must be an adult accompanying children at this drop in session.
3.30 Prize ceremony. Winners and lots of monstertastic prizes for:
Best Baby Monster
Best Pop Star Monster
Best Pirate Monster
Best Hairdo Monster
Best Space Monster
Best Underwater Monster
In the afternoon we joined by Marcus Sedgwick author of the Raven Mysteries and breathtaking teen novels Bookd Red, Snow White, Revolver and White Crow
4.00 Book signing. Come and get a book signed by Marcus, Sarah or Steve.
4.30 After Dark with Marcus Sedgwick.
Marcus draws the day to a close with a few words… and perhaps a glass of bubbly!
Press call photo opportunity at 3.30
A few words from Steve:

Slime O'Clock News YouTube link