media interviews and the scbwi book gang
Last night I got together upstairs at the Savoy Tup with a bunch of writers from our Society of Children's Book Writers and Illustrators and BBC journalist Claire Bolderson gave us a fascinating workshop on handling media interviews. Here's event organiser and writer Candy Gourlay and Claire (who is very tall).

The event was a new development in SCBWI's offerings, in that SCBWI used to be a group of people who were mostly unpublished, and our events were about breaking into the industry. But it worked! And now loads of us are launching new books, so we're having to change the focus to take in both newbies and people who are already being published and want to explore what to do next. So the newly forming series is called SCBWI Pulse and will address these new needs. SCBWI gave me a massive boost when I first started trying to get published. If you make children's books and live in Britain, I highly recommend joining SCBWI, and chip in your ideas for exactly what you want to happen here.
I got everyone who had one of their books handy to pose for a photo: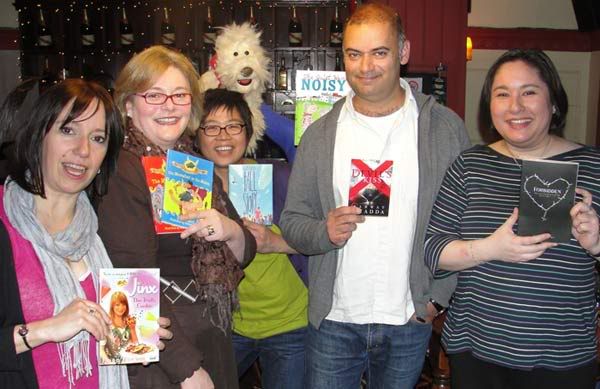 Fiona Dunbar, Lucy Coats, Candy Gourlay, Woofie the dog on the arm of Sue Eves, Sarwat Chadda and Tabitha Suzuma

Candy just got her printed copy of her amazing novel Tall Story (I blogged about it and made fan art here.) So we all went delightedly nuts over it.

(Click on the pic or here to read a close-up of the jacket flap.)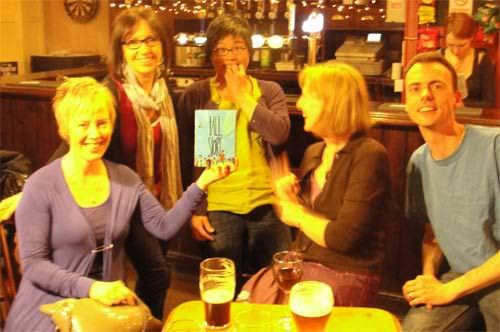 Five of us got to sit in the hot seat and do a practice radio interview about our latest book with Claire. Sarwat was a master of blending fascinating answers with information about his book, Devil's Kiss, and Tabitha was worried she said 'um' a lot, but then we all got so interested in what she was saying about her teen book on incest, Forbidden, that no one cared about ums. Sue Eves was nervous, but as soon as her puppet dog came out, we were instantly charmed, and could see how it could work even in a non-visual radio format.

Sarwat Chadda and Fiona Dunbar
I learned a lot from my time in the hot seat, particularly about keeping things short and tight, because I was so interested in what Claire was asking me about kids and the magic of comics that I barely managed to mention Vern and Lettuce in the three minutes. I suppose it was a mix of thinking that if we get more British kids reading comics, they'll naturally gravitate toward reading mine, and also that I'm more used to giving talks on comics panels, where I get at least ten minutes, with projected images to keep me thinking about my own book. But I was sitting next to my good friend Layn Marlow and we immediately decided we needed to meet up again to do a few quiet practice interviews together.

Tabitha Suzuma and OUP Senior Editor Jasmine Richards
So we have a new government this morning. I hope they will be huge supporters of comics and children's books, and realise that investing in the creators, libraries and school reading schemes will make us a more literate and exciting country. C'mon guys, show us what you're made of! Within a week, I want to see David Cameron and Nick Clegg standing at the door in Downing Street waving around a Beano and a copy of Mezolith.