mcm expo, day 1 of 3: the brownies are kick-ass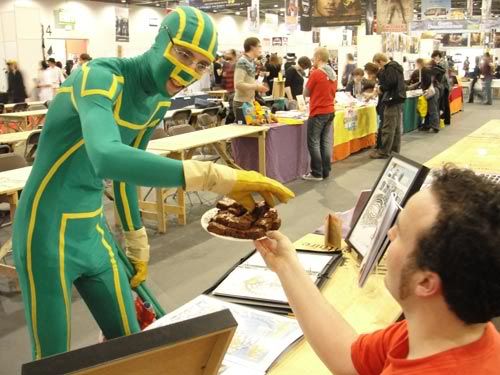 Another weekend of costumed madness at London's MCM Expo! But this weekend it's THREE days instead of two. As we at the Fleece Station studio suspected, the crowds today were much lighter than we've seen on the usual Saturday starting day. I'm guessing we got about 8,000 visitors. (Last year more than 30,000 people visited the festival in the two days.) Come back Saturday and Sunday, and don't forget to bring your camera! Saturdays are always NUTS.

My Cardboard Life by Philippa Rice

Lauren, Gary and I weighed the pros and cons of the festival starting on Friday rather than Saturday.
Cons:
*Three days is an awful lot of working days to give to an event, even if Friday is more of a half day.
*Lighter visitor traffic meant less sales.
*Not all exhibitors (such as the Etherington Brothers, Neill Cameron and David O'Connell) could come on the Friday, so the empty tables looked a bit forlorn.
Pros:
*We didn't have to fight the usual epic morning rush-hour battle to get our heavy luggage to the Excel Centre in time to set up before an early start. And on Friday, there weren't the risks of weekend engineering works shutting down the Docklands Light Rail, which they love to do, and in the past has made the journey all that more fraught.
*The start was more chilled out, so the organisers Emma, Pud and Anna looked much less stressed out than usual. (And Emma hadn't even lost her voice!)
*Because we had a bit of space, we got some time to browse, take photos and talk with the other exhibitors. I even had time to get a coffee (whoa!).
*Even though the traffic was lighter, as usual, the other exhibitors are the most likely to buy each other's stuff. I didn't sell lots of Vern and Lettuce, but of the four people at the Simon's Cat table, three of them bought copies. (Whoo hoo!)
*Kids were on half-term break, so they were able to come along. Last year, costumed kids came along on the Friday anyway and hung around outside the venue, even though the festival didn't start until the next day. So perhaps we might as well get them in.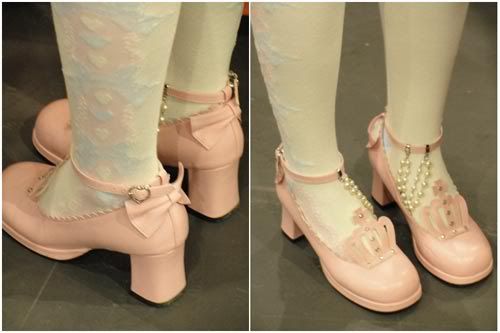 The Fleece Station had a much longer table this year!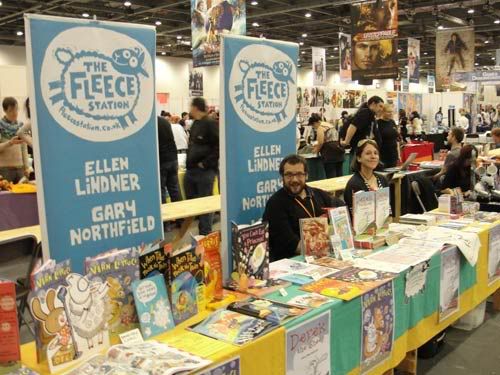 The only book I've bought so far at Expo (and according to Emma Hayley, I'm the second person ever to buy it, it's so new!): At the Mountains of Madness by HP Lovecraft, adapted and drawn by Ian Culbard (injculbard on Twitter), published by SelfMadeHero.


SelfMadeHero Director Emma Hayley
I know this makes me sound like an old fart, but as always, we were hugely impressed by how well-behaved, tidy and considerate all the teenagers were. Every year, you'd think 30,000 unaccompanied teenagers could be a problem, particularly as some of them are half-naked. But they've put so much time into making their costumes, and are so interested in the storytelling of their comics/animé of choice that they bring together a really nice spirit of being both focused and playful at the same time. I'd say without hesitation that getting kids interested in comics and animation is a great way to keep them out of trouble and promote artistic craftsmanship and literacy. I wish libraries and schools would get extra money for this instead of budget cuts.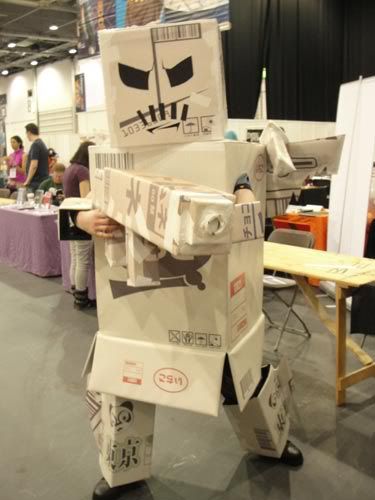 Curtis and Terrorist by Oliver Lambden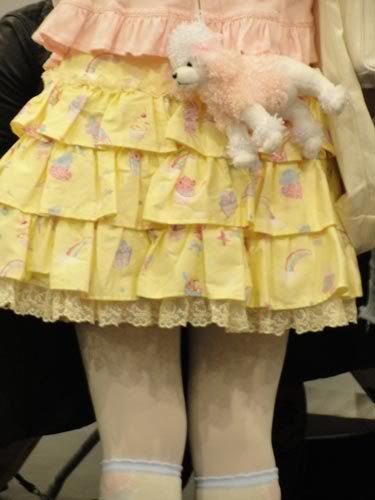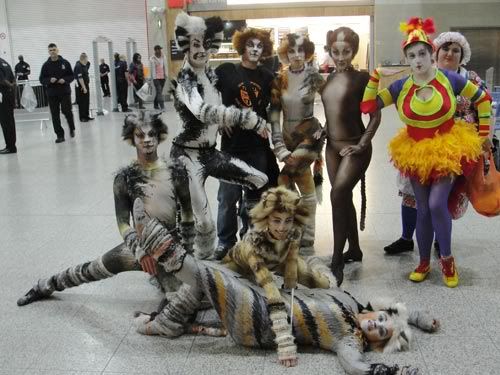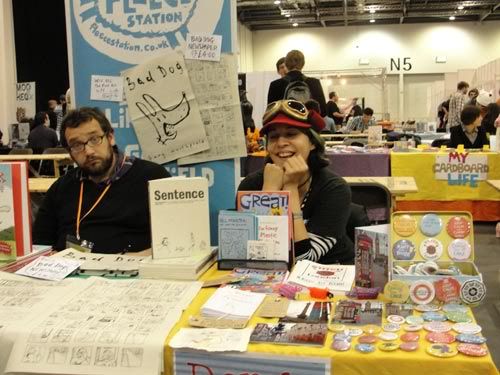 Studio mates Gary Northfield and Lauren O'Farrell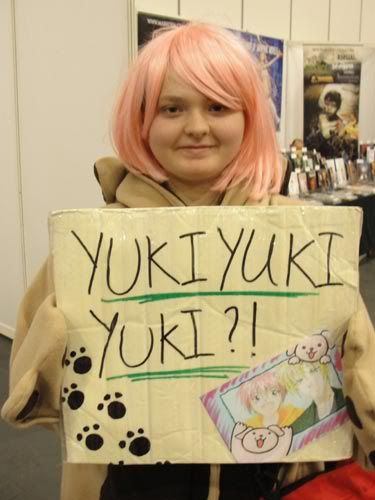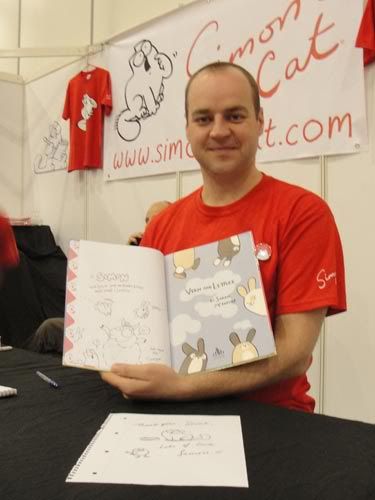 Simon Tofield of Simon's Cat
I think if I could've worn any of the outfits today, this would've been my choice. A nice blend of colour and still-in-my-sleeper comfort.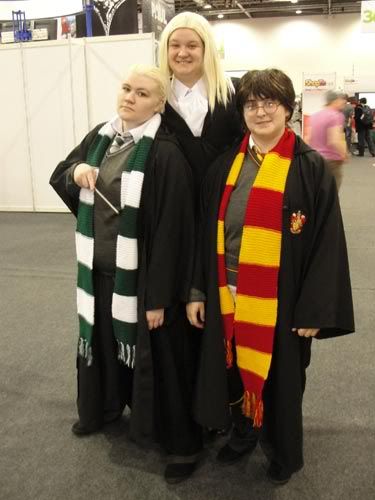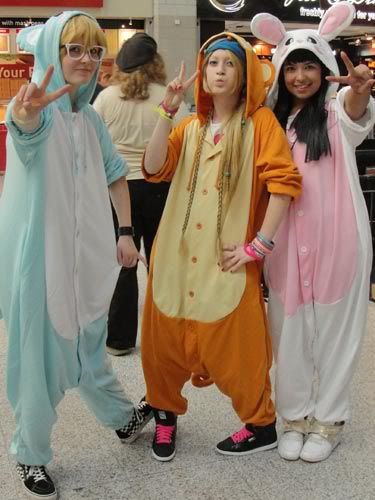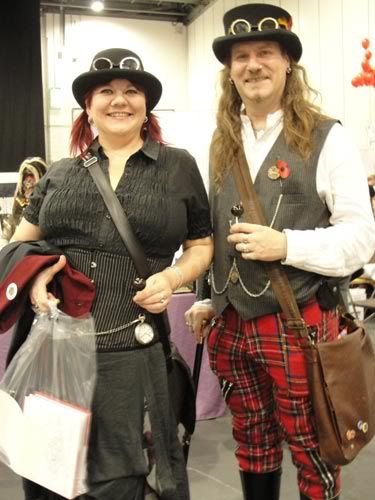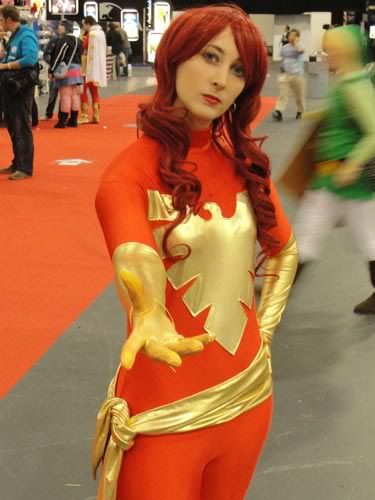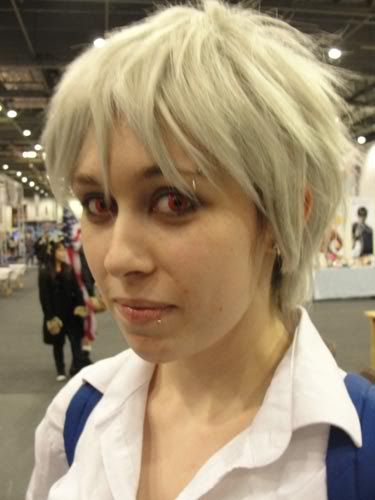 It's the eyes! The eyes!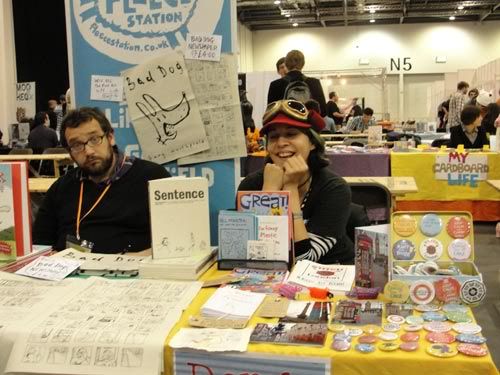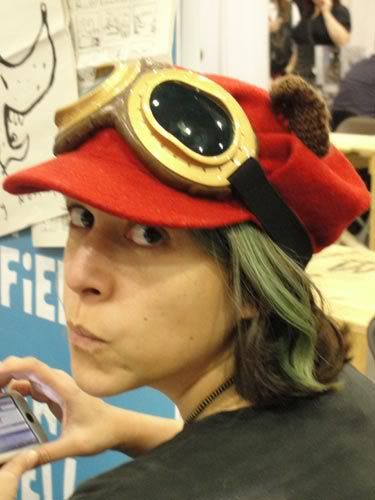 Our table neighbour Jennika Ioffreda
So then, onward to Day 2! At noon on the stage tomorrow (Saturday), the DFC Library's Neill Cameron (Mo-Bot High and the Etherington Brothers (Monkey Nuts will be talking about our work and then doing some COMBAT DRAWING! Come support us, but be sure to wear armour!