making monsters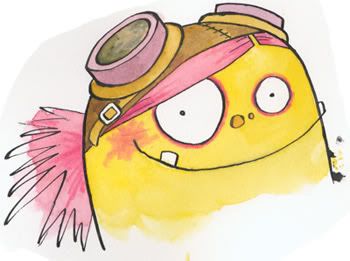 I was so chuffed when I got the picture from Molly Bruton of 'Maggie, the 2nd Mankiest Monster' that I had to go ahead and try to draw my own version! I started with the softer one below, but it wasn't quite right, and then I painted the top one, which I like very much! Maybe I'll name mine Molly for now, and she doesn't look as manky as Morris, but she has some of her own bizarre habits. Hmm, will have to think about this.
You can see a review by Molly and her dad, Richard, on the FPI blog here, thanks, guys! I was also very chuffed to read reviewer Matt Badham's comments about the Michiru Morikawa interview over at Down the Tubes and the recap of BICS on FPI. Michiru and I were both really nervous about that interview, she was worried about her English (which turned out to be almost flawless) and I was worried that I didn't know enough about manga to be able to ask good questions. I need to learn way more, but it was nice just to connect with her as another creator who gets a bit obsessive over drawing a good line.
And talking of good lines, I just got this fab drawing from the King of Good Lines, Warwick Johnson Cadwell. You might recognise his work from editorial illustrations in The Guardian, but he also makes comics and is one of the best people at drawing in Britain. Ha ha, I love the jar of Ginger Beard…
I was so glad to get the chance to see him at BICS, he's very elusive because he's usually working out somewhere on his boat. He's contributing to the Birdsong anthology that's hopefully coming out for Thought Bubble in Leeds.