london's free comic book day!
Yesterday was comics play day in Soho at Gosh! London, to mark the distributions of a whole bunch of great swag for Free Comics Book Day! And Kermit was the first person I saw when I arrived! And his comics artist Roger Langridge, the fab artist behind some of The Muppets Show comics.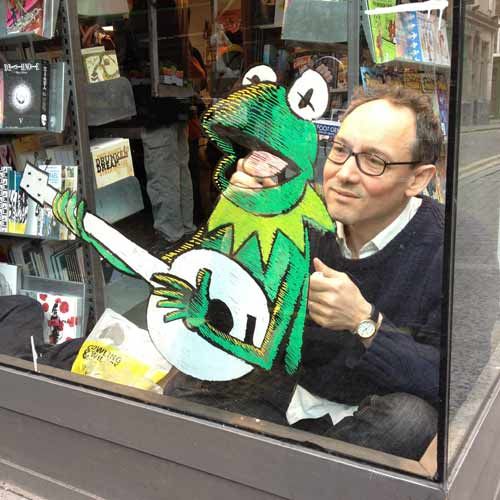 And here's a peek at the Vern and Lettuce window I drew, with some fabulous young comics readers peeking through!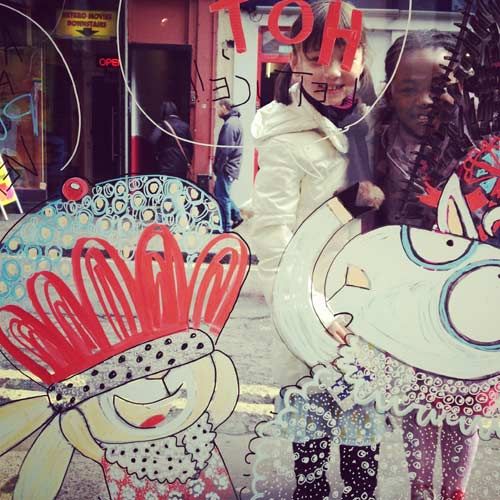 So we drew comics! I took a shift at the drawing table just after Ray Friesen of the Pirate Penguin vs Ninja Chicken comics, but we were so pleased to see each other that we overlapped our sessions and just had fun mucking about. Ray came over from Los Angeles, and he's a real hero of self-publishing, having created and and taken loans to print six books himself (print runs of 5,000), figured out how to distribute them, and made back his money and then some. He was one of the first-ever visitors we had at the Fleece Station studio when we started up a few years ago.

Photo from the Gosh Comics Facebook page
I had an idea for a slightly serious comic I wanted to work on, but when I got there, the place was absolutely rammed with people and there was no way I was going to concentrate. So I basically asked the kids what they wanted me to draw and made a scrappy comic about that. Here's Emir; he and his dad were pleased as punch to see him starred in this comic. (The cat walking on sausages was Emir's idea.)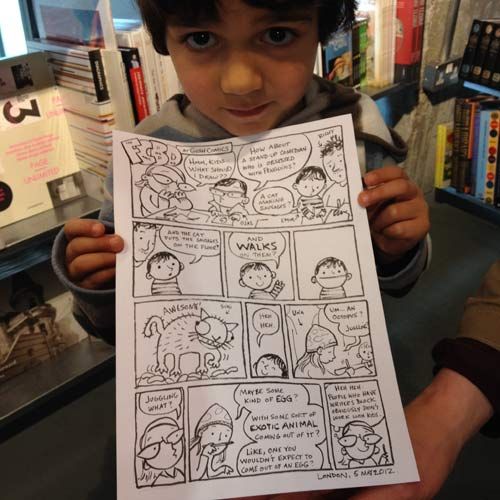 His dad, Ricky Chandler, has blogged about the event and posted some more photos here! Ha ha, I totally can't draw well when I'm talking with people and helping them with their comics, too. But it was chilled out and no one minded, they just liked seeing new comics happening everywhere.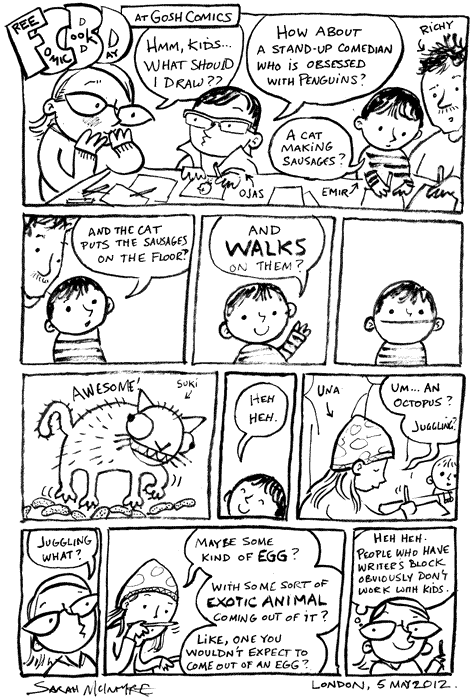 Some of the kids were able to concentrate better than I did. Here's Una, who stayed focused for way longer than people think kids can, and came up with this story, which she titled Newest Invention. I just got a lovely e-mail from her this morning, and she's heading back to the USA soon, but I'm so glad I got to meet her while she was visiting! (Hi, Una! Keep drawing those fab comics!)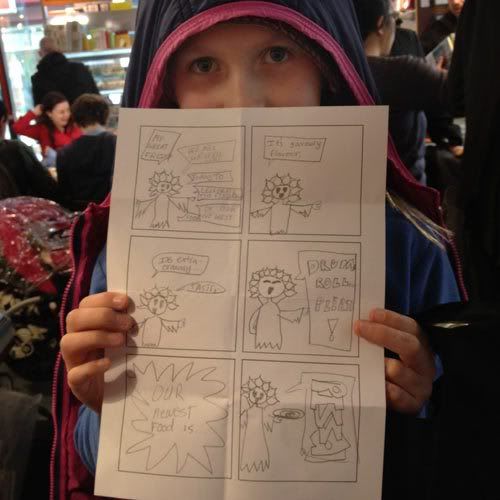 London-based Nepalese comics creator Kripa Joshi brought some of her family along, who were visiting from India, and Ojas drew a portrait of me. (He finds skirts a bit difficult to draw, so he cleverly solved this problem by drawing me as a ghost.)
And here's lovely Belle! I first met Belle while doing a pirate event at Foyles. There were a bunch of kids there who didn't really know much about my books, but were lured by the promise of sweets, when suddenly Belle charged in and turned out to have an encyclopaedic knowledge of Vern and Lettuce. I swear, that girl knows them better than I do! We totally bonded. Here she is, displaying her colouring sheet designed by Richard Short, standing in front of the window painting by Karrie Fransman.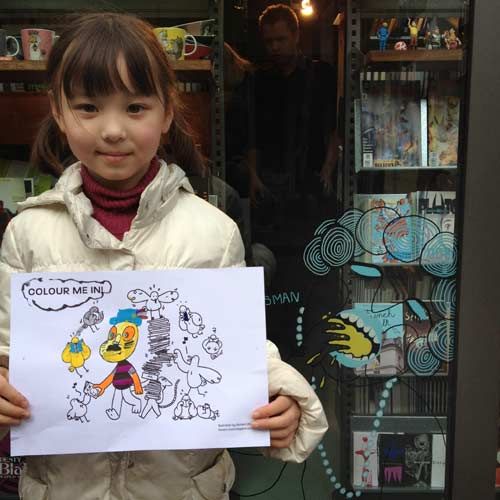 Tom Humberstone (editor and publisher of Solipsistic Pop and fellow NELSON contributor) and I had a good laugh sitting in the gap between the shelves and the window, trying to get the POSCA pen ink to go smoothly onto the glass. It's not as easy as you would think! You can see Roger got around the streaky problem by colouring his Kermit with lines of colour, not solidly.

Photo from the Gosh Comics Facebook page
That's Richard Short's version of Dennis the Menace from The Beano, and Tom getting on well with his Peanuts picture.
Ha ha, here's me concentrating VERY HARD!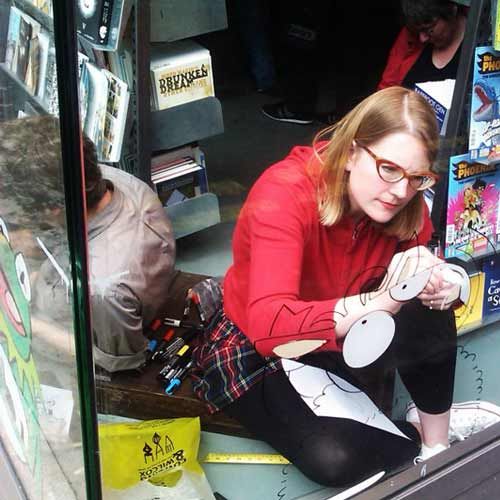 Photo from the Gosh Comics Facebook page
I took Darryl Cunningham's advice about not trying to paint solid colours, and use pointillism instead to fill the fields of colour. It works quite well with Vern's wool! Makes an nice lacy effect. It was fun drawing Vern in a bearskin. You can't really read the speech bubbles unless you're right in front of the window, though. Vern says, This hat is so HOT, Lettuce! And Lettuce replies, And you're already 100% pure wool, Vern! (or something to that effect).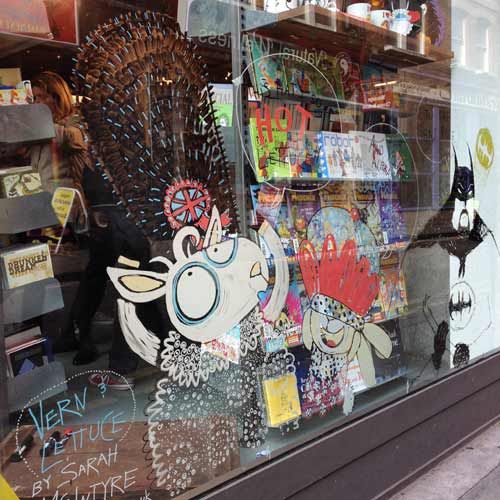 You can just see Louis Roskosch's Batman next to Lettuce, it was lovely to meet him. And I don't think I saw Christian Ward, but he was also involved in the day. Here's comics artist and Gosh! employee Julia Scheele just starting her addition to the front window. Do pop by to see the finished version!
I totally fell in love with this version of Fungus the Bogeyman, as drawn by Will Morris.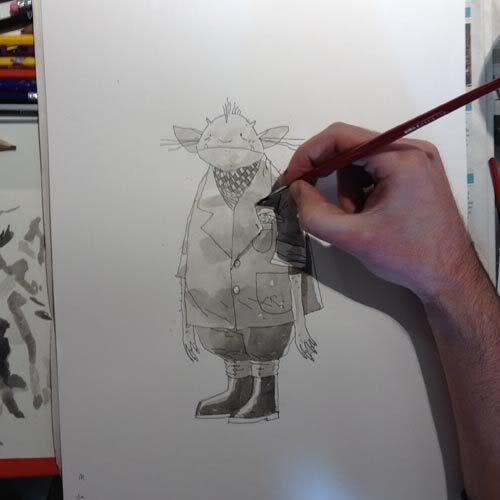 I'm such a fan, I managed to buy it off him when he was done… score!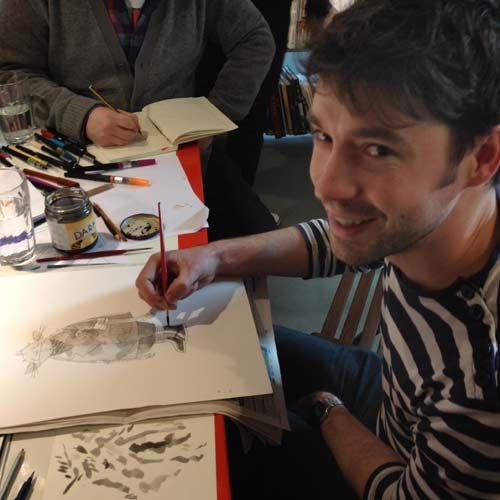 After my day at Gosh, I popped over to Chinatown and bought a bunch of pretty-looking treats for Viviane Schwarz, who had invited Stuart and me around to her new place for dinner. The 'Ball Cake' turned out to be terribly disappointing, nearly tasteless fluff, but the 'Collon' pieces weren't half bad. (I just bought it 'cos it was called 'Collon'.)
Here's some lovely graffiti I saw on the way over. Jonathan Edwards on Instagram said he think it's by Billy & Alex. Ah yes, just looked at the website and it's definitely theirs. (Cheers, Jonathan!)
It's a bit daunting, walking into Viv and Gwyn's flat. You're immediately confronted with a whole lot of WEAPONRY. Yikes! This is because they run a series of game events called Fire Hazard, which has memorably had people in masks and weapons running all over the Old Police Station and trying to break into our studio on half-hour intervals. (Never a dull moment, eh?)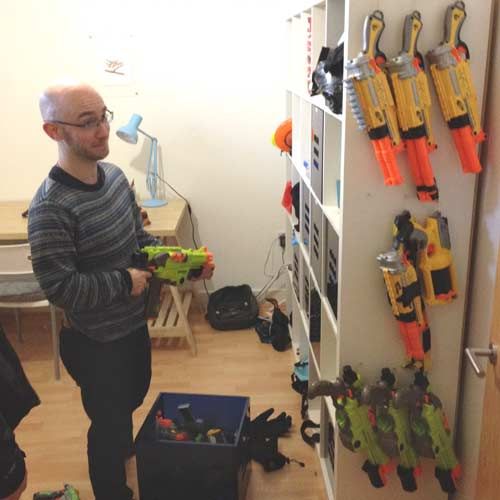 But the focus of the evening was CHEESE. When I'd been in Belgium, I'd posted a photo of a dinner with our friends there who'd served raclette. Growing up in Germany, Viv had often had raclette, it was the thing they did at parties, and she got excited and decided she was going to buy a set. So we got to break it in, hurrah! Here's Viv being Master Raclette Chef. It has the same communal feel as fondue, but everyone puts ingredients into their own little pans, shoves on loads of raclette cheese, and slides them under the grill to go toasty and melty. It's very yummy!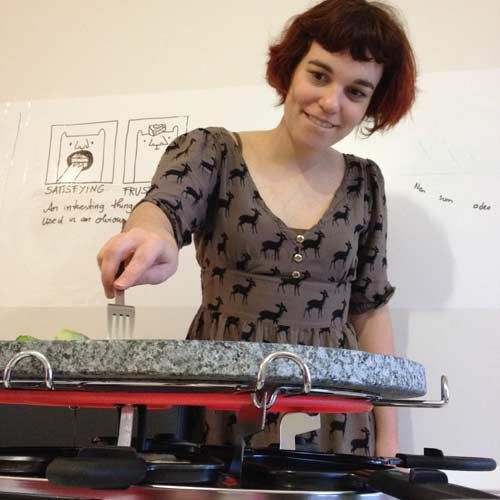 And the cheese didn't stop there! I got a peek at the completed version of Viv's new graphic novel, The Sleepwalkers, coming out next year with Walker Books. It's amazing! I read as much as I could politely read at the table with everyone there, but what I really wanted to do was curl up with it and read the whole thing through. Can't wait for this one!
And more cheese! Here's the book she made with Alexis Deacon (sitting behind the iPad), CHEESE BELONGS TO YOU. Another picture book to watch out for; this one explains the very complicated rules amongst rats about who owns cheese. It's a hilarious parable about the scrappy real-life functioning of a democracy.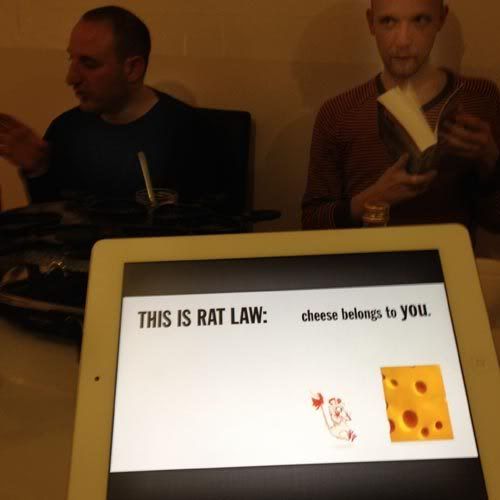 Okay, and then we had all had TOO MUCH CHEESE. But that is a good thing. Thank you, Viviane!