lola solves a vern and lettuce mystery!
I was wondering if someone was going to ask me about a particular detail in my comic Vern and Lettuce, but until now, no one ever did!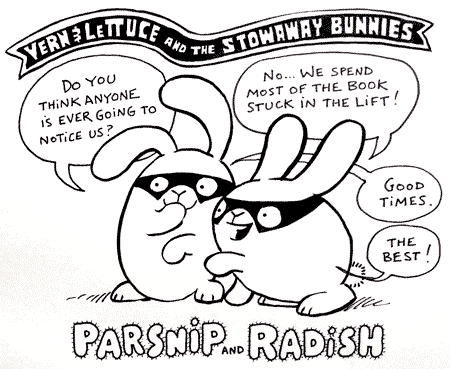 Until ten-year-old Lola Fijalkowska from Worthing sent me an e-mail last week.
Lola wrote: At the start it says all the names of the little bunnys.

…But on the next page, there is another bunny without a name underneath it. And on the page next to that, I can see there is 7 bunnys. Throughout the whole book, it looks like there is only 5. What are the names of these other bunnys?
Well spotted, Lola! I wrote back: When I started making the book, I was creating the strips page by page, and when I did the first page, I didn't really know what was going to happen, or even that the bunnies would play a big part in the book. By the end of the book, I thought I could take out some of the bunnies, but I decided that perhaps Lettuce was babysitting visiting friends or relatives, as well as her brothers and sisters. Just wondering, since you were the first to spot it, would you like to name the other two bunnies?
Lola wrote: I am so excited about naming the bunnies! I've been thinking of lots of names, but I think the best two I came up with were Parsnip and Radish. Do you think Parsnip and Radish are friends with Vern, Lettuce and all of her little brothers and sisters?
I wrote: Parsnip and Radish are fabulous names! I couldn't have thought of better ones myself. Thank you for naming them! I am sure Parsnip and Radish are great friends with the rest of the gang. I wonder what kind of adventures they get up to! And do they live in Pickle Rye or another town? I wonder why Lettuce was bunnysitting them that day. There must be more stories in this. If you want to make up anything about Parsnip & Radish and draw and/or write it for the blog and e-mail it to me, I'd love to post it along with their new names.
And look what Lola sent back!
Parsnip and Radish are the rabbits twin cousins from the city "Vegetable Patch", which is about 3 miles from Pickle Rye. They are both girls. Their mum and dad are called Auntie Rhubarb, and Unka Crumble. They live in a bungalow, so every time Parsnip and Radish vist Pickle Rye, they are very interested with revolving doors and lifts. They may even spend a hour in a lift (with Unka Vern of course, just to see how much he can take it!)!

The bungalow has 5 windows (2 in the attic, 1 near the ladder, and 2 at the bottom) and no stairs. Instead, it has a ladder which leads up to the roof/attic/top floor. The house also has a carrot chimney.
The twins most prize possesions are:
Unka Verns knitted jumper
Lettuce's bike flag
Lifts and Revolving doors – The guide book to the amazing world of Lifts and Revolving doors
Wow. I love this, it's like my comic is coming to life and I'm getting to hear back from the characters, what they really get up to! I absolutely need to see Vern and Lettuce's Guidebook to the Amazing World of Lifts and Revolving Doors. I may have to make one at some point. Maybe Lola and I can both make it, it's such a fabulous idea. So, here's introducing you to the two mystery bunnies in Vern and Lettuce… Parsnip and Radish! (And Auntie Rhubarb and Unka Crumble. Hurrah!)
People of all ages, don't forget that you can have loads of fun over in Vern and Lettuce's world with The Pickle online magazine. Come design a page! I hope to come up with some new occasional fun stuff for that as well. I still have some more pages to upload to the magazine, but have a look at NEW PAGES by Jim Medway (creator of Crab Lane Crew in The DFC and editor of Comical Animal), Emma Brink, Gina Allnatt and Rosa Timimi over at picklerye.com!

Culinary page by Jim Medway… click to see a larger version in The Pickle!
And thanks to Molly Bruton over at the Forbidden Planet International blog for voting for Vern and Lettuce one of her top three comics of the year, along with Mo-Bot High and The Girl and the Gorilla! (Read about them here.)