livejournal turns 10!
Although it took the FedEx man ages to find the studio, he just arrived with my copy!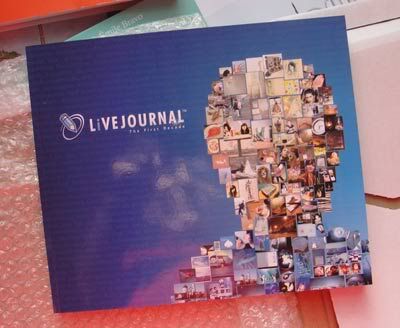 The LiveJournal staff spent ages asking around,trawling through blog posts and getting in touch with people to put together this snapshot of what's been going on in our blogging community. And here's what they picked from my stuff! (Do you remember davario's Draw Yourself as a Teenager meme? This was my original post.)
I recognised one of the contributors straight away, one of my favourite upcoming comic creators, Lucy Knisley or lucylou and I thought whodunnknit would like this little jumper, half Deadlyknitshade, half Beano:


Lots more to look through, some lovely stuff unknown stuff out there on the blogosphere.
Here's the official LJ page for the book: lj_turns10 and you can buy it here on Blurb.
Right now I'm try to come up with front and back covers for the Vern and Lettuce edition of the DFC Library. So far, Neill Cameron of Mobot High has suggested: Vern and Lettuce dressed as a Mariachi band, eating chow mein, with mole ballerinas pirouetting in the background. Or cloned zombie pirate Vern & Lettuce. From SPACE!
Jamie Smart says: vern and lettuce riding vern and lettuce robots like in bill and ted #pleaseohpleaseohgodplease
John Aggs jumped in with: Then when it all gets too complicated, you make a new universe! Ultimate V&L!
And cdave says: A tuba! And the bottom third being a cut away showing moles in earth and and a the tips of a foxes ears on a tube platform. and gives this link to a great photo of a fox on the London Underground. (See what I'm doing, I'm taking Twitter back to LiveJournal, heh heh.)
Any new suggestions very welcome, I'm curious what people would want to see on the covers!