little pencil at the ica

Taso and her marvellous mythical beast
On Friday evening, as part of the Comica festival, Gemma Tortella organised with Paul Gravett so that a group of kids, their parents and I watched three animations in the cinema at the Institute of Contemporary Art and then spent an hour drawing to music. We saw Sweet Dreams and Story from North America by Kirsten Lapore, and Bryum & Kapok 03: A Lilt by Overture. The DFC's Patrice Aggs slipped into the cinema with us before she headed off to do her Black Powers talk and we had a good giggle while watching Sweet Dreams when the cupcake starts getting jiggy with the butternut squash.
Sweet Dreams from Kirsten Lepore on Vimeo.
After we watched the animations, we went and drew pictures to music I'd picked out. Some of the songs had evocative lyrics and others had quirky instrumental bits I thought might give us ideas. I started off showing them some pictures from my Morris the Mankiest Monster book and said that while I'd been painting it, I'd been listening to a song called Hunnu by Egschiglen's Mongolian throat singers. It always makes me crack up because it sounds to me like a bunch of short men jumping around in the mud, which was just perfect for the book.
(Sorry, you have to have Spotify downloaded on your computer to listen to these links. But it's great, I've been listening to a lot of music that way recently.)


I also played Shoals of Herring, a folk song belted out by the Clancy Brothers, which my dad often used to sing to me at bedtime. You have to have a lot of confidence to sing this song, and I used to think (well, I still think) it's the ultimate manly song, evoking smelly fishermen in scratchy jumpers and long nights at sea. I think my dad and friend used to sing this a lot in bars to earn free beer when they first immigrated to America.
Another tune I really liked as a kid and played over and over on my parents' stereo was Abraham's Theme by Vangelis. I used to listen to it and dream I lived in a tide pool with the sea anemones and limpets, I was sure that was just what it would sound like in there. I was a little bit obsessed with the idea of living on the sea bed. I was even convinced I could breathe underwater, and I can't actually remember a time where I had to admit to myself I couldn't do it. I just remember not being able to do it anymore and being sad about it. So I have a quiet hope that maybe I actually could breathe underwater back then.
I was fascinated by how the kids interpreted it differently. Some drew sea life, but one guy thought the song sounded like someone calling for help and drew this person in a dark doorway. (Isn't that a great drawing?!)
I'm pretty sure these three were drawn to David Bowie's Space Oddity:
A guy named Luka drew this band while listening to Count Basie's Jumpin' at The Woodside:
Most of the time Luka sectioned his paper each time a new track came on:
Here's Evi, the ICA intern from Greece, drawing dancing ladies, I think along to Chunari Chunari by Abhijeet and Anuradha Shriram.
I think this one was drawn to Stealing the Pinch by David Holmes:
I love the characters in this one; I'm not sure, but I think it was drawn along to Mido Mountain, a traditional Chinese tune I heard played by Yo-Yo Ma and his Silk Road tour musicians when I was in Seattle.
One of the best drawings -and I missed my photo op – was this skeleton coming out of a coffin drawn to Balada Conducatorolui by Taraf de Haidouks.
After the drawing session, I went upstairs to the bar to meet up with Gary Northfield, Lauren O'Farrell and Alex Milway. Someone had just given Alex a fancy-schmancy feather-tipped pen nib, so we kept right on drawing, although the drawing quality deteriorated markedly as the evening progressed. Really lovely evening, thanks for inviting me, Gemma, Vicky and Evi to the ICA!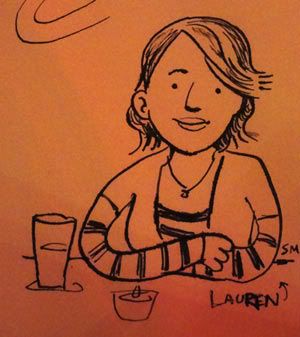 Edit And Little Pencil continues on the first Friday of every month! Details here.