laydeez do comics
Here's a very fast doodle I did this morning, probably along the lines of that 'Draw yourself at a Hundred' meme going around the internet.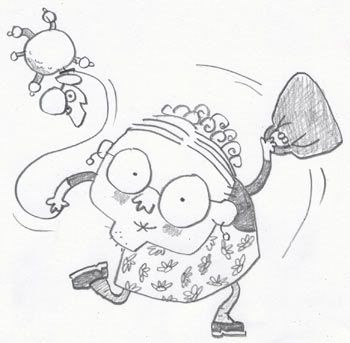 Thanks to a bunch of you who came to my talk last night! I forgot about my camera and didn't get any photos, but Viviane Schwarz, Gary Northfield, John Aggs, Ed Hillyer (Ilya), Alex Fitch from Panel Borders comics radio interviews, two recent Camberwell graduates, a big-time DFC fan, the Lady West (an artist, and wife of the Admiral of the British Navy – that's a new one!) and a bunch of other people – several new to comics – came along. I gave my shpiel on my work and other work I've seen recently by women comics artists, then we discussed Shaun Tan's novel, The Arrival, then the organisers Nicola Streeten and Sarah Lightman gave short presentations of their work. And we had drinks and Sarah's amazing home-baked cookies. It was great seeing Sarah's work, and Nicola's working on what looks to be a fascinating graphic novel; I'm hoping she sees the whole thing through.
Laydeez Do Comics is going to run monthly talks and discussion groups, and they're looking for comics artists to do ten-minute presentations of their work. So if you're interested, possibly even coming from abroad and might make your trip coincide with the talk, do get in touch! (Here's the website.)
My camera ran out of batteries at the curry restaurant afterwards, but here are a couple Nicola sent through, one of the two of us, and with Gary, John and Viv up in Poppadom's loft space. You can't really tell, but Viv's wearing the fabulous new Moomin-print dress she just made.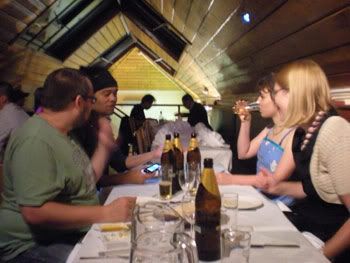 Just before the talk, I went for late-afternoon tea with novelist Damian Kelleher and graphic designer and publicist Helen Boyle. Damian suggested this great cafe deli place in Shoreditch called the Albion caff (which is not really a caff, not enough grease), that had really beautiful cakes and cupcakes and pots of tea with little tea cosies that made us squee.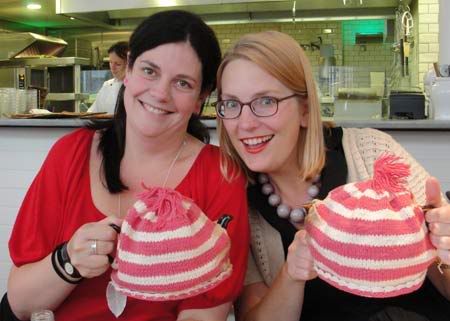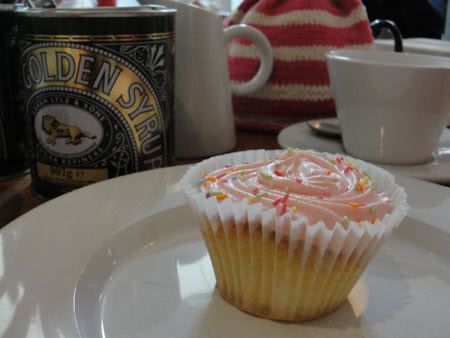 And just in case I was nervous for the upcoming talk, there were these words spray painted across the street: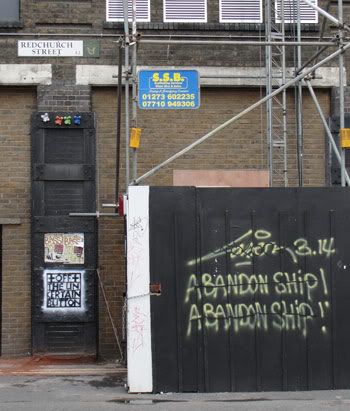 Shoreditch has such great graffiti, even a lot of the utilitarian lettering looks cool: