launch party: there are no cats in this book!
Hurrah for Viviane Schwarz! She's done it again!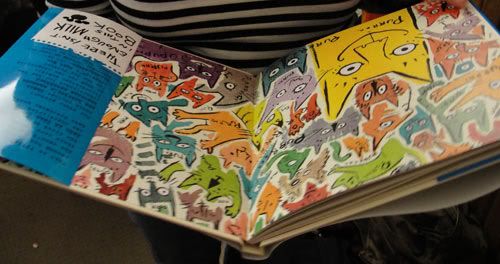 Here's some video footage I shot at the launch party last Friday:

YouTube link
Thanks for hosting to the fabulous indie bookshop, Review, on Bellenden Road in Peckham. Go browse their stuff, that place is full of treasures!

Good launches require fancy hats.


Editor Lucy Ingram, Art Director Ben Norland
Writer and illustrator Alex Milway arrived with brand new Monster Books, which will be part of this coming weekend's Crystal Palace Children's Book Festival. (Don't miss Viviane's event!) Professional illustrators and kids have been making monsters, all published together! You can catch a glimpse of my monster here. Head over to the festival website to read interviews with participants, including the Etherington Brothers (Monkey Nuts) Gary Northfield (Beano's Derek the Sheep and loads more!
And I just have to show off my poster again, heh. THIS SATURDAY! Don't miss it!
Alex Milway has been a busy bee, not only making his editor Ben Norland stay the latest he's ever stayed at work, but planning the festival and writing articles for the Guardian! Here's his latest, about the importance of school visits. (Woohoo! He included my robot-sheep war with Neill Cameron!) Children's authors in schools: literature's road warriors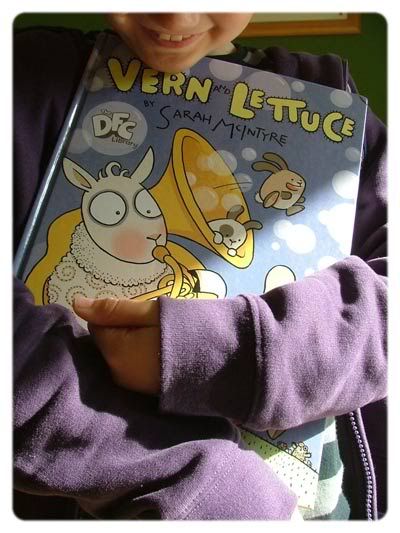 Happy reader at Library Mice
Thanks a million to the Library Mice book blog for such a wonderful, personalised review of Vern and Lettuce! Really chuffed! I love the bit about her husband wondering why he keeps seeing the book everywhere. Read it here!
And another huge thanks to Book Zone 4 Boys for your brilliant review! Thanks for getting the word out about Vern and Lettuce, I'm really proud of this one!
And I can't remember if I mentioned it already, but hurrah for Big Issue Scotland for your review. You guys rock!