last watercolour class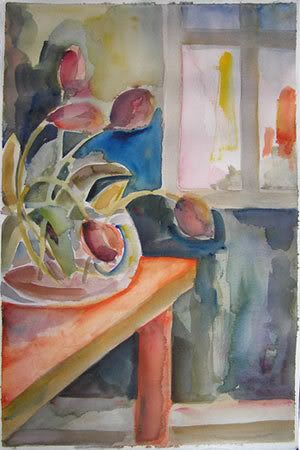 I think our tutor wanted something special for our last class, so I tried to be as un-illustrative as possible and splash some paint around. I'm not really convinced this is a way I want to work, but it's nice seeing how watercolour can look when it's left looking a bit more rough than I usually make it.
Again, we didn't have any physical flowers to look at, but I made up a quick little composition in Photoshop right before class so I wouldn't spend the first few minutes wondering about the subject matter. I think I would've been able to do better with at least a photo, so I could see how the light worked on the glass bowl. So, here's another budget hotel painting, but I like it a little better than last week's.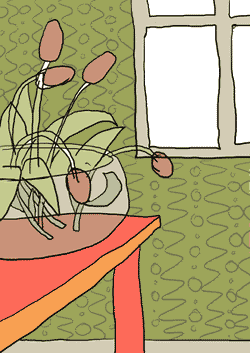 I just saw some new paintings from my former classmate, Joe Rowell, who's based in Roanoke, Virginia. They're brilliant, have a peek! I like his fish and Rasputin pictures best.
And I'll be stopping by the UK Web & Mini Comix Thing on Saturday, maybe see some of you there.