kuniyoshi exhibition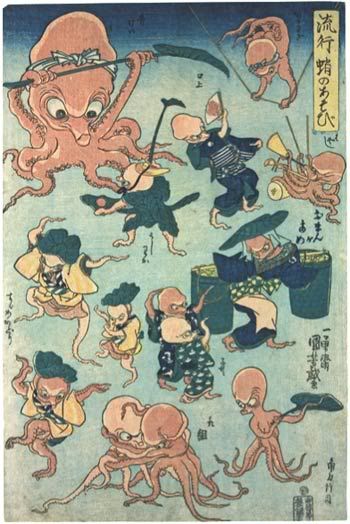 'Fashionable octopus games' by Utagawa Kuniyoshi, 1840-42, colour woodblock
In my last post, I said I'd just been left babbling incoherently on the floor of the Royal Academy after the sheer awesomeness of their Kuniyoshi exhibition.
It took me about five hours to get around to all the pictures; there was always the initial excitement over the strong compositions and remarkably well-preserved colour, considering these prints are so old (Utagawa Kuniyoshi lived in Japan from 1797 to 1861). Then I'd start looking more closely and get lost in the amazing drawing technique and often hilarious details. Here are some of the visual notes I made in my sketchbook:

Kuniyoshi had such remarkable technique that he could move easily between sublime beauty and the fantastically grotesque; we got to see the equivalent of zombies, ghosts, mutant monsters, giant herds of rats, composite faces like Giuseppe Arcimboldo's (but made of naked people instead of fruit and veg), a brothel full of about 50 sparrows dressed up as geisha, crabs with squished baby faces, 23 tortoises with faces of famous actors… and that's just a few of the bizarre things that man thought up.
I got totally lost in these pictures. Here's one from the images you can see if you download the education guide. I spent a long time picking out faces in this picture to sketch. I tried to shift around a lot so I wasn't in anyone's way while I was looking at it, but a couple people got a bit huffy with me, because the fast pace of their audio headset meant they'd miss it if they didn't get an exact ten seconds in front of the picture. There's NO WAY you could appreciate that picture in ten seconds. This is just one of three parts of the triptych and I tell you, it's just as crazy on the other two panels!

'The Earth Spider conjures up demons at the mansion of Minamoto no Raiko', 1843
Just as I was looking at this picture, a man mused to himself, 'This looks just like the Beano!' That made me laugh, because the person who most raved about the exhibition to me and made it impossible for me to miss was Gary Northfield, who draws Derek the Sheep for the Beano. (Gary started out with his degree in printmaking, so he could really appreciate the remarkable techniques. Garen Ewing and Viviane Schwarz also raved about the exhibition.)
The only person I can think of who conjured up with such bizarre characters so long ago is Hieronymus Bosch, who possibly could have influenced Kuniyoshi. (There were several pictures in the exhibition obviously influenced by Dutch masters.) But Kuniyoshi's emphasis on line, because of the nature of his woodblock printing, takes it in a completely different direction, and there's no question modern-day animators such as Hayao Miyazaki have been hugely influenced by him. Some of the characters from the film Spirited Away come straight off these pages. I don't know all that much about Manga iconography, but Kuniyoshi used visual elements that seem incredibly modern, and must have influenced Japanese comic technique.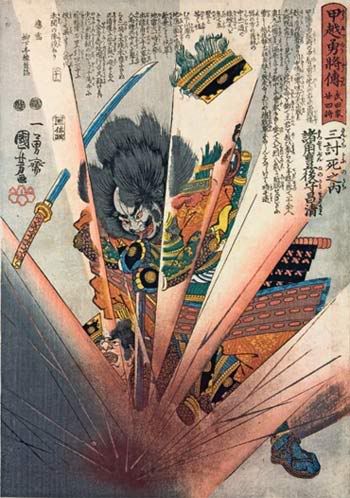 'The warrior Morozum Masakiyo kills himself in battle', c.1848. This guy ripped off his armour, stabbed the point of his sword in his mouth and threw himself on a landmine… ew, I guess that would've done the job!
Further afield, I can imagine these images got a lot the Russian Constructivists, Rayonists and Futurists pretty excited. And they would've appreciated all the inventive ways Kuniyoshi got around the restrictions of the government censors (if they'd known about them). There's a good chance those Russians saw some of these prints because the guy did something like ten thousand pictures and they were printed very cheaply (many the price of two bowls of noodles) and spread widely. And the Belgian comics guys with their ligne claire style would've gone nuts, too. I loved the triptychs: how some of them didn't quite meet up on the edges, and others made innovative use of space (like a waterfall, where the middle panel just showed vertical lines of falling water.)

'Mitsukuni defies the skeleton specre conjured up by Princess Takiyasha', 1845-46
The display really had something for everyone; everyone from a teenager looking for something fabulous to paint on the underside of a skateboard to a society lady-who-lunches, who want something quiet and elegant to put above her fireplace. The exhibition was bustling but not hugely busy, but I hope it does well enough that the Royal Academy will keep introducing us to stuff like this, and not have to fall back on the European crowd-pleasers. Find a way to come up with the nine quid, this exhibition is so, so worth it. The paperback version of the catalogue costs £25 and is gorgeously printed. But do go see the originals if you can get to London; the book won't show you the details of embossing and paper texture, and they're well worth seeing. You can see some of Kuniyoshi's rough drawings and charicatures on the website here.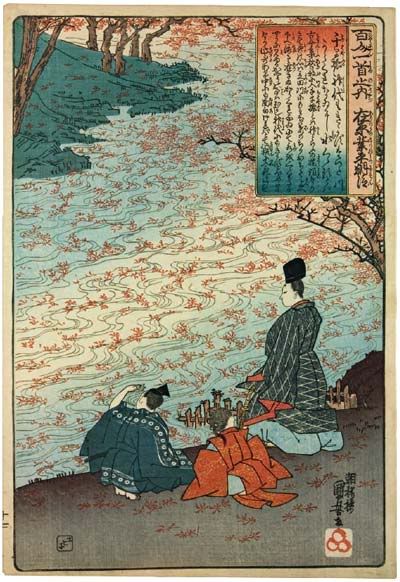 'Courtier Ariwara no Narihira and his attendants admire autumn leaves on the Tatsuta river', c.1842
Okay, now I really want to go away and make some woodblock prints…