kate greenaway & carnegie children's book award
In London's BAFTA theatre, a team of librarian judges awarded the coveted CILIP Kate Greenaway Medal for picture book illustrations and Carnegie Medal for novels to illustrator Freya Blackwood for Harry and Hopper and writer Neil Gaiman for The Graveyard Book. Here's the event review I did for Write Away, with added links and photos!

Greenaway and Carnegie shortlisted illustrators (and writers) David Roberts (The Dunderheads), Viviane Schwarz (There are Cats in this Book), Chris Riddell (The Graveyard Book)
In a video about all the shortlisted Kate Greenaway illustrators, a judge summed up Freya Blackwood's book in three words: poignant, emotional, powerful. Blackwood thanked Margaret Wild for her powerful text about a boy coming to terms with the death of his dog. She said she felt the award was particularly special because it was judged by children's librarians, who understand these books better than anyone. (You can read my interview with Freya Blackwood about Harry and Hopper here!)

Greenaway winner Freya Blackwood with illustrator Heather Kilgour (left), a New Zealand friend from their days of working as prop creators on the Lord of the Rings film set
Neil Gaiman thanked the illustrators for the two different editions of his book, Dave McKean and Chris Riddell both of whom were shortlisted for the Greenaway prize). Despite having won a huge gamut of recent prizes, Gaiman looked genuinely moved by the honour, saying it had been the most important to him because it was the first one he'd ever heard of: reading 'Carnegie Medal Winner' on the covers of the Narnia books. He credited key influences to The Graveyard Book – Rudyard Kipling's The Jungle Book (I recently visited Kipling's house!) and Pamela Travers' Mary Poppins, and thanking his mentors Terry Pratchett and Diana Wynn-Jones. Gaiman finished with this:
Most of all, in this age of austerity into which we're currently tumbling, I wanted to say this: Libraries are our future. More children are borrowing books from libraries than ever. Closing libraries can be seen as an easy way for a local authority to save a little money… and it is. But it is a terrible, terrible mistake, as we have recently begun to learn, to steal from the future to pay for today.

Once again, I forgot I had a video recorder until after he started speaking – doh! – but here's most of Neil Gaiman's acceptance speech. (Direct video link if the image doesn't come up)

Two schoolgirls named Jenny and Chloe joined the judges in awarding the Carnegie Medal to writer Neil Gaiman, presenting him with a braille edition of The Graveyard Book.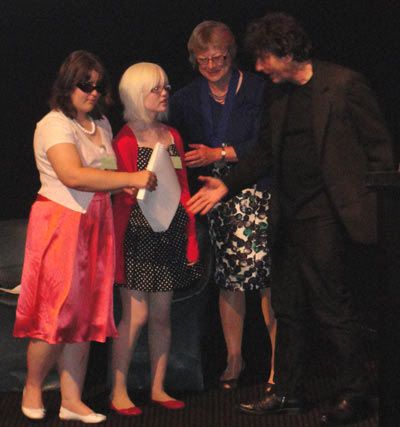 Presenter and radio host James Naughtie thanked the three schools shadowing the judging process (sponsored by Peters Bookselling Services). He reminisced about one of his own favourite childhood books, Georgie the Ghost, and how he found the book in a shop in New York 50 years later and was moved to find that he could remember every picture. He praised libraries for putting books into the hands of readers, books which are meant to be 'looked at, smelt and felt, not just switched on'.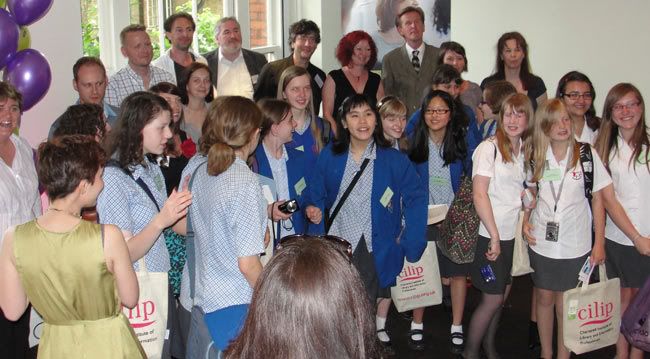 Shortlisted writers and illustrators and schoolchildren from the shadowing programme
CILIP Chief Executive Bob McKee marked his last of 11 years in this role with hard words for the government and their plans for budget cuts, condemning them for 'thinking libraries can be run by volunteers… Nonsense, say I'. He argued that we need 'proper libraries, funded by the public, free for users, stuff with paid professionals… I'd rather borrow something from a librarian than a banker.' He thanked YLG Carnegie and Kate Greenaway Co-ordinator Sue Roe, who was also stepping down from her role. McKee listed three reasons why he had become a librarian: fulfillment from work, friendship from colleagues and the contribution this work and his colleagues make to society in enriching people's lives. Librarians, he said 'may be unassuming, but don't ever assume we're unimportant. Proper librarians with proper libraries can change people's lives for the better.'

Presenters Jim Naughtie and Bob McKee
Chair of the CILIP Youth Libraries Group and 2010 judges presented the awards with CILIP President Biddy Fisher, mentioning that the Kate Greenaway Medal included the Colin Mears Award with a cheque for £5000. Colin Mears was a Worthing-based accountant and children's book collector who bequested the organisation with funds for the award and his collection for a gallery and museum.
Okay, that was the end of my review. Then I just got to meet a lot of the fab people there!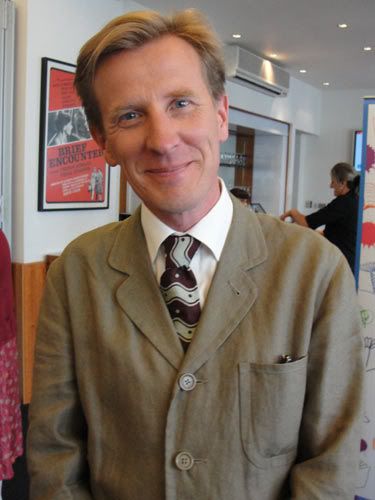 Philip Reeve, Carnegie shortlisted for Fever Crumb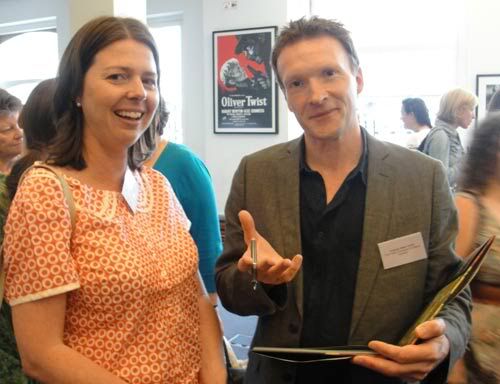 Award judge Julia Hale and Greenaway shortlisted Grahame Baker-Smith (Leon and the Place Between)

Carnegie-shortlisted writer Marcus Sedgwick signing copies of Revolver (Neil Gaiman's Bloomsbury editor, Sarah Odedina, is the blond in the background)

Phil Beer and me. I was chuffed to spot this fiddler from the folk group Show of Hands, whom I've seen a couple times in concert. His partner, Carnegie-shortlisted Julie Hearn for Rowan the Strange, rolled her eyes, saying that people are always spotting him at her book events, but never spot her at his.
After the reception, Ben and Lucy at Walker Books kindly invited me to come along with them to Fortnum & Mason for the most amazing ice cream sundaes.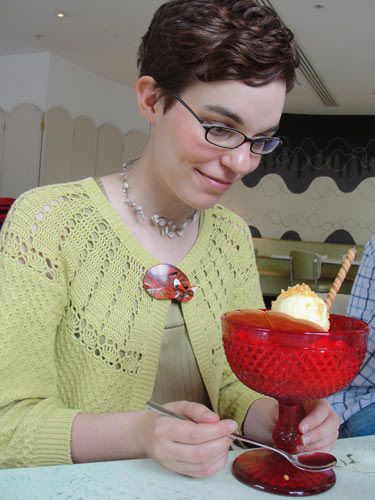 Viviane Schwarz and her well-deserved 'Beekeeper' sundae

'There are Cats in This Book' designer Ben Norland and Alexis Deacon
We got REALLY into our food, and Viv and I even started making amazing champagne ice cream floats. Alexis said, it was like 'the coke table of children's books'. What a great industry.

Patrick Ness, Carnegie-shortlisted for The Ask and the Answer

Lucy Ingram, Ben Norland, Alexis Deacon
The CILIP Carnegie & Kate Greenaway Children's Book Awards website
**NEWS FLASH!** Hurrah! I just got a call this morning from David Fickling Headquarters, saying the first advance copies of my DFC Library book Vern and Lettuce have just arrived! Matilda on the front desk says they look brilliant, and she'll send me copies to arrive tomorrow morning, just as my parents arrive from the airport!
…Okay, my goal is to get a COMIC BOOK (call it 'graphic novel' if you like) winning one of these prizes next year! Is this even conceivably possible? YES. (Mine would be good, but another would do, too!)