kate brown gives me a manga lesson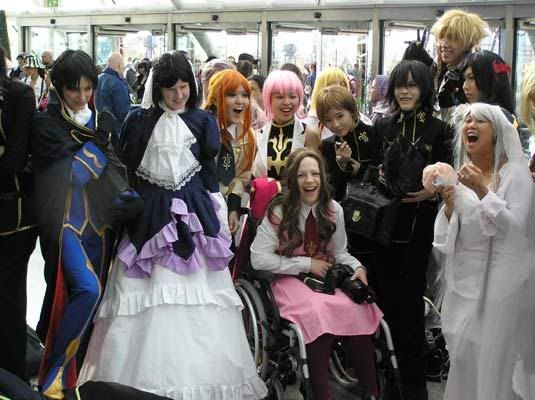 I've just uploaded some pics from the London MCM Expo on Saturday. The costumes were brilliant! And I got to catch up with Kev Hopgood and Marc Ellerby, both of whom I hadn't seen for ages, so that was great. Most of the other exhibitors had displays of manga, and I'm just starting to learn about it, so at the DFC stand, Kate Brown gave me a lesson. Then John Aggs, Emma Vieceli and Gary Northfield chipped in some of their ideas for my reading list. (I've only read a few of them, lots of reading to do now!)

Kate's Essential Manga Reading List
Manga
Osamu Tezuka: particularly Buddha and MW. Also: Apollo's Song and Phoenix.
Jiro Taniguchi (I like his 'Walking Man')
Taiyo Matsumoto: Tekkonkinkreet, Blue Spring
Katsuhiro Otomo: first volume of Akira (John Aggs's pick)
Keiko Nishi (Kate writes, 'hard to find but worth it!')
Fumiyo Kōno (wiki only in Japanese): Town of Evening Calm, Country of Cherry Blossoms
Hayao Miyazaki
Yoshihiro Tatsumi (I already love this guy's urban landscapes but I want to read more of his work.)
Makoto Yukimura: Planetes
Suihō Tagawa: Norakuro (Gary Northfield's pick)
(There was also a big signing event at the MCM by Russian-Canadian Svetlana Chmakova; Emma Vieceli's a fan.)
Anime
The Girl Who Leapt Through Time
Chiyoko – Millennium Actress
Tekkonkinkreet
Mind Game
Planetes
Yuri Norshteyn: Hedgehog in the Fog / Ёжик в тумане (I love this one!)
I bought a gorgeous album on Kate's recommendation of work by Tatsuyuki Tanaka from a stall by a Coventry-based independent comics shop Astral Gypsy.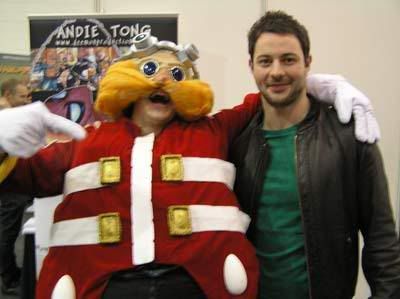 Tom Fickling gets a hug. There were a disturbingly large number of very young teenagers standing around forlornly by themselves with 'free hugs' signs. I couldn't quite figure out what that was about.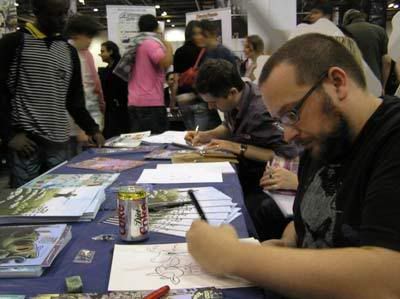 Gary Northfield drawing Derek with my Vern picture at the DFC stand

Mugging with Emma Vieceli and a shrunken head

The guy who lent us the shrunken head

Marc Ellerby. He drew a fab picture of a flaming chipmunk in the 'Love the Way You Love' book I bought off him.