just imagine's quiz night party
Last night a bunch of us trundled out to Chelmsford in Essex (which is not so very far from London) to have supper and a good laugh with Nikki Gamble, founder of Write Away children's book consultation company (with all its creator interviews, book reviews and book-based lesson plan ideas) and, as of late, owner of the marvelous Just Imagine storytelling centre and bookshop. Here's Nikki with illustrator Garry Parsons.
Here's the gang lined up outside the window display by illustrator Kate Slater.
Any event's a good laugh when writer Steve Cole comes along. (Steve is very relieved just to have finished his Astrosaurs book No. 20.)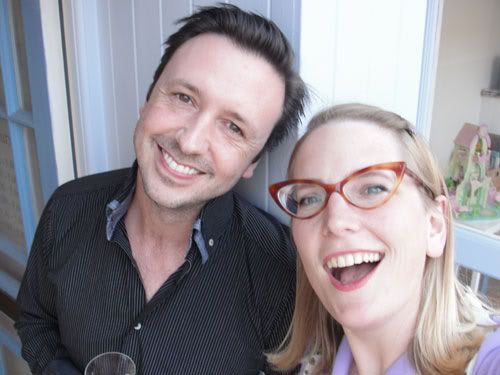 And here's Just Imagine's event coordinator Georgia Snelgrove, who bared her tattoo just for the occasion. She bought her fabulous shark print dress (and the shoes she's wearing which you can't see) online from Iron Fist Clothing.
And have you ever wondered what ears look like when those big plugs are taken out? Well, now you know!
Thanks, Nikki and the Just Imagine team for a great night out! If you're on Facebook, do keep an eye on the Just Imagine Facebook page to get updates on the huge number of events that go on there. The place is a real explosion of creativity.