jubilee painting with rolf harris!
Edit: I've had a HUGE number of enquiries about the plate featured on the show. Here's the BBC reply!: The Rolf Paints…The Diamond Jubilee china plate (with his painting of Windsor Castle printed on) will be available later this year through Children In Need. Please keeping checking our website – http://www.bbc.co.uk/rolfpaints- for further details/updates.
__________________________________________________________________________
Here in Britain, it's almost the Diamond Jubilee weekend! And what better way to celebrate than to make a lino cut print of a mad corgi? Here you go: In corgis we trust. That's written in my best fake Google-translator Latin. I made this for the BBC! Well, actually, this was a practice run, the night before. I got a call awhile ago from producer Veronica Thorne, asking me if I wanted to spend a full day making a picture of the Queen to celebrate the Jubilee… with Rolf Harris!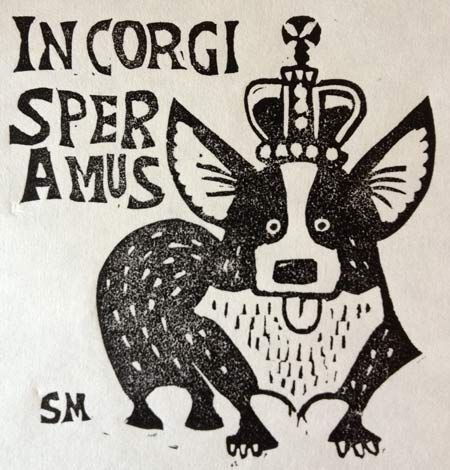 Oh my. Funnily enough, because I grew up in America, I didn't really know much about Rolf Harris, except that he had painted a portrait of the Queen. And he's consistantly rated Britain's most popular artist (which irks the fine arts establishment to no end, so hurrah, good for him!).
I thought I'd better look my best for telly, so I bought a new work apron and stamped the corgi onto the front of it. The ink on it was still wet the next morning, so I tried not to touch it, then rub my nose and wind up with a smudgy face on the Beeb.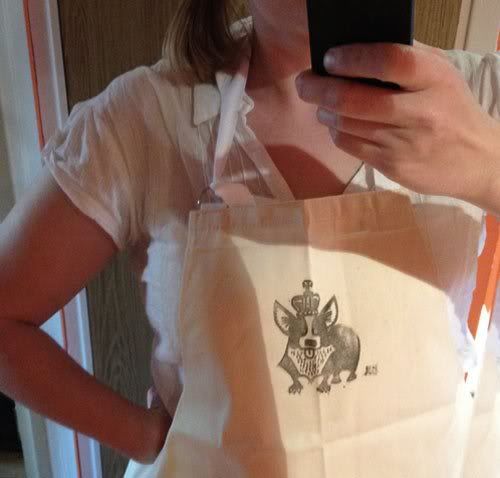 The Fleece Station studio has a proud history of monarch-related activities, generally involving yarn or silly wigs. So I figured I had everything I needed to do a good job on set.

Oh, and a new fancy hat. With which I surprised Mr Harris when I met him at breakfast.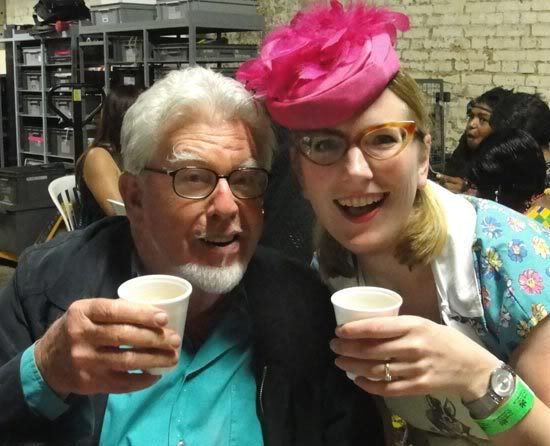 When I told people I was meeting Rolf Harris, they all reacted very animatedly, and several people mentioned videos I absolutely had to go watch. Here's one from 1969, Jake the Peg. Poor Gary had to listen to me keep accidentally singing this in the studio for the next couple days. So fabulous.
And here's an episode from The Goodies, when they breed Rolf Harrises in captivity and they escape. The guy's originally Australian, but he's a legend here in Britain. (If you like, you can watch that Goodies show from the beginning here.)
So here was our set-up! We filmed in the vaults of the Old Vic, under Waterloo Station. Which was a bit tricky for the camera crew because the trains kept rumbling overhead. But they set up the area like a street party and it looked very welcoming and festive. They'd invited 60 artists in total, one for each year of the Queen's reign.
If you're interested, you'll be able to watch the whole show, Rolf Paints, on Tuesday, 5 June, BBC1, 6:30-7:30pm.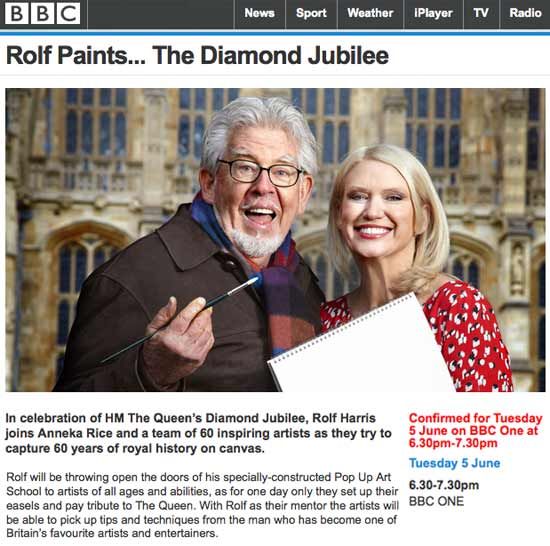 One of these artists was Anneka Rice. She was another person I didn't know much about, but Stuart told me she'd hosted a show called Treasure Hunt and another called Challenge Anneka. (She has a bunch of videos posted on her YouTube channel.)
And another one of the participants was fab comics artist Steve Marchant! Steve was the one who tipped off Veronica to me when she rang up the Cartoon Museum asking for tips on artists. So thanks, Steve! Steve doesn't need to wear a fancy hat because his excellent hair does the same job that all my feathers do.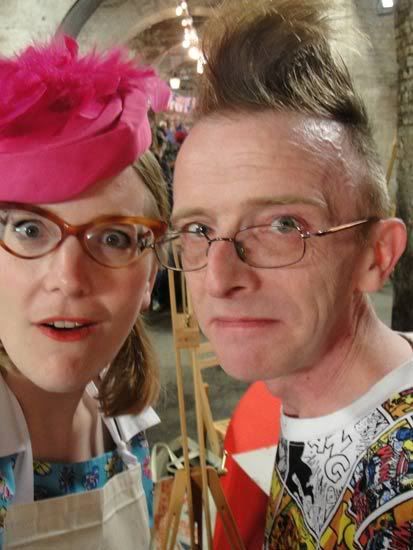 Steve showed me a comic he'd been working on with schoolkids, having them write and draw them comic, then he colours their comics, adds the lettering and prints up all their comics as a book. I said that the kids must be awfully proud to see their work published like that, and he gave me a big grin. (Click here for a close-up of the comic.)
So the way it worked was that we were divided into groups of ten, with each group taking a decade of the Queen's reign. Here we are, listening to directions.
My group got the '70s, and since that stretch included the Silver Jubilee with all its memorabilia, we were given this assortment of stuff to paint. I think the producer was expecting us to do still life pictures of the actual objects, but she had said we could just use them as inspiration, and only one person painted an actual still life.
Anneka modeling with our cardboard cutout of the Queen. You can't see the assortment of ceramic corgis at her feet.
Most people did stuff that was quite painterly. I like the one in the centre, it's all made out of ripped-up Beatles paraphernalia and has nice colours.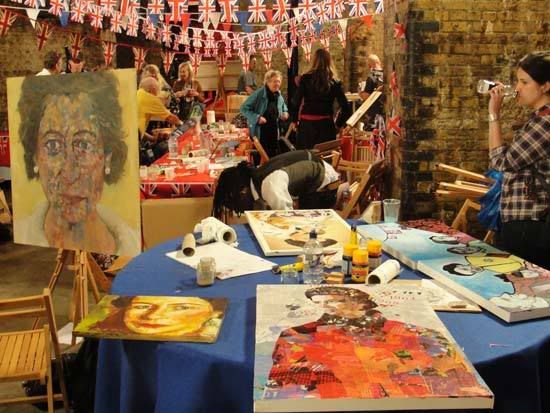 I thought that since I'm always wanting to do more with lino cut printmaking, I had a whole day to indulge myself. So the week before, I went to Intaglio printmaking supply shop on Southwark Bridge Road and stocked up on some better equipment, such as a decent roller and oil-based ink instead of the partially dried-out water-based stuff I'd been using for my Greenwich tree prints. So here's my lino cut in progress:
I was including some text in my picture, so I was willing myself to remember to write backward, so it would come out the right way. I had this horrible fear that I was going to be on camera and peel back the paper, to discover that all my lettering was reversed.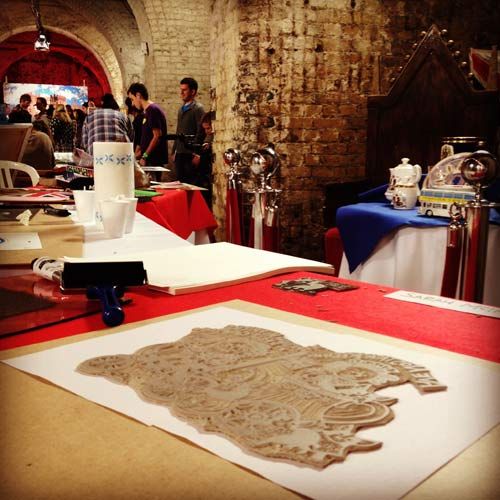 So here's what a linoleum block looks like when I ink it up with the roller. The next thing is to put a sheet of paper on top of the inked block, then rub the back of it with a spoon to press the ink into the paper. Then I carefully lift the paper, hoping it won't smudge as I pick it up off of the inky block.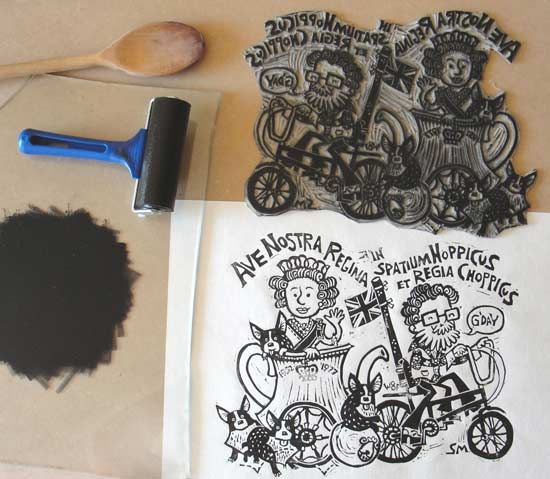 And here we go, the first print! I used the teapot and corgis from the still life display, but since it was the '70s, I threw in a Space Hopper and put a three-legged Rolf on a Chopper bike, with a didgeridoo on the back. (My pretend Latin says something like, All hail our queen on Space Hopper and royal Chopper.) We had six hours to work, with a nice lunch fitted in there somewhere, and the lino block took me the whole six hours to cut. I was really having to zoom along at the end to cut out the lettering, chop chop.
So here's the final picture… TA-DAH!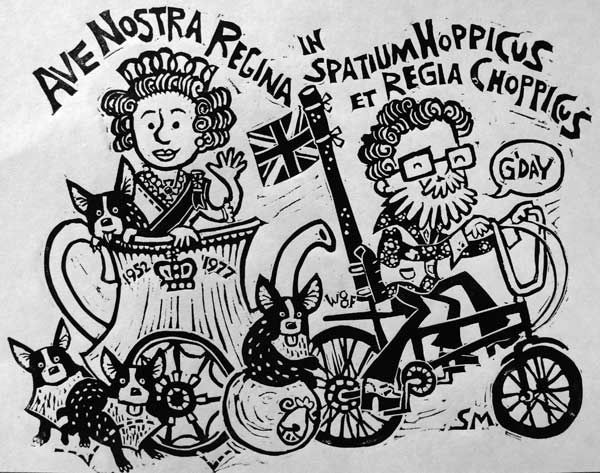 And here's Steve, working away on his drawing. This is the pencil rough.
And the final inked artwork. Well done, Steve!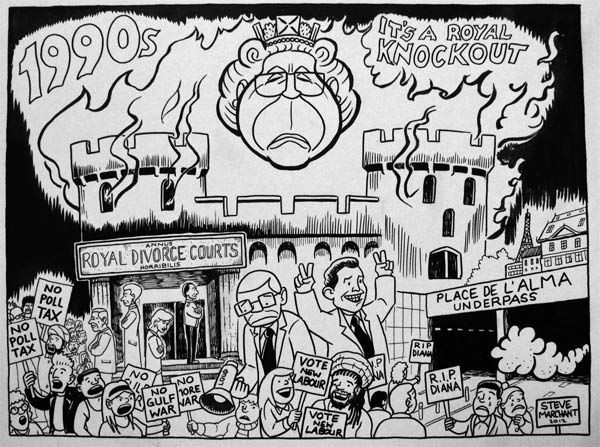 I wasn't very good about catching names, but here's a 'before' shot of the blank canvas…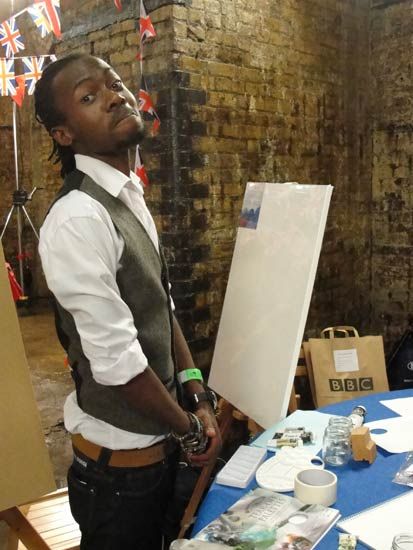 …and the finished canvas. It's a lovely picture, I like how the Queen looks slightly Afro-Caribbean.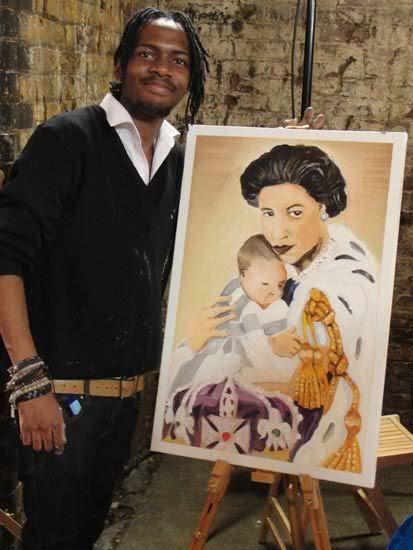 And here was my neighbour, 90-year-old Mr George. I wish I'd had more time to talk with him, he sounded like he had a lot of good stories to tell.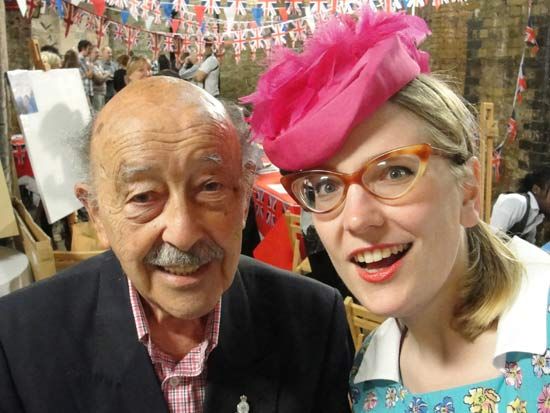 Here's a picture he made of the Queen Mum, and the nice letter she sent back. (Click on the picture to see the letter enlarged.)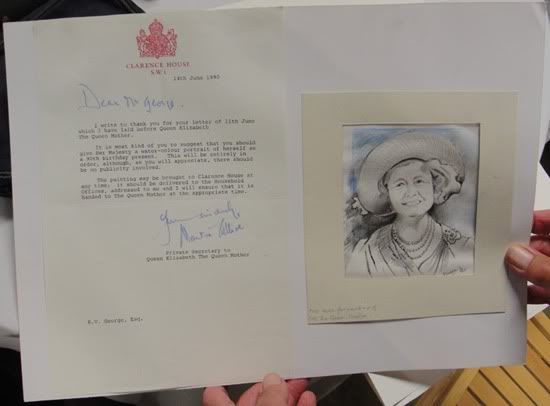 And my other neighbour, another Essex lad named Keith. He painted one of the memorabilia plates.
While we were focusing on our artwork, what we were really doing was making a television programme. So there were lots of starts and stops and retakes. But it was good fun watching how they do this whole filming malarky.
Here's the finished Beatles paraphernalia collage:
Here's Anneka working on her painting, with a painting by Rolf just behind her.
It's funny, one of the other '70s people also did a Space Hopper. They're just so iconic of the '70s. I used one in my pages for our NELSON book, which were supposed to be set in 1973.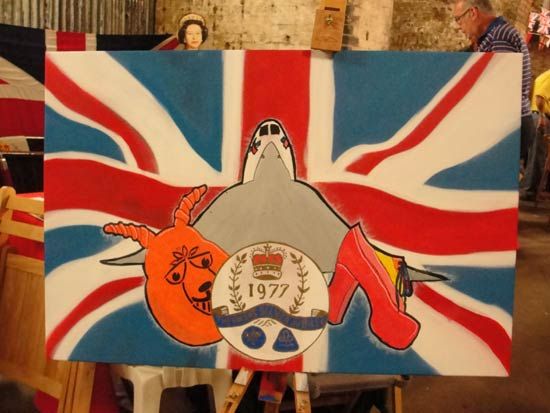 Here's a guy who did a sort of 3-D tiled collage piece:
And some more artwork: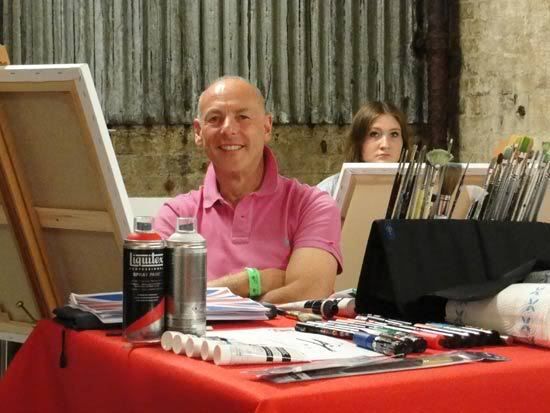 Here's the producer lady from the BBC who invited me, Veronica Thorne, who was ace. Thanks to her, Sophie Guttner, and her co-producer and all the people who made the day so fun!
So I think a good day was had by all! Speaking of the Queen and fancy hats, you can visit the blog of my fellow CWIG committee member, Helena Pielichaty, to hear her account of this year's Queen's Garden party here.
Happy Jubilee Weekend, everyone!