it's time to draw molly!
Remember I said, a few posts ago, that young comics reviewer Molly Bruton lost her arm to a hungry crocodile? (…I mean, a trampoline? Oh wait, she hasn't lost it, she still knows where it is.) Well, it wasn't just me drawing Molly, I kicked in after Adam Cadwell and Neill Cameron picked up on the #DrawMolly hashtag. You can see their Molly drawings over on the Forbidden Planet International blog here.
Thanks to the FPI blog and The Comics Reporter for featuring it!
I met up at the pub last night with several writers and illustrators. Here I am with Marilyn and Monsterville colleague Ed Vere, who'd just come back from Kerala in India, as part of the Hay Festival. Exciting! Ed and I will be doing a Final Draw-off in Monsterville on Sunday, 4 March, 1-1:45pm for The Big Write, along with other events by Jane Hissey, Katie Cleminson, Chris Haughton, Guy Parker-Rees and Jeanne Willis. (Oh, I do like Jeanne's online photo album!)
Last night's photos aren't brilliant, but you can explore some of their links if you like… Here are Karin Littlewood, Sally Kindberg and Heather Kilgour.

Bridget Strevens-Marzo and Lydia Monks. It was my first time meeting Lydia, and very glad! She'd come all the way down from Sheffield.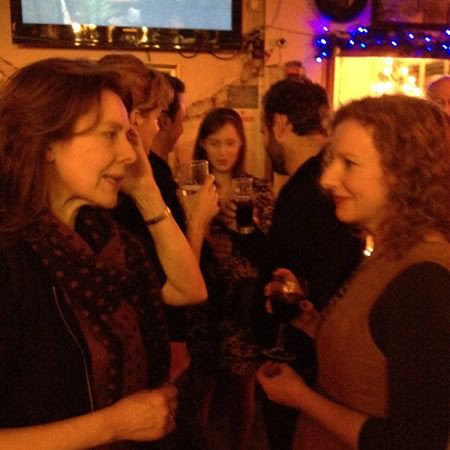 Here's writer Steve Cole, whose written more books than I can count, and just finished Astrosaurs No.21 very, very late the previous night.
Deborah Allwright, David Lucas, and creator of Rastamouse, Genevieve Webster.
And Heather with Noelle Davies-Brock. Lovely evening, everyone!