interviewing sue eves
Launched today! The QUIET WOMAN And The NOISY DOG, illustrated by Ailie Busby and published by Anderson Press.
Here's my portrait of Sue and, hey, I'm doing a real writer interview!
Sue had me in hysterics the first time I went to visit her, when she pulled out a puppet dog which looked just like her real dog. Her real dog freaked out when he saw his puppet version and alternated between standing there frozen, staring daggers at it, and frenzied leaping. I've never had a dull moment with this woman, who does everything from puppeteering to writing, illustrating, acting in films and theatre and throwing wild theme parties for her daughter. I once got her to do her 'Tamba' voice, the one she's used to animate the much-loved BBC television puppet. Sue's written and illustrated a picture book called Hic!, and I'm here to talk with her about her latest book, The Quiet Woman and the Noisy Dog.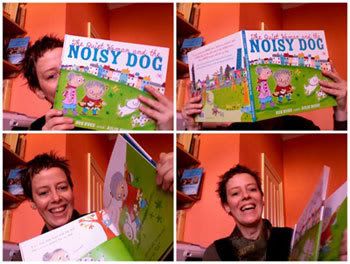 Sarah: I haven't been lucky enough to see the final version of this book yet, but the cover looks gorgeous. What's the story about, and what made you decide to write it?
Sue: First, Sarah, may I say thanks for inviting me to your blog. I'm glad you liked the cover and the dogs. (My dog has been mistaken for the puppet dog recently – his big wet nose in my friend's ear was the give-away.).
The story is about a quiet woman and a noisy dog and a noisy woman and a quiet dog who meet for the first time in their local park and the two dogs get muddled up. I originally wrote it as sisterly advice about making friends and finding a flat mate, cunningly disguised as a children's poem for my younger sister. It worked!

Sarah: I know you're very fond of your local common; did you set the book there, or did your walks in the park influence the way you wrote the book?
Sue: Yes! I have drawn many storyboards for this text over the years and taken photos for reference and they are all inspired by my daily walks on the common. I know my visuals contributed to the rhythm of the final text, even though I didn't illustrate this one myself and no one else saw them. This is one of the spreads where the text hardly changed in the end. The illustrator, Ailie Busby, has captured this moment as if she had been walking with me and she lives in Newcastle!
Sarah: What was it like working with your editor? At what stage did you get to see Ailie's illustrations, and what were some of the challenges and fun moments of the book making process?
Sue: It was a relief to work with an editor who understood what I was trying to do with the story and who pushed me to refine the text before I even signed a contract. I had exactly the same experience working with the editor on my first book. I like communicating via email, it's much faster and it helps to see suggested revisions written down.
I still didn't know for sure whether Andersen were going to publish the story, so I couldn't stop revising it right up until I went in for my first meeting with the editors. A new last line came to me in the cafe a few minutes before!
At this meeting, I viewed character roughs from possible illustrators. Ailie's dogs leapt out at me. Luckily, the editors and I agreed that Ailie's illustrations would be perfect for this story. We shook hands and I left with a hardback copy of their latest publication, The Robot and the Bluebird by David Lucas and the promise of an offer by the end of the day.
I have to say that my job was pretty much done at this point. I'd had my fun writing and we'd finalised the text and re-titled the book in the meeting. The most pleasing moment was when the editor asked if I could think of a different title and I offered The Quiet Woman And The Noisy Dog and it was accepted.
The biggest challenge has been to finish the story – I started it 10 years ago!
Sarah: Is that typical for you? Do you have to let stories percolate for a long time, or do you ever just dash them off in a few days?
Sue: This is typical – I love to play with words until they say exactly what I mean. However, I wrote a picture book story recently in a few days and submitted it immediately. It was rejected by the publisher but I am not worried. I've since decided I want to make a dummy of this one so I'll just keep working on it until I think it's ready to go again.
Sarah: Do you ever get to combine making picture books with your puppets or theatre work?
Sue: Try and stop me! Hic was coming out just as I auditioned to voice and operate the puppet, Tamba. When I finished working on Tikkabilla I commissioned the Tamba puppet builder to make a puppet based on a character from Hic. It was going to be a cow but my partner suggested a dog because there is always one somewhere in my stories. Now I always have a dog to keep me company on visits to schools and bookshops!
Sarah: So what's this about a crazy theme party you threw for your daughter and her friends? I remember you saying it involved lots of tunnels.
Sue: When our daughter was six, we transformed our house into a Wonderland. Everyone knew that Jessica's parents were involved in children's theatre and the parents welcomed the chance to take a few hours off.
Sari fabric made beautiful tunnels for an Alice In Wonderland birthday party. From the moment everyone arrived they kicked off their shoes drank from the 'Drink Me' bottles and ate from the 'Eat Me' plate and then crawled around the house, in and out of rooms to the next game. Two other family members had the enviable roles of the White Rabbit who, with the kitchen clock tucked under his arm, ran around saying I'm late! I'm late, from time to time and then fell asleep in the nearest chair. And the Caterpillar, lying on the sofa in a green sleeping bag with a painted green face and saying 'cool!' whenever a child spoke to her.
The best part was the Mad Hatter's tea party. I was the Queen of Hearts – and Jessica's dad was the Mad Hatter. I'd made an ice cream cake to look like a playing card – the 6 of hearts – and 12 children sat down with bone china cups and saucers on loan from Grandma (who insisted that she didn't mind if any got broken). The children loved playing the part of well-mannered guests at a real tea party.
Sarah: How exciting! Thanks, Sue, and I'm going to be first in the queue to get a copy of your book!
Sue: Thanks, Sarah! And I'm going to get that outfit you've drawn me wearing – it really suits me!
Sue Eves' blog: http://www.sueeves.com