hypercomics comiket at battersea park
Not only does Battersea in south London boast the Battersea Dogs and Cats Home, but it also hosted a comics festival today in a perfect summery setting. Here's my glam studio mate Ellen Lindner at the bus stop.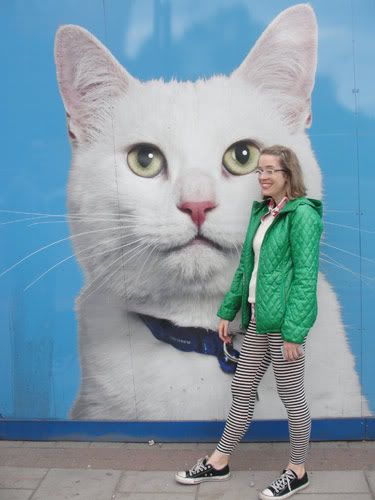 I posted about the HyperComics exhibition last week here, but I caught a lot of things this time that I missed on my first visit. Barnaby Richards had trouble looking through the masks to see Dave McKean's installations – our specs kept catching the edge of it – but if we took them off, we couldn't see anything. Eventually we sorted it out.
Some fab people from the day: Woodrow Phoenix, Warwick Johnson Cadwell (I got a copy of his new minicomic sketchbook and The No.1 Car Spotter, yay!), Lou Naniiebim Ho and Nikki Shakino Stuart with our Birdsong anthology.




Back to fab Ellen and her amazing printed shirt: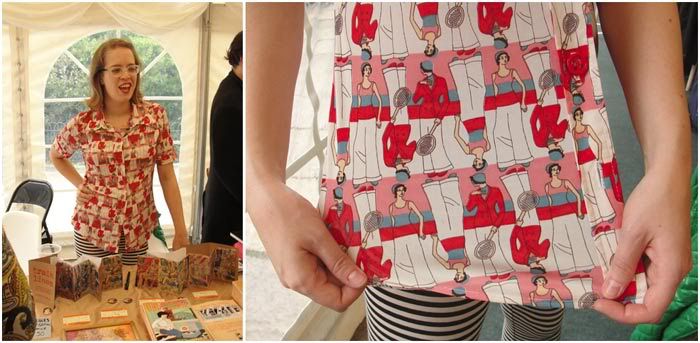 And the tucked-away part of the exhibition that I totally missed last time.

Between Dave McKean's fascinating talk about his work, the lovely outdoor marquee setting and the good company, I think this is the best comics festival I've been to, just for pure comfort and ease. Oh, and I was just a punter – no table – that may have had something to do with it. The organiser and exhibition curator Paul Gravett was saying there was a chance this festival could become an annual thing, and I'm all for that! If you haven't seen the exhibition, be sure to pop along, and bring your kids to the HyperComics family workshop I'm leading on Sun, 19 Sept.
Oh, and one more thing, the yeti meister Alex Milway just sent me a link to this amazing historic Russian photos.
On to Edinburgh! Packing copies of Warwick's book and Geraldine McCaughrean's Pull Out all the Stops! in case I get any time to read on the train. I've already started reading Geraldine's book, it's so well written it makes me rather giddy.