hopping the pond
I've been racing around south London on my bicycle to finish up last-minute errands before I go to Seattle and Alaska. But one of the stops took me by my art college at lunch time, so I dashed in to see if I could kidnap my former course leader Janet Woolley for lunch. And behold, I got to have sandwiches with Jan, three classmate friends and marvellous visiting artist Chris Brown, hurrah! I even got in a quick chat with the intriguing David Cross, who's going to be tearing up and down the French alps on his bicycle next week. (He used to let me talk him into giving me the occasional graphics tutorial, even though he wasn't strictly my tutor and didn't have to.)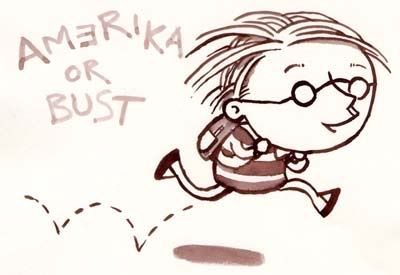 Just a few things before I go:
On Monday, 27 July: Illustrator Nicola Streeten and artist Sarah Lightman (two people I've seen on the zine scene) asked me to do a short presentation of my work and lead a graphic novel book club discussion to launch a new monthly series called Laydeez do Comics: 'a monthly graphic novel reading group/forum with a focus on the autobiographical, the drama of the domestic and the everyday'. Do come along! I picked Shaun Tan's The Arrival for our first discussion comic. (And then thought, oh no, but it's written by a man! And I offered to swap books, but they were cool with the first choice.) So have a read of The Arrival and, if you can, bring it and your thoughts about it along with you on July 27th, 6:30pm to the 'The Sewing Room' at The Rag Factory, 16-18 Heneage Street, London E1 5LJ (just off Brick Lane). (Here's a review I wrote about the book.)
Edit: And here's an excellent, in-depth podcast interview of Shaun Tan by Alex Fitch.
And I don't know if there are spaces left, but there's a great (if rather pricey) UK Literary Association conference happening at Greenwich University on 10 July, where I'm having a panel discussion with David Roberts and Petr Horacek.
Last thing, don't forget to buy a copy of Jamie Smart's Fat Chunk 2 anthology, all about zombies! I'm not listed as a contributor on the website, but that's only because I got asked to do my pages as the paper was already sliding through the printing rollers and I only lost two fingers of my left hand as I wedged mine in just in time. (Which is less dramatic than my grandpa, who had his whole hand go through a clothes wringer and he got out of serving in the war because his hand couldn't do the salute just right, and it was too much bother having him explain every time, so it probably saved his life.)
Okay, off to pack. Looking forward to those first inevitable days of culture shock.