high on jam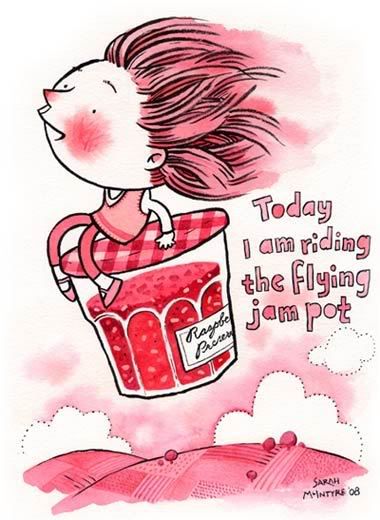 This morning's picture is inspired by my friend (and web designer) Dan Fone, and a very, very long conversation we recently had about jam. You wouldn't believe how many things we could say about jam. I heard on the radio a few years ago that British jam consumption has gone way down; people used to rely mainly on jam for something sweet, but now there are a gazillion different ways we can get our sugar fixes.
I made some goals when I moved to Britain. One of them is to try quince jam, and I still haven't tried it. The other is to spot three animals in the wild: a badger, a meadow lark and a hedgehog. So far I've only seen a meadow lark, and a squished hedgehog on the road (which doesn't count, I want to see a live one). That means I am falling a bit short of my targets.
So. This morning I am going to see a shrink! Yes, I am! I have never been to a shrink before. But his name is Alex Buxton and he was on my illustration course at college, and instead of drawing pictures after he graduated, he went on to learn all this psychotherapy, life counseling stuff. Normally I would suspect that kind of thing of being very cheesy and Californian, but besides being very fond of Alex, I know he is one of those people who does everything very, very well, and I have a feeling he'll be very good at this, too. He's just opening for business, specialising in people in the arts and rallying his old classmates; so, being dead curious about him, I have booked one session. I think we are going to talk about time management issues. I will tell you how it went, if it is not too embarrassing. (If it's really cringe-making, I'm sure Vern & Lettuce will tell you about it at some later date.)
Oh, and have a look at this picture just posted by Russian artist Igor Kuprin. Isn't it amazing?
Artwork: I'm selling the jam painting for £40 + £5 registered mail postage (a little bit more for postage if you live outside the UK) via Paypal. Image is 23x17cm.
And don't miss the chance to buy your GOAL Anthology from ztoical and donate to charity at the same time! Here's a peek at the first panel of my submission (which I later coloured):