hello, travelodge
We had our penultimate watercolour class last night and painted flowers. Except we didn't actually have any flowers to look at, just gardening books. My picture came out looking like one of those kinds you see on the walls of budget hotels.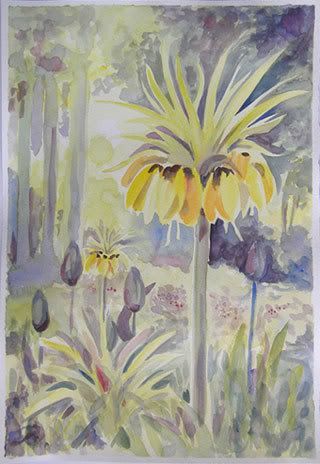 The tutor told me next time to be less illustrative and use more colour; when I look at his work, which is very abstract expressionist, I can see why he'd say that.
It's funny, I went all the way through art college being told to desaturate my work and now someone's telling me to brighten up again. But I can see his point, I mean, I do love colour and all. We we talking about the From Russia exhibition I saw last week with Cristina at the Royal Academy, and one image in particular, Kandinsky's fabulous Winter Landscape. It's a riot of bright colours, but I think if anyone else did it, their painting would look very kitsch.
From Russia runs until 18 April, so don't miss it if you're in London. It was a knock in the gut, seeing all those paintings I used to visit so regularly when I lived in Moscow and went back and forth to St Petersburg. The Hermitage is famous for its European paintings, but the real treasures are those at the Russian Museum, the Tretyakov and the Pushkin Museum. Their paintings haven't been so well known because the Russians didn't market them on posters, coffee mugs and mouse pads the way they do in Europe and America. And it makes the paintings all the more powerful when you see them for the first time, works by Serov, Goncharova, Vrubel, Lentulov and others.