heh heh … heh
The first few days of my excruciating task of taming Sarah's wild time management disabilities had me "plumb-tuckered-out"; I have redeemed myself and steps towards revenge have been taken. Now I am the one with energy (wee!) and Sarah is the one who snores and snoozes more often than not (zzz!). Hooray, step number one is complete!
The past few days have been a blur; my job, teaching Sarah to yield to a schedule, has been wearing all of us out. Today I let Sarah take a nap, which is normally a time management no-no, but she was a bit overwhelmed by multitudes of house guests (I wouldn't include myself in this, because I am like a nanny, just part of the family) but they left today, so I let her take a decently long nap.
Yesterday, we all went to a very good Bangladeshi restaurant on Brick Lane. My favorite was the spicy chicken. On the walk back, we saw a quite fun sign so we all stopped to get our picture taken with it. Here's mine:


This was harder to achieve for certain ones in our party.
Today, Sarah and I went on a 14 mile bike ride (me being the fairy that I am, I didn't tire in the least). Sarah was very tried, as I said before, and crashed. And actually, as I type, she is sleeping on the couch. She's so boring sometimes 😉
We stopped for lunch by the river and took some pictures: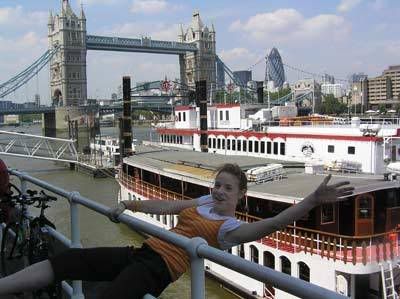 I was feeling adventurous (as always, right?) and so I actually sat on the other side of the protective fence.

This is our helmet head picture.