happy christmas from vern and lettuce!
For the last ten years or so, I've always prided myself on printing up my own Christmas card, and this year I failed entirely. So apologies that you haven't got one! I made this little comic to fill the gap:
Vern and Lettuce are still driving around on their Christmas tractor tour, and I know they've returned from their trip to Paris because yesterday I got this photo of them from Sam Reeve on snowy Dartmoor. Yesterday was a big day; Sam had his first-ever ride in a tractor! He correctly spotted Vern and Lettuce's as a Massey Ferguson, and the photo shows the tractor of the local farmer who gave him a lift.
Click here if you'd like to download your own tractor to colour, cut and paste!
Last night Stuart and I met up with friends who ran an art gallery with us when I first moved to Britain. It was a huge job and had us doing all sorts of odd tasks, including sanding floors, bartending, making sure an artist didn't get hypothermia while lying in a bathtub full of baked beans, evading a bomb threat, and yanking naked artists out of the high-street front window. Surreal times.
Four of us walked back on a long dark pathway going over the top of the hill by a certain famous cemetery and Eddie and Caroline pointed out a hole in the fence around the reservoir. We clambered through, slithered up a slope and came out onto a huge snowy plateau with the best view I've ever seen of London. It was magic.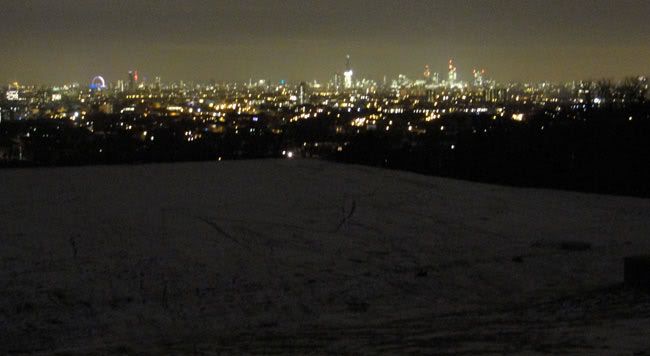 The path by the cemetery should have been dark and scary, but the snow and full moon turned everything silver.