happy birthday, paul gravett!
Paul's birthday was Wednesday, but we celebrated last night at the Tooting Tram & Social and it was great to see him and some of the London comics gang. Have a look at Paul's website if you want to learn about comics; he has a tremendous archive of articles and reviews, and his website guy, Tim Webber, regularly posts news about UK comics-related events.
Paul's been a huge help to me with getting into comics. I somehow found him through a yahoo group and showed up a pub, not having a clue about him or anyone else there, but desperately wanting to get my head around this whole comics thing. Over the next few months, Paul answered a lot of my very basic questions and eventually pointed me toward David Fickling, where I got involved with the DFC and also got a picture book contract. So I owe my current working status to Paul, not to mention meeting so many lovely people in the London comics world … thanks, man!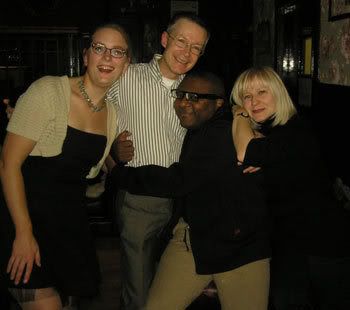 With Woodrow Phoenix and Vicki Hine.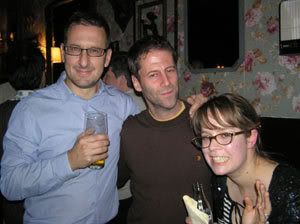 Stephen Betts, Ellen Lindner, Tim Webber, Rian Hughes and David Enker.
Canadian TJ Beje (in the blue shirt), Dutchman David and Ellen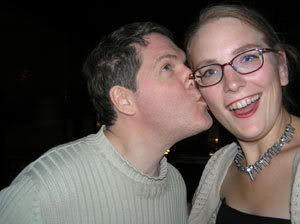 Paul, Woodrow, Vicki and her husband David Hine

And the shoes I went on about so much in the last post, very tall and tippy
Don't miss a marvelously wacked-out comic by derbyartist about 18th-century chess-playing automata shennanigans.
Edit: Ooh, and tozocomic just let me know about this related link: Clockwork Game by Jane Irwin.
Go read a beautiful Tahitian seafaring comic by davario. Lots of good stuff going up on LiveJournal today!
And Scott Faulkner, inkboy, posted an intriguing video showing how Emmanuel Guibert draws with water in Alan's War. Just as Scott says, you won't know what you're seeing at first, but wait until it all comes together. You can see another video here showing more of Guibert's artwork while he sings a song.