greenwich green man
This morning, I planned to go to the park and draw landscape, but it was so peaceful sitting in the courtyard at the Royal Naval College that I decided to draw something there. I assumed this carved keystone head would be Neptune, because it's a naval college, but as soon as I started sketching, I realised all the leaves meant it was a Green Man. Maybe that's because the college overlooks the park. He even has bows in his hair, he's really quite dolled up.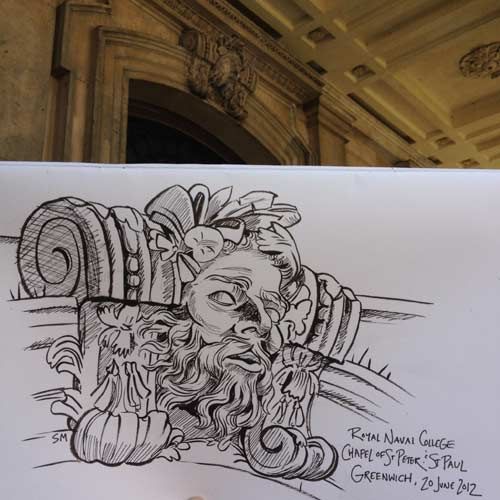 I thought the sketch was okay, but I really wanted to mess with it a bit more, so I drew this while I was having coffee at nearby Rhodes Bakery. If you look by the door, you can see one of my framed drawings hanging there.
Right now Greenwich is a great place if you want lovely and affordable bags and luggage. I popped in and said hello and had a natter about being self-employed with Sophia & Matt, who make their own beautiful bags. And I found this German guy, Guenter Werner, in Greenwich Market selling bags he'd made with London map-themed material. Got one of those red-bottomed backpack-sacks for a tenner. They should go down a storm with the Olympics crowd.
Oh, and Jurgen Wolff has posted some good tips about making a graphic novel sell, after listening to Karrie Fransmen's talk on the subject.