gina mckee
For today's morning sketch, I made a quick drawing of British actress Gina McKee, who's going to be reading You Can't Eat a Princess! on CBeebies at 6:50 this evening. I'm really glad it's Gina, I loved her playing the mother/dark queen in Dave McKean and Neil Gaiman's film MirrorMask. She has this long, languid elegance to her that's so wonderfully striking.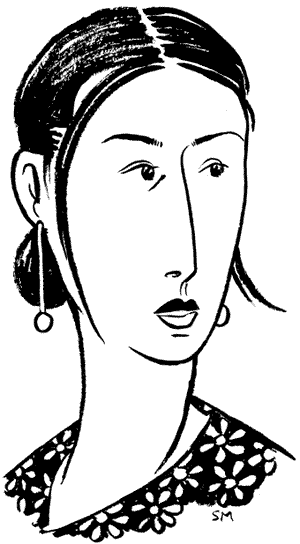 I need to do more morning sketches, I've been slacking off a lot recently, and it's making me feel all itchy and terrible. I've heard several recent talks by people who blithely claim they don't need to keep sketchbooks or draw for fun, and I suppose I've subconsciously let it seep into me that maybe I can get away with that, too. But I can't, that's not me, when I stop drawing for fun, my drawing seizes up and I just don't feel healthy or right in the head.
I'll make myself post them here, even if they don't turn out very well at first, just to hold myself accountable (which is mostly why I keep a blog, if I have to admit it – also, to remember things because my brain's a sieve). I drew this one so fast that I got it all messy with the side of my hand and had to go back and erase all the smudges in Photoshop, which took longer than if I'd just drawn it slowly and calmly. I'm heading up to north Yorkshire this weekend so I'll hopefully get a chance to do some sketching there.
Hey, does anyone know of a flat or house up for rent in the Peckham, Brockley or Nunhead area? My fab friend Viviane Schwarz is looking for a place to live and make her lovely picture books and comics, with a garden (or at least a balcony) and a nice setting with local cafes nearby. She's thinking she wants to share with another woman, maybe someone who's living there already, or who can move in with her. (Contact viv at vivianeschwarz dot co dot uk)