geneva pirate invasion
This week I went on my first-ever trip to Switzerland! I used to pride myself on travelling lightly, just a tiny rucksack, but I never used to travel around foreign cities wearing big hats or dressed as a pirate. Some of the morning commuters on the Geneva trams looked a bit surprised.
The head librarian of the International School of Geneva invited me to come to her school after getting a lovely recommendation from writer and illustrator Nick Sharratt (thanks, Nick!) and I jumped at the chance.
It's a beautiful school. There are lots of International Schools all over the world, but this one was the first.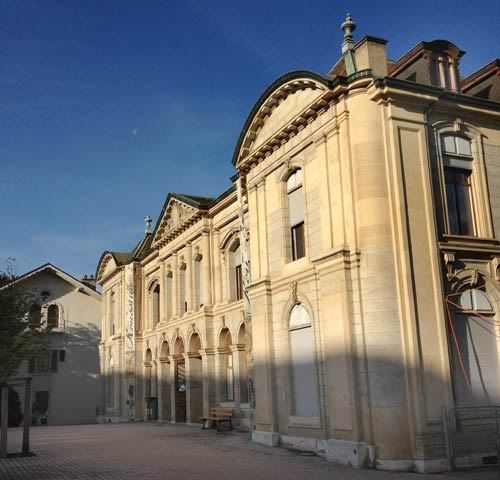 I always wanted a job that would let me travel to cool places! I liked this comics panel that one of the children there drew:
'I knew this day would come.' 'Never! Well, maybe in your dreams.' …Ace!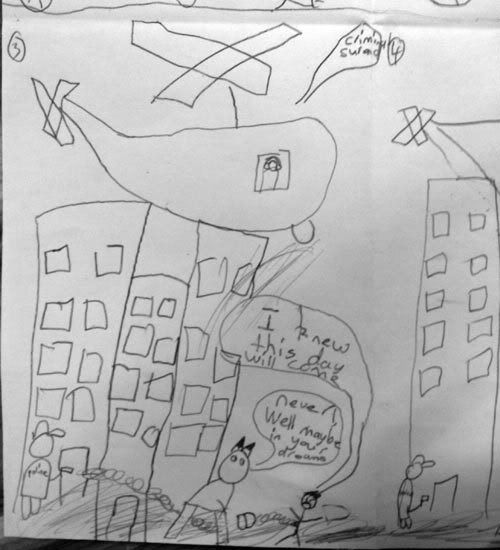 When I was little, we only ever got to have those mini boxes of sugar cereals when we were on holiday.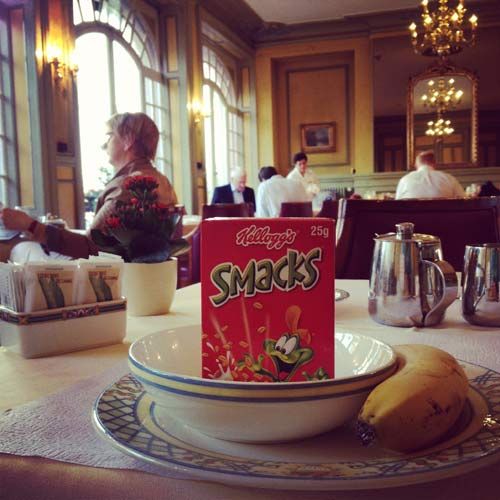 I got to do lots and lots of drawing! Not careful, well-thought-out pictures, just fun, fast, scrappy stuff that the kids thought up. The first day was a comics day, so I didn't dress up as a pirate. (But I still wore a fancy hat. It's worth it to see the kids' eyes go round in the stairwells and the people in the staff room doing double-takes.)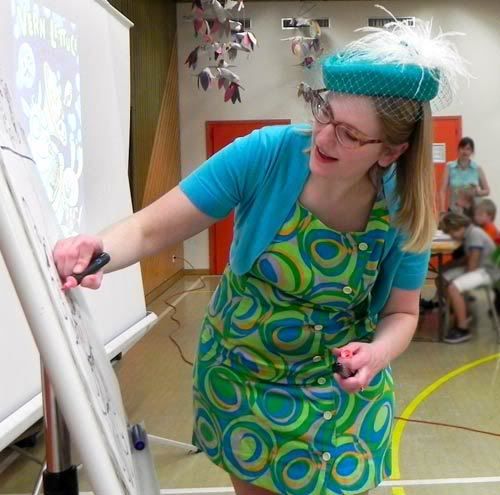 Photo by Susan Boller
Here's one of our comics. Kids suddenly come up with loads of ideas when a story is fart-themed.
The second day I did a big pirate assembly for the younger kids, and it was very boisterous, in a good way, with lots of kids giving me their best ARRRRRs.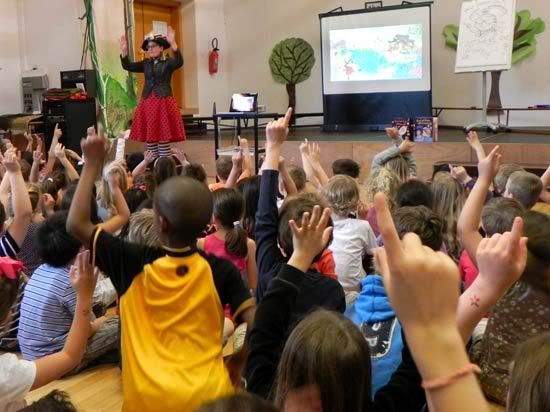 Photo by Susan Boller
Here's the pirate captain they helped me draw. As always, a paragon of good hygiene and taste. That's the head librarian at the top, Marie-Pierre Preece (or 'MP', as she prefers to be called) and assistant librarian Susan Boller.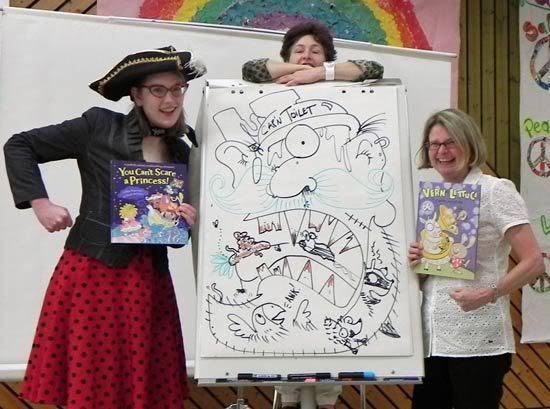 Oh, and some more comics!
A couple of comics were even more rude, and MP asked me to tone it down a bit, so they could still post them up for parents to see. It's always a conundrum: do you have kids make stuff that will look good on the bulletin boards, or do you let them revel in total rudeness and think they're being terribly naughty, without realising that they're actually teaching themselves to read and write? It's a fine balance. Here's the picture I drew in the library guest book.
The guest book had lots of other illustrious names in it! Here are entries by Nicholas Allen (I love his book The Queen's Knickers, former Children's Laureate Anthony Browne and Emily Gravett (her book Wolves is brilliant.) They even had a signing by Andrew Fusek Peters, who claims to be the UK's tallest poet (and I'd quite like to get him back to back with Philip Ardagh).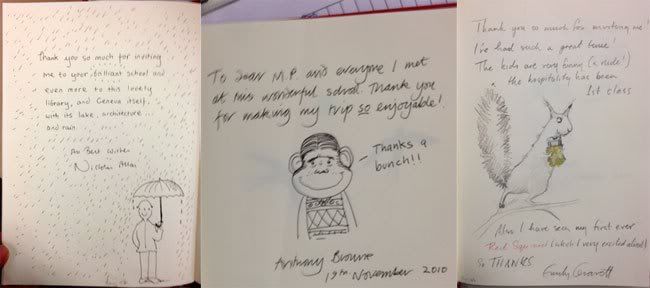 At pirate assembly, the kids loved imagining if their own world was made all of yummy sweets, just like in You Can't Scare a Princess!, with text written by Gillian Rogerson. Sometimes I get them to design worlds made of other things they think of, such as dinosaurs or stinky socks or spaghetti.

Photo by Susan Boller
After the pirate assembly, I drew a pirate poster for the library.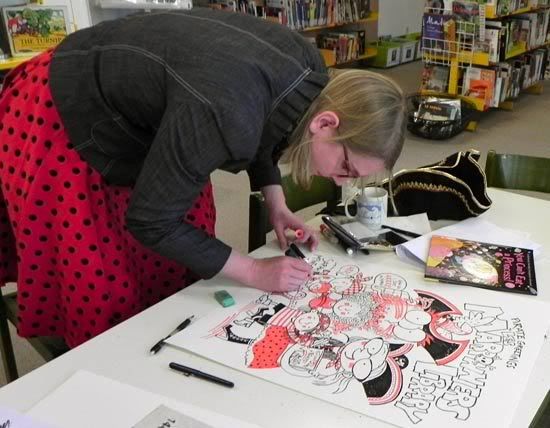 Photo by Susan Boller
Ta-dah! It was nice being able to show them that I can draw a bit better than the rushed stuff I slap onto the flip chart during our workshops.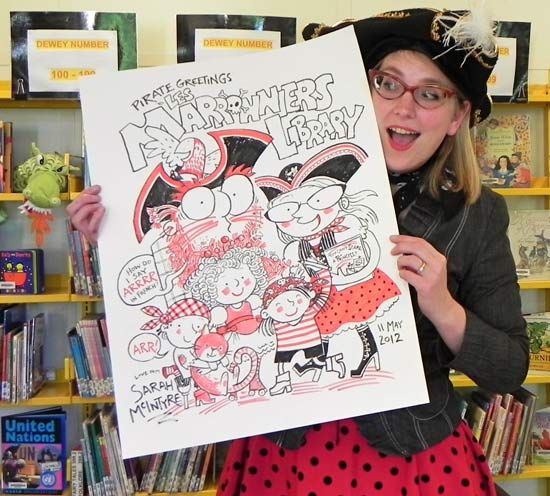 Photo by Susan Boller
It was great, they framed it right away! And now it'll get to sit next to posters by other illustrators, like Anthony Browne's gorilla. Cool!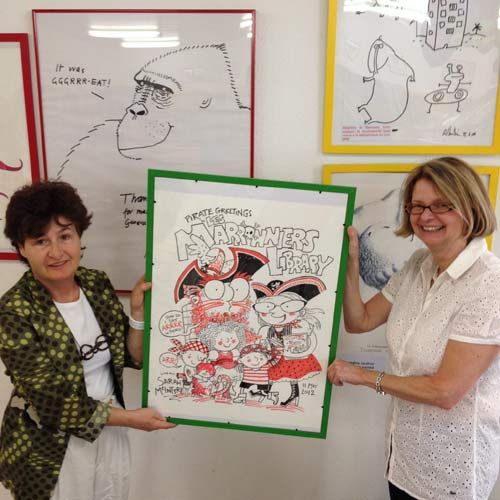 More comics…
I led five sessions of the Comics Jam, and here you can get a peek at one of them in progress. Each of the four panels has been drawn by a different person, a bit like the game Consequences.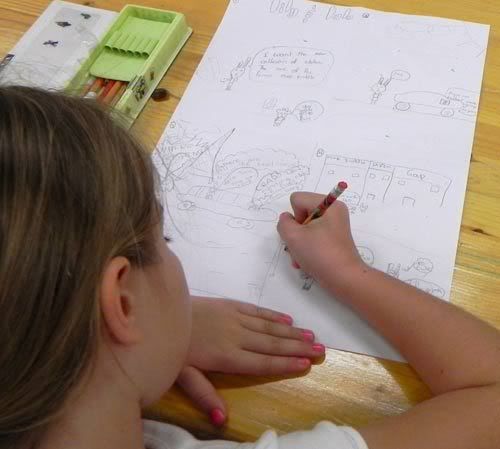 Photo by Susan Boller
These are great. If I'd had more than an hour with each group, I might have taught them a bit more about shifting perspective from panel to panel, and zooming in and out. A lot of them did repeat the same character pose in each panel. But it's a great start, and they were good about writing the words before drawing the speech bubbles and thought bubbles, so the text didn't get too cramped.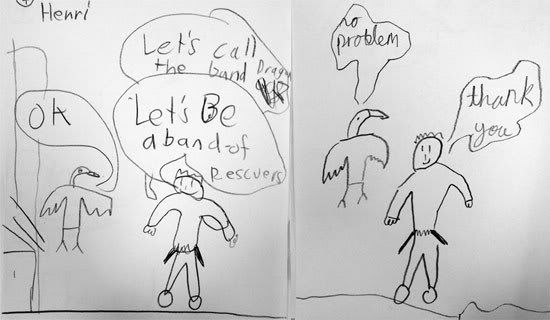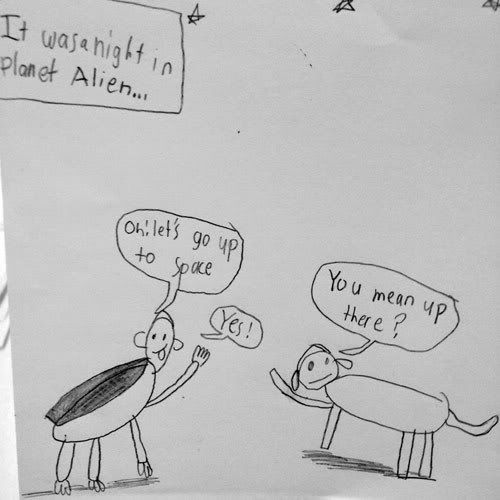 One of the highlights of the trip was getting to meet the other staff. It reminded me a bit of the expat community when I lived in Moscow; everyone comes from somewhere else and has loads of interesting stories. The assistant librarian, Susan Boller, for example, was the second-ever woman to work as a stockbroker in the City of London, back in the '80s. So she's seen a few things! And I loved listening to another teacher, also named Sarah, who grew up in the woods in Quebec, knew how to hunt her own food and how to blow a caribou horn. She had me in stitches.
The dinner was so tasty, and I really felt like royalty when the cheese course came out and I got my own special guest plate. I tweeted this picture and Alex T. Smith was very envious.
Another highlight was finding a real live TOAD in the garden, a big one! And MP and her art teacher husband Stephen let me pick it up! It wasn't slimy at all, and it had the most cool-looking skin and jewel-like eyes. I was totally smitten and took way too many photos.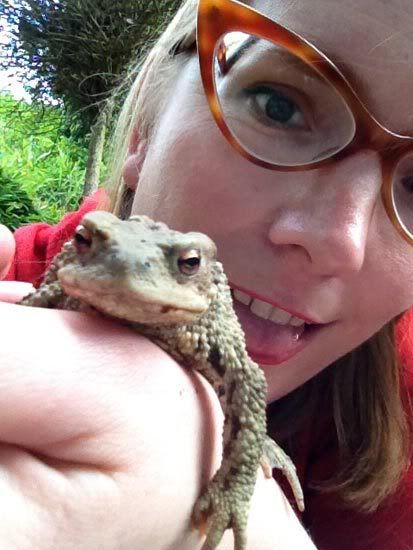 … and this video. What a lovely little chappie. And you can also get a peek at MP and Stephen's lovely garden.
While I was there, the vice-principal's daughter was having a hard time giving birth, but she did, and a baby was born while I was there. Which was all rather exciting, and Captain Waffle got a bit flustered.
Here are some single panels from various Comics Jams that made me smile.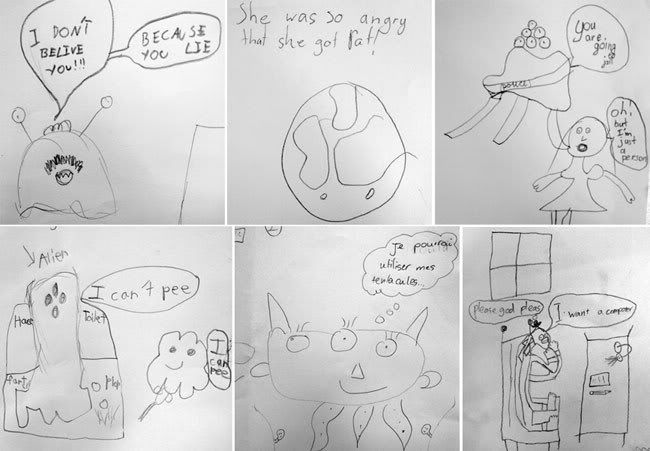 I tweeted this panel and people loved the ending: The girl got so sad her head exploded BOOM. The boy just walked away. SO TRAGIC. Comics creator Jamie Smart tweeted back: I think that's the greatest drawing I've ever seen #BOOM. And Neill Cameron tweeted: It's like a Johnny Cash song in pictures. Amazing. (Geneva kids, if you're looking at this, do go look at both of their fantastic websites.)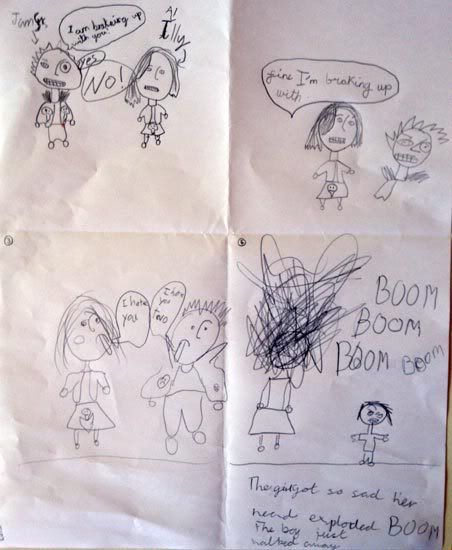 Here's a yummy comic one of the kids gave me!
I also went to a lovely patisserie called Celine & Sebastien and got to meet Jill Collinge, who sometimes leaves comments on my blog, and lives just over the French border from Geneva. Her daughter, Rosa, goes to a school where every kid gets an iPad, and she showed me an animation she'd made and helped me make one, in about two minutes! She was using an app called Animation Creator HD and I'd really like to spend a bit of time making a longer animation. It was so easy, which makes the possibilities quite exciting.
We were four: Jill, Rosa and her younger brother, Billy, and we walked along the lakeside to what they call the Monkey Beach, but which has a sign reading 'Baby Plage'. It's this amazing playground made of recycled tyres and defies all boring codes of health and safety to be a wonderful place to play.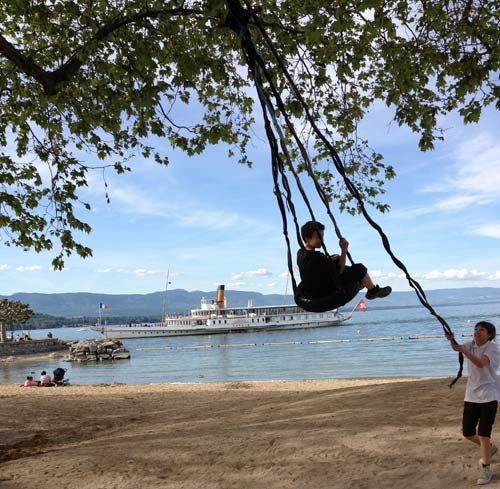 Rosa and Billy both go to circus school and they're incredibly strong and can do loads of cool tricks. I had a go at it and realised that I really need to start lifting weights or something, my arms have gone way too feeble.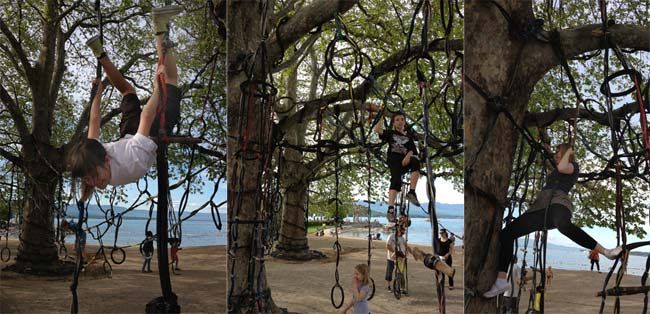 The other highlight of the trip was getting to hang out with MP. She looked after me so incredibly well, and was such a good laugh. She feels like a real friend now. Here we are, on a blazing hot sunny day, having drinks by the lake before going to the airport. Thank you so much, MP, for making my trip so wonderful. I was working, but I also feel like I've been on holiday. And thanks to Susan, Stephen (who collected me from the airport and gave me a little tour of Geneva's beautiful back roads), Catherine (who gave me the big, two-teabag Geneva mug), Marcia, Sarah, the enthusiastic kids who worked so hard on their comics, the other teachers, the amazing school chefs, and all the other people who were so fabulous. I'm going to miss you!
Edit: Here's the blog for the Library Les Marronniers!