frosty morning in greenwich
My tree drawing this morning was pretty half-baked, so I'm going to start by showing you the lovely book I finished this morning with my Chelsea bun and coffee, Dance by the Light of the Moon by Belgian creator Judith Vanistendael. I first found out about this book from Richard Bruton's review on Forbidden Planet International, which has pretty much become my main online source of comics recommendations these days.
It's a fascinating story about the relationship between a Belgian university student, her refugee lover from Togo and her parents. I loved the way she showed everyone trying their hardest to do what's best, often getting it wrong, but still trying to hang together as a family and a couple.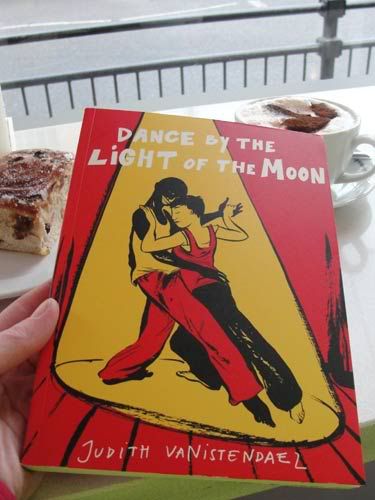 And the brushwork is lovely, so loose and nicely textured, so unlike the kind of work I do. Really beautiful.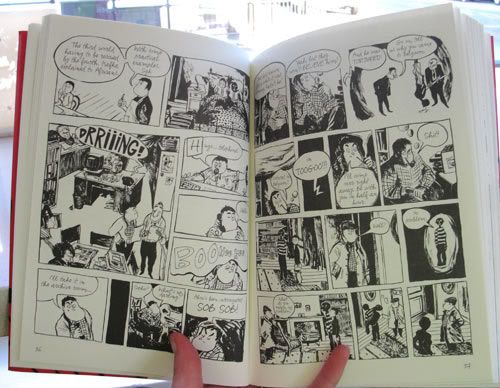 See several more spreads over on the FPI blog which, I just notice, has posted a whole lots more things about Dance by the Light of the Moon, including an interview with the creator: bookmarking here to explore later.
Speaking of the FPI blog, there's a great interview over on Geek Native with its main blogger (based under a bridge in Edinburgh), Joe Gordon. He mentions me as one of his three top bloggers, along with Neil Gaiman and Jeff VanderMeer, which made me incredibly chuffed. I need to go explore Jeff's blog, and I know I don't have anything like Neil's readership, but it's great to know Joe likes it. (Hi, Joe!)

Okay, today's sketch. I had a very complicated kind of day yesterday, and I really needed to get out and clear my head a bit. But it was so very cold. I made myself draw for 45 minutes, but I couldn't capture the looping, sweeping look of this trees beautiful lattice of branches, dotted with shrivelled chestnuts like musical notes. My hands kept cramping, all my lines came out stiff, and I didn't come anywhere near to finishing the drawing.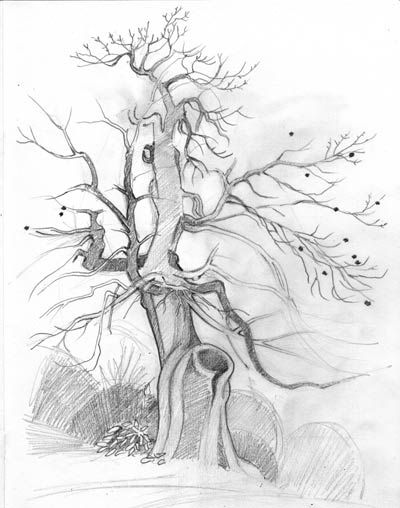 The other frustrating thing (well, frustrating later, marvelous at the time) was that the morning was all about colour, huge sweeping streaks of pink across the sky and glowing buildings, broken up by the dark lines of the dock pilings. I forgot to take photos until the light had all but faded, and it wouldn't have shown up in my pencil drawing anyway. Here's just a last glimpse of it, and a way-too-complicated-to-draw tree. Such a shame, that when I can finally see all the tree branches, it's too cold to spend the hours it would take to draw them all. And drawing from a photo would miss the point of getting out in the morning.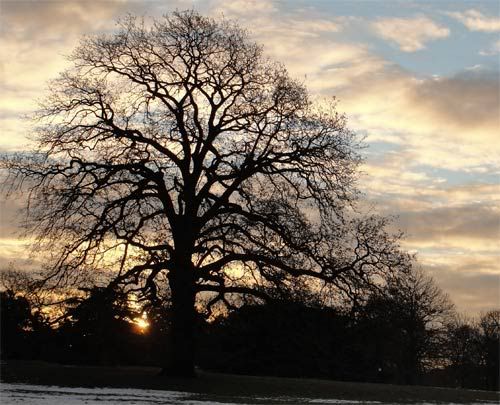 One of the best things about being an adult is that no gym coach or anyone forces me to run anymore. But this morning, if you saw a bright yellow jacket hurtling across the grass, that would've been me. Today's weather meant run or die.
Speaking of cold landscapes, go have a look at amazing photos of Dartmoor yesterday in ice and fog, taken by Sarah Reeve. It's like another world there, very haunting. I feel like a real wimp not managing to finish my drawing when Philip's been sketching out in this.
Last night I went to hear my neighbour sing in her school's Christmas concert at St Peter's Church in Dulwich. The kids did a great job. The last time I'd seen the music director was on the tube, and the time before that, when he was dressed as Doctor Who at Book Week costume parade.
The church building is lovely, I kept gawping up at the beautiful ceiling. England does Christmas so well.