friday tidbits
First, I just had to show you this fab photo of Emma that her mum sent in, with her new Vern and Lettuce book. Her mum wrote on Twitter, Emma got her Vern and Lettuce at last. I'd say (call me Sherlock) that she's happy about this. Hurrah! Emma actually made a page for The Pickle without having seen the whole of Vern and Lettuce. (Read it here, it's the comic on page 6 called Vern and Lettuce Go to Paris.)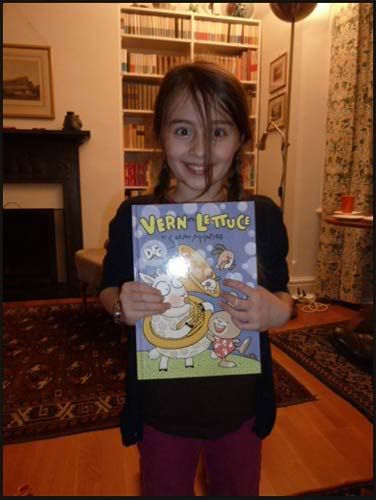 And a huge thanks to Deadlyknitshade, who took time yesterday to do a MEGA BLOG POST about what we at The Fleece Station have been getting up to. It's the first time I've shown any artwork from the book I'm working on right now, go over and have a peek here!
I saw an article over on the FPI blog that Shaun Tan's short animation based on his book The Lost Thing has been nominated for an Oscar. I haven't seen the animation yet, it looks lovely. Shaun Tan's work is nothing like mine, but if I could decide to come back as a different illustrator in another life, I'd probably choose him.
Here's a look at another one of his books, The Red Tree:

The Red Tree YouTube link
Mo-Bot High creator and robot-maker extraordinaire Neill Cameron has been making me laugh on Twitter with comments like these (do go follow him):
*just had the best timewasting illustration enquiry ever. EVER!
*It was a combination of sheer galling barefaced timewastiness and comedy broken english. I may have to frame this and hang it over my desk.
*Here's the killer line: "I am sorry, I didn't think that need pay for your draw, I think that you draw wantonly"
*I shall be spending the rest of this evening, and indeed my career, "drawing wantonly".
*JimbobC: @neillcameron for that you need a kerchief, so you can drape it in a disheveled manner. You have to be disheveled to be wanton I think
*@JimbobC I am always disheveled. I am in fact never knowingly heveled.
And don't miss this mad comics jam, The Horseman's Tale by nedroidcomics and emmycic with an ending by KC Green, because you need to know what happens if a radioactive horse bites you.