french loot
I saw my parents off to Heathrow this morning and then shlepped through the rain to my critique group in central London. I brought a few books from my trip to France to show everyone, but I wasn't able to say much about them since I haven't had more than a moment to read any of them. But I thought this evening I'd have a look and write down what I picked up, several of them from comic book shops and news agents in Avignon and Arles.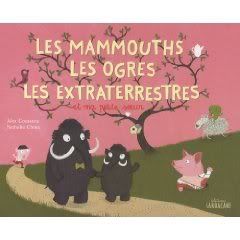 Les Mammouths, Les Ogres, Les Estraterrestres et ma petite soeur by Alex Cousseau and Nathalie Choux.
I fell in love with this picture book for its yummy retro palette, quirky characters and sophisticated design. And the metafictive story made me laugh, about a little mammoth who asks its parents at the dinner table how they can exist, if mammoths don't exist any more. The father mammoth does what he always does when little mammoth asks hard questions, and takes it for a walk down the street. There, he tells his kid that they don't exist either, that they are mammoths in a book. So the little mammoth asks lots more hard questions about the possibilities of what a person can do if they only exist in a book, and how they can interact with the illustrator if they exist in her head as well as in the book. Near the end, a little ogre asked to be drawn a sheep, which leads us on to…
Le Petit Prince (based on the story by Antoine de Saint-Exupéry) by Joann Sfar.
I've leafed through all the pages but only read about 30 pages of this book so far. It seems to follow the story fairly closely, but I'm really struggling not to compare it unduly critically with Saint-Exupéry's original drawings. I grew up with that book, reading it many times in English in my parents' library, then in French class at school, then again as an adult. The pictures have always seemed perfect, like something that couldn't be improved – deft and light and somehow sublime. Sfar's pictures are much heavier and he draws the prince's eyes in a way that sometimes suddenly make the little guy look a bit evil, not like the wide-eyed innocence I associate with Saint-Exupéry's drawings. The format is unvarying, six same-sized panels per page. And Sfar has chosen to leave out certain scenes which are iconic in the original book, such as the drawing of the elephant inside a boa constrictor and the pilot's several attempts at drawing a sheep. I really, really liked those sheep drawings when I was a kid; I spent absolutely ages looking at them, maybe even copied them. I can understand why Sfar wouldn't duplicate them, but I still missed them. I'm undecided on this book, I'll have to read the whole thing. But one thing I really liked about the original book was its sparseness, and I'm not sure this version doesn't spell out the story too fully. I didn't particularly like the film, but perhaps that's because I've always had an irrational fear of the actor Gene Wilder, who plays the fox. (He totally gives me the heebie-jeebies.)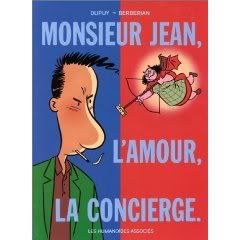 Monsieur Jean, L'Amour, La Concierge by Philippe Dupuy and Charles Berberian
These two names come up all the time in discussions of French bande-desinée, so I was determined to track them down on this trip. This particular volume has striking simple endpapers, a bit like those in Rian Hughes' book, Yesterday's Tomorrow, with a splash of light on a one-toned background. The linked short stories are hilarious, really laugh-aloud, and easy for me to understand with my limited French.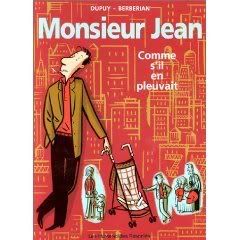 Monsieur Jean: Comme s'il en pleuvait by Philippe Dupuy and Charles Berberian
This volume seems to have one story running all the way through, and the French is a little trickier to read, so I haven't gotten as far with it yet. But there are some gorgeous full-colour scenes of New York and the Strand Book Store right at the beginning, which reminded me a tiny bit of Jonny Hannah's compositions in Hot Jazz Special.
Blacksad: Quelque part entre les ombres by Juan Días Canales and Juanjo Guarnido. (I didn't actually buy this one in France; my friends brought it over as a gift from Brussels, but I thought I'd include it.) This is the first of three books in the Blacksad series, about a cat detective in an animal society. The one-colour endpapers are hugely sophisticated with beautiful line drawings and the interior looks hugely promising. This book's been hovering about the margins of my consciousness for a few months and I think it's really one I should know about.
Bla Bla Bla by Sandrine Revel I saw this one on a dash through a motorway service station and it had nice drawings, so I figured for €2, I couldn't go too wrong. The drawings of talkative middle-aged women are very well done, and while the jokes are fairly simple with very little text, it meant even my mother, who doesn't speak French, could enjoy it. The book has lots of quick little vignettes, the kinds you'd see in a newspaper.
Three magazines:
Bo-Doï: Explorateur de Bandes Dessinées, Issue No.121, website here. I found this in an Avignon newsagent, and thought it was so cool the French have a magazine like this entirely devoted to reviews of bande-dessinée, interspersed with pages of full-colour comics. I'm struggling a bit with the French but I really want to plug on with it and read the articles.
Spirou, magazine's history here on Lambiek, and the magazine's website. I bought this children's comic magazine when I was last in Brussels and it's just as good this time around. It's pretty much doing what the DFC is doing in the UK, but it's been doing it for a whole lot longer.
Fluide Glacial, website here. This is a nudge-nudge-wink-wink adult comic, which I should have realised when I had to reach up on the top shelf to get it. It's full of great drawings, mostly black and white, although much of the humour seems to be at about the same level as Benny Hill, or British seaside postcards. Sophisicated drawing, less sophisticated humour, although I suspect there's a whole lot I'm not getting because of the language barrier.
And a photographic coffee table book (prefaced by Karl Lagerfeld):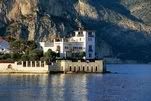 The Villa Kérylos, official website and Wikipedia entry
I bought this book after visiting this masterpiece of a house on the Saint-Jean-Cap-Ferrat peninsula, near where my family was staying in Villefranche-sur-mer. We didn't even know about it, but we had the option of buying a joint entrance ticket when we visited the Rothschild's house and gardens. They said it was a 'house built in an ancient Greek style'. I must confess, I didn't have very high hopes for it; we'd just been to Monte Carlo and I had visions of the Greek equivalent to that horrendous Egyptian pyramid thing in Las Vegas, or something like some of the fancy but tasteless neo-classical things I've seen built by New Russians. I was so, so wrong. If you're ever anywhere near Nice or Monaco, this place should be top of your list of things to visit. The closest thing in feel that I've ever visited, in what it was trying to achieve, was the Vasnetsov House Museum, near where I used to live in Moscow, which draws marvelously on Russian folk tradition. Both the Russian house and this Greek house were inspired by that arts and crafts movement at the turn of the 19th century, when artists, instead of creating a sort of slavish museum copy or a clichéd theme park, created houses that draw intensely on historical research but which are at the same time fresh and new and remarkable. The craftsmen who went into building the Villa Kérylos were the very finest; the furniture was staggering beautiful, and the patterns on the walls and tiles totally blew my mind. I spent my camera's whole memory card trying to document them, and finally got escorted out by the security guard after everyone had left and I was still frantically trying to jot down the patterns into my sketchbook. If I lived next to this house, I would never have to come up with an endpaper design ever again.