free comic book day
Look, a monster by committee! I drew the head, Garen Ewing drew the middle bit and Neill Cameron drew the feet. Hooray! You can see the fun place where all this stuff goes on over at the DFC group's blog, the Super Comics Adventure Squad.
Speaking of which, today Stuart and I went to see the DFC's Emma Vieceli at a comic shop in Richmond called They Walk Among Us. The shop was taking part in the worldwide Free Comic Book Day and happily, Emma was mobbed with fans, so Stuart and I got all the free comics we could and a copy of Emma's Manga Shakespeare Much Ado About Nothing. In this terrible photo, you can also see Jamie McKelvie, Andie Tong and Kieron Gillen (who looks worryingly like lifestyle guru Paul McKenna). We also saw Frazer Irving and the DFC's John Aggs. Here's Stuart with some of our loot: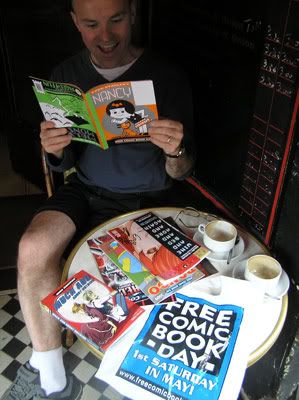 We cycled all the way across south London on our bikes and now I am bone-tired. We were a little overambitious in planning to go to two other exhibitions afterward, which we didn't do, but the weather was too good to hang around indoors. We had a picnic by the river in Putney and the city really was looking its best in the sun. We were consulting our map on one street corner and, I looked over at its sign and realised we were on Mr Benn's road! I'd just been doing a fair amount of research on writer and illustrator David McKee for the interview I did with him in March, so I'd learned that Mr Benn's 'Festive Road' was actually based on this one. (You can watch a Mr Benn animation over there with the interview.)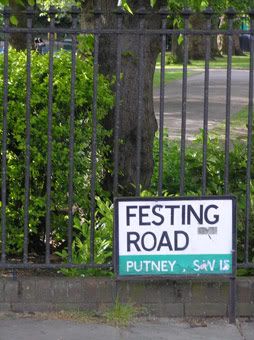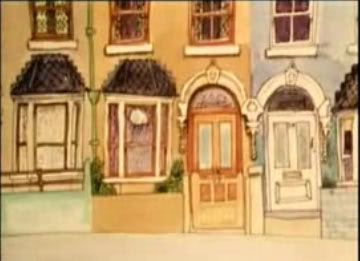 The street had Mr Benn's park and everything! I forgot the exact number as I was going up the road looking for Mr Benn's house, but I hovered in front of No.60 just as a nice lady was coming out of it. She smiled and told me I'd found it, she lived in Mr Benn's house, and she really ought to get a plaque and start charging admission. So I took a photo of No.60. When I got home and watched a Mr Benn clip, I realised he really lived at No.52! What?! But I looked at the video, and I think maybe he did actually base it on 60 and just call it 52. Maybe No.52 and No.60 fight over it, heh heh.
Another funny thing we saw on our way: There was these few roads (Hillersdon Avenue, Glebe Road and another) that were absolutely filled with stone lions. Really, the lions were everywhere. I'll show you some photos, it is only the tip of the iceberg.


You really have to see it. If anything in the photos remotely looks like it might be a lion, IT IS. It looks like an architect went totally mental.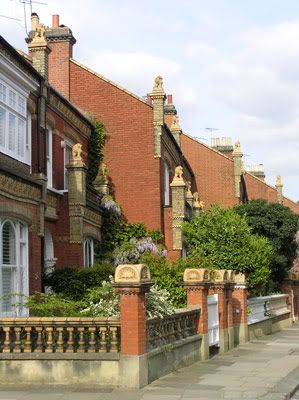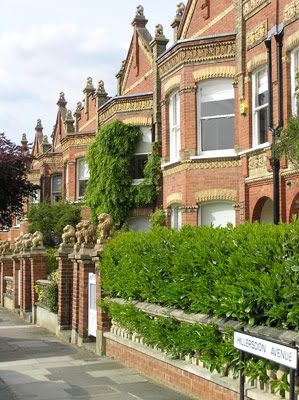 We stopped to watch the herds of deer in Richmond Park, but my photos came out so badly, I won't show them. (My mother reads this blog and would be so unimpressed. She can't even push the deer out of her garden, they are so determined.) We saw a tree full of Green Woodpeckers and lots of these black and grey birds. Just curious, does anyone know what it is? It doesn't look like a crow (not Stuart, the other one):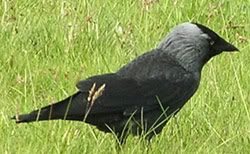 One more pic of the lovely view of the river in the Richmond: