fleece station podcast!
On Monday, Alex Fitch from Panel Borders came to the studio to find out about the three of us who work at the Fleece Station. Gary Northfield had a meeting and couldn't be there, but Viviane Schwarz and I chatted happily to Alex about comics, picture books, gossip about Gary, and how we got together to find a studio, and you can hear it all here!
I've also posted my own very short interview with Viviane (who was messing about with boxes) over on the Fleece Station blog.
(Thanks for linking it, FPI blog.) 🙂 From last weekend in Cambridge, you can see sketches posted by Natalie d'Arbeloff, a review by Matthew Wivel, and a conference-inspired comic by Prozacville.
If you're interested in some Morris the Mankiest Monster activities, I've designed a couple pages where you can make your own monster, plus a 'Pin the Eyeball on the Monster' party game and a couple other fun sheets. You can download them here!
(Or here's the direct PDF link.)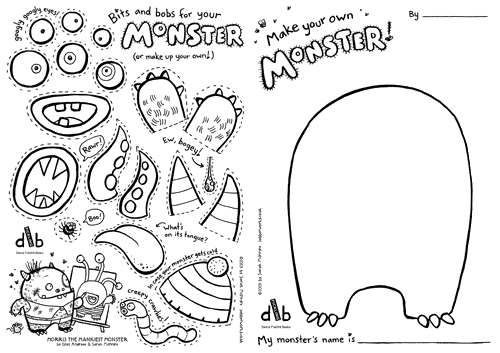 Thanks for the fifteen or so concerned people who have contacted me about the Random House Children's Book site listing the illustrator to Morris as Nick Sharratt. I've complained four times to the publicist, editor, publisher and web guy, David Fickling has apologised twice, and apparently the website people live on a totally different planet and it's easier for me to change my name to Nick Sharratt than it is for the website to change the listing. So you can call me Nick now, it's a rather nice name, I suppose. The other Nick Sharratt is a fabulous illustrator and a lovely guy, maybe we can do a collaborative project now that we're called the same thing.