final issue
Here's our cover, isn't it great? Almost everyone contributed something!
You might recognise the airship from an earlier spread. I think I must have developed a thing for airships, even though I've never been on one.
(Click on the cover to see the details.)


If you look closely, you might notice two falling humans who haven't appeared in the DFC before. They're Ben Sharpe and Will Fickling, our lovely editors and, sadly, the only people left in the very quiet DFC Headquarters when Woodrow and I went in to visit.

In fact, there's a lot of Woodrow in this DFC, which is always a good thing. His lovely Horse of a Different Colour; three pages of Donny Digits; he did the layout for the last spread with all the farewell notes from contributors; and I started to do the lettering on the cover, but noticed it look so derivative of Woodrow's lettering – trying to maintain a DFC look, you see – that he finally agreed to do it himself, because he really knows his lettering. And you'll get to meet Woodrow at The Thing tomorrow, hurrah!
And the other person you'll get to meet at our table, if you haven't met him already, is David O'Connell! His rather saucy mini comic, Queen Mother Adventures, has had me giggling all week. Be sure to grab a copy of Ellen Lindner's Undertow, definitely one of the best things that will be at the fair this year. And I'm pretty excited to see Kate Beaton/beatonna's stuff, too. She's deservedly an internet phonemonon with her history comics.
Here's a strip from DFC contributor Dave Shelton (who drew the pictures of Ben and Will):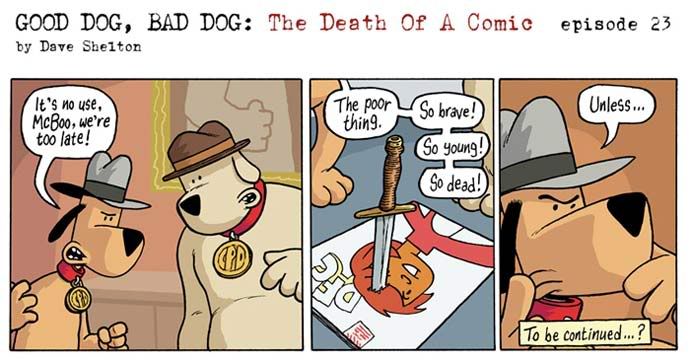 Don't forget to visit the new DFC contributors blog and leave a note for us!