festive comics cheer
Look! According to this video, you can use Vern and Lettuce for sledging!

David Fickling Books video YouTube link
Last night our agent threw a little drinks party in Soho, and half of the gang were from The DFC crew, and the others were good fun so it was all very cosy. A bunch of them drew in my sketchbook. Here's one by Gary Northfield:
Another by Jamie Smart. (Don't miss his work all over The Dandy bumper Christmas issue! And, of course, his Find Chaffy book.)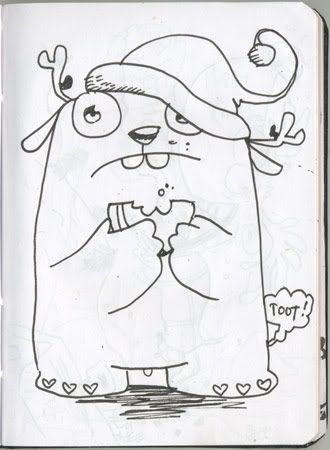 Bob Etherington managed to come by train through the snow all the way from Bristol! You can find out loads of amazing stuff he and his brother Lorenzo are getting up to over on the DFC gang blog, such as a comic for David Fickling called Baggage, some gorgeous prints Lorenzo's been doing for his Stranski comic book, and their upcoming work for The Dandy. Exciting times for The Etherington Brothers! Here's another drawing by Dave O'Connell, who's working on a picture book with me for David Fickling. Keep an eye out for the next printed installment of his online steampunk adventure comic, Tozo – The Public Servant.
Here's our fab agent, Jodie Marsh, and two new people we got to meet, a picture book creator and animator named Harriet Gillian and writer Ellie Irving.
This one's by James Turner, who's been writing comedy scripts for an upcoming animation series and generally turns out some of the funniest comics on the planet.
Gary went a bit crazy with after-drink refreshments for the train-ride home, and James and I helped him polish off a bag of Percy Pigs and James played with the less tasty Colin Caterpillars. Now we all need to go to the dentist.